You've heard the name, you've seen the pictures, and you've definitely marked it on your bucket list: Niagara Falls is one of North America's most breathtaking natural features and a destination that everyone should try to visit at least once in their life. And, there's no better way to celebrate your birthday than with a visit! The group of three waterfalls is located at the southern end of Niagara Gorge and spans the border between the province of Ontario in Canada and the state of New York in the United States. What makes them so special? Well, they're massive: More than 6 million cubic feet of water goes over the crest of the falls every minute, which is the equivalent of about a million bathtubs full of water. Every. Single. Minute. Now, you should — of course — check out the falls in all of their glory, but there are also plenty of other things to do in Niagara Falls for your birthday besides seeing the waterfalls, from firework cruises and wine tastings to the aquarium, a casino, and much more! Not sure where to start? We've got you covered with this short list of a few of our favorite picks listed below.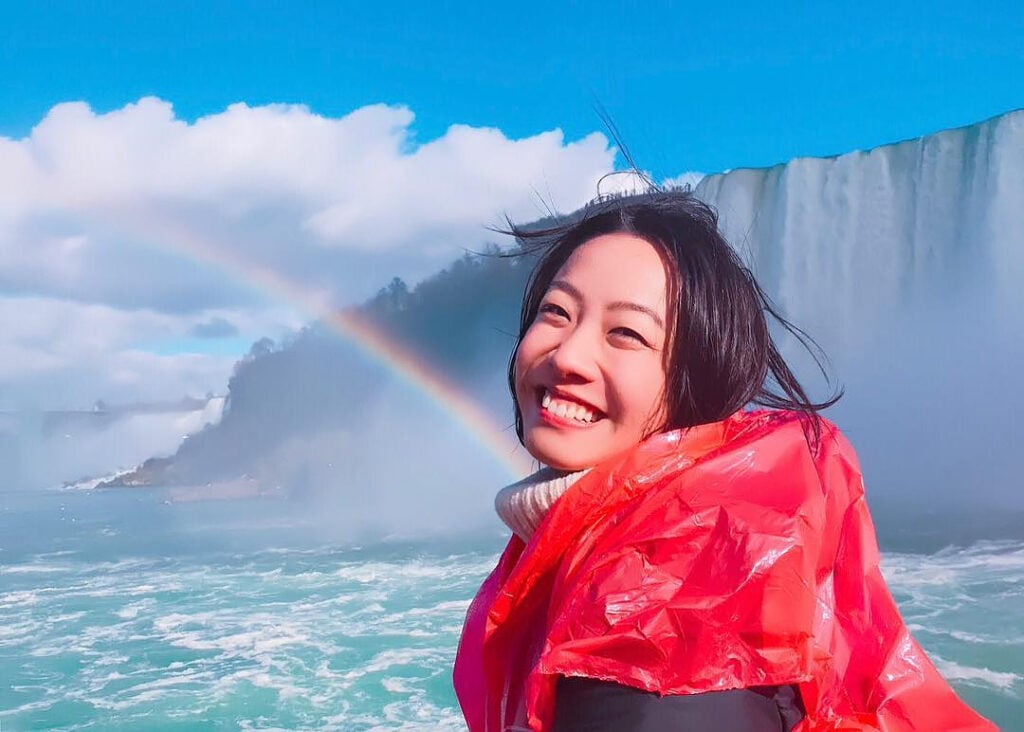 Niagarafälle Touren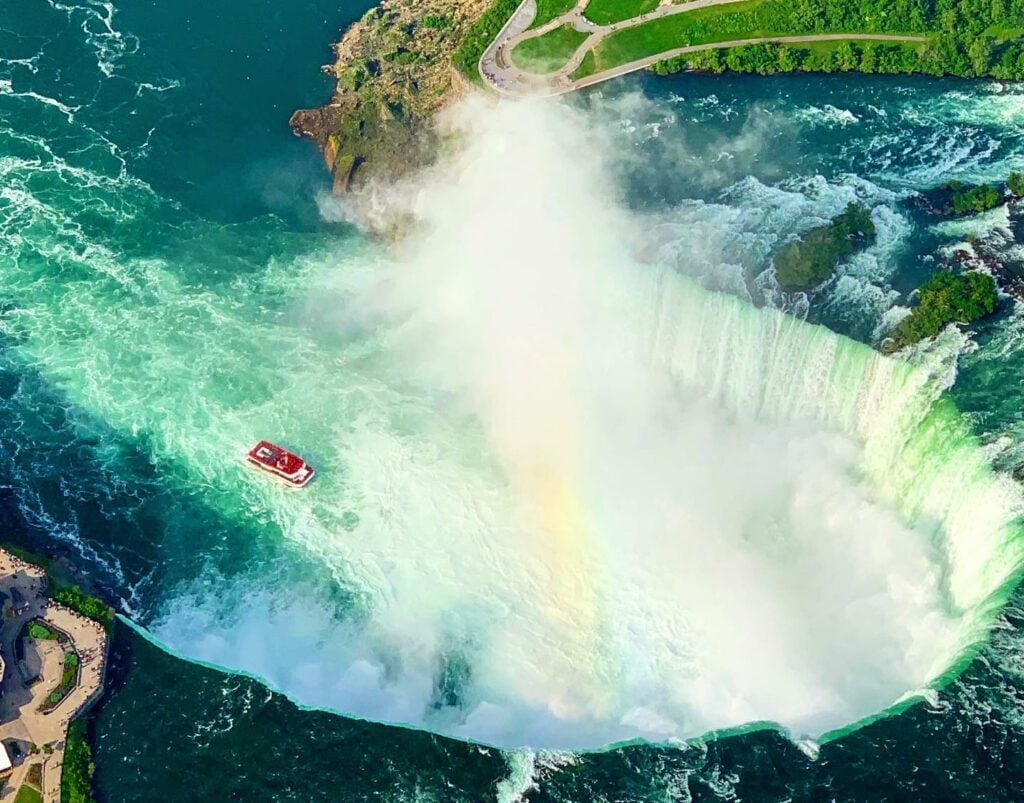 Niagara Falls Afternoon Boat Tour & Journey Behind the Falls – Ready to celebrate your big day with a boat tour and an expertly guided walking tour? Then the Niagara Falls Afternoon Boat Tour & Journey Behind the Falls is just what the doctor ordered. Featuring Table Rock, Horseshoe Falls, and special access to the Journey Behind the Falls, you and your guests will kick off your Niagara Falls birthday excursion with an afternoon boat ride to remember. Get ready to go 19 stories down into the gorge and soak in panoramic views with a personal escort onto the Niagara City Cruises boat. No poncho? No problem: A complimentary poncho is included with your ticket — and trust us, you're going to need it! After the cruise, you'll hear all about the history and stories of the falls as you take a walking tour around the boardwalk. You'll stop by the site of the former Honeymoon Bridge; hear about the famous restaurant viewpoint, Queen Victoria Place, where Princess Diana dined; and learn about the brave daredevils who challenged the power of the falls by going over the edge. Then, with a pre-booked time slot, you'll climb down the stairs into the rocky caves behind Niagara Falls where crashing water reverberates through the tunnels. For those who crave a complete Niagara Falls birthday experience, this is the one — just don't forget to bring your camera… and a towel!
Celebrate your Birthday with Drinks at Niagara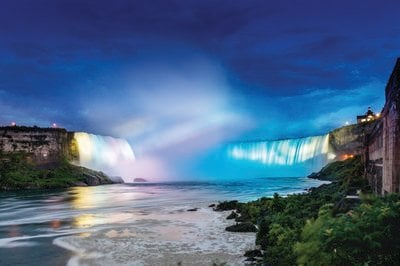 Niagara bei Nacht: Weinverkostung und Illuminationsturm-Erlebnis – If you can't have a birthday celebration without a little vino, then you can't go wrong with Niagara at Night: Wine Tasting and Illumination Tower Experience. Now, you've probably done a wine tasting before, and while we're sure the views of a vineyard were nice, we're sure they'll pale in comparison to sipping a few glasses while you gaze out upon the mighty Niagara Falls. It's truly the perfect backdrop for an elegant evening. Here's how it works: As the sun sets, you'll meet your local guide at Queen Victoria Place to take in some awe-inspiring views of the falls on the outdoor deck as you hear some fascinating falls history. Then, you'll sample four hand-picked wines — grown and produced locally, of course — alongside a variety of delicious appetizers. That's just the beginning of your magical birthday evening. After the tasting, your next stop is the Niagara Falls Illumination Tower, where you'll meet the veteran Light Master and learn about its nearly 200 years of exciting lore. Then, you'll have the once-in-a-lifetime opportunity to literally paint Niagara Falls in your own colors. That's right — you'll be given control of the lighting system, free to choose whichever colors you'd like to light up one of the world's most incredible natural wonders. Talk about a birthday present, am I right?
Niagara Falls Fireworks Cruise
Falls Fireworks Cruise – In the mood to, ahem, "light up" your birthday? Say no more — just climb aboard the Falls Fireworks Cruise the absolute best way to close out your birthday celebrations. Perfect for a special night out with friends and family, or a romantic cherry on top to a birthday full of memories, prepare to take in the starry skies, panoramic views, stunning illuminations, and, of course, an incredible light show. Plus, the sight of exploding fireworks over the brink of Niagara Falls is sure to make this birthday one to remember.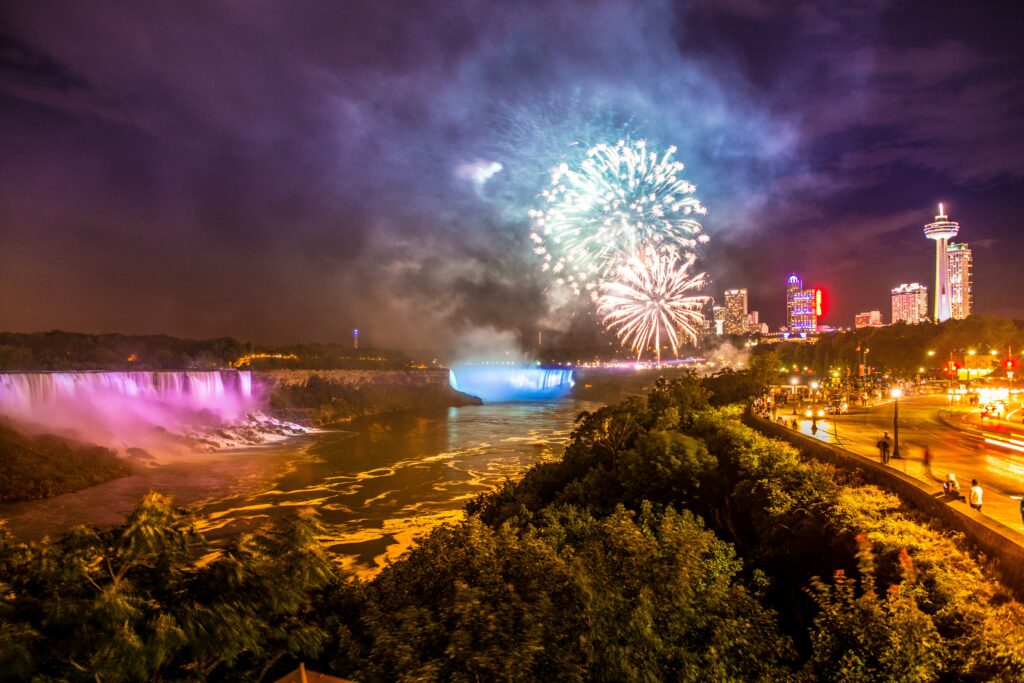 FAQs – Niagara Falls Birthday Things to Do
What makes Niagara Falls an exciting birthday destination?
Niagara Falls is not only a stunning natural spectacle but also a hub for exciting activities and memorable experiences. Celebrating your birthday here means immersing yourself in nature, tasting fine local wines, participating in thrilling tours, and witnessing breathtaking firework displays over the falls.
What unique experiences can I enjoy on my birthday at Niagara Falls?
There are numerous unique experiences to enjoy at Niagara Falls. You can get up close to the falls on a boat tour, go wine tasting as the sun sets, experience the thrill of a casino, or even illuminate the falls with your chosen colors for a truly once-in-a-lifetime birthday experience.
What are the options for exploring the Niagara Falls area?
Niagara Falls offers a variety of exploration options. You can embark on guided walking tours, afternoon boat tours, or even behind-the-scenes tours to the tunnels behind the falls. Each option provides a different perspective and understanding of this magnificent natural feature.
What are some fun activities for kids at Niagara Falls?
Niagara Falls is also a great destination for families. Kids can enjoy the Butterfly Conservatory, Clifton Hill's fun attractions, the SkyWheel, or the Niagara Falls Aquarium. These experiences are not only fun but also educational.
Can I enjoy local cuisine at Niagara Falls?
Absolutely! Niagara Falls is surrounded by an abundance of restaurants that offer a variety of cuisines to suit all palates. You can enjoy everything from fine dining with a view of the falls to cozy cafes and vibrant food markets that showcase local produce.
How can I make my birthday at Niagara Falls more special?
There are many ways to make your birthday at Niagara Falls more special. You could opt for a Falls boat tour, indulge in a gourmet meal at a restaurant overlooking the falls, or even have the opportunity to control the illumination of the falls.
Can I experience Niagara Falls at night?
Yes, and it's an experience not to be missed! The falls are illuminated every night with rotating colored lights, creating a breathtaking spectacle. On certain nights, you can also enjoy a stunning fireworks display over the falls.
Is Niagara Falls a good destination for a group birthday celebration?
Niagara Falls is an excellent destination for group birthday celebrations. With a wide variety of activities and experiences to choose from, there's something to suit everyone's tastes. Whether your group prefers nature walks, wine tastings, boat rides, or history tours, you'll find it at Niagara Falls.
What options are there for a romantic birthday celebration at Niagara Falls?
For a romantic birthday celebration, consider a private boat tour, a wine tasting experience overlooking the falls, or a candlelit dinner with the falls as your backdrop. You can also choose to control the illumination of the falls for a truly magical and romantic experience.