Networking is defined as the exchange of information and ideas among people with a common profession or special interest, usually in an informal social setting. Networking is crucial to strengthening relationships, building skills, and sharing knowledge, especially in today's virtual climate. Hosting a networking event in an unlikely and adventurous setting like a City Cruises Toronto luxurious yacht, will get the creative juices flowing and get everyone on board (literally). Give your colleagues an event that will take their breath away in a fun, relaxed, and unconventional setting in Toronto, with fresh and deliciously prepared cuisine, an attentive crew, and the beauty of Toronto's majestic skyline views to give you something to talk about.
An End to Boring Events with City Cruises
Let's be honest. Networking events are sometimes awkward because people feel uncomfortable with the idea of building relationships for the sole purpose of gaining career advantages, and what someone can give them. What if they realize they can actually mix business and pleasure aboard a luxury yacht on the water – which is proven to lower stress levels? Attendees will feel motivated to attend and participate from the beginning with the massive draw of an exciting venue with an unconventional flair. Unlike traditional venues, being on the water provides stunning views of the surrounding water that is sure to impress your guests. The backdrop of the natural beauty and calm waters is a great icebreaker to start conversations.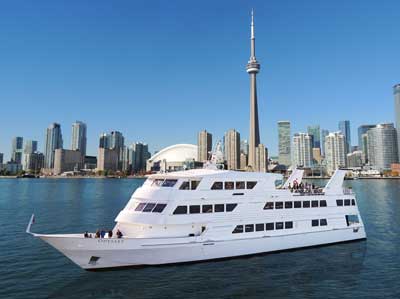 Exclusive Networking Event in Toronto
At City Cruises Toronto, we know how to create an atmosphere that fosters conversations while simultaneously providing a space where guests feel comfortable and engaged. We want to provide a setting that steers away from the cliché of office settings and boardrooms and give you and your guests an event venue that is imaginative and exciting. No matter what size networking event you are hosting, we can customize it to suit your needs. Delicious and freshly prepared cuisine coupled with full bar service will ensure all guests are refreshed and well-fed so you can focus on connections.
From Expectation to Experience with City Cruises
City Cruises Toronto boasts an impressive fleet to meet your networking event needs, each featuring all the modern amenities you'd expect from a first-class venue. We offer a variety of event spaces, including indoor and outdoor areas, that can be customized to meet your needs. Climate-controlled interiors will provide the ultimate comfort no matter what the weather. Outdoor open-air decks give everyone the incredible experience of the iconic sights of Toronto, accompanied by fresh air breezes to take a break or engage in conversation. Our experienced and dedicated event planning crew can help you create a one-of-a-kind experience to achieve your event goals and work within your budget.
From the invitation to your Toronto networking event, we will work with you to make your event a stand-out success and an elevated experience for all. Need entertainment or activities to keep things lively? Consider it done. Our City Cruises crew will provide you with attentive hospitality so that you have nothing to worry about other than relaxing and having fun with your guests.
Location, Location, Location Equals Toronto
Hosting a networking event aboard a City Cruises yacht can provide a unique opportunity for attendees to enjoy the benefits of being on the water and soaking in Toronto's scenic views. It can be a chance to take a break from daily responsibilities and focus on collaborating and sharing fresh ideas while creating and building long-term relationships with mutual benefits in an unexpected and refreshing location. A networking event is your chance to showcase your achievements, market your brand, and attract new business, so why not get it all done with a professional yet casual ambiance where people feel comfortable and engaged? City Cruises will work with you to create spaces where guests will naturally create conversations and mingle with flexible spaces tailored to meet your needs. So, leave the mundane spaces behind and set sail with City Cruises for your next successful networking event in Toronto – in one of the most unique and exciting places to be on the water! Guests will feel refreshed and rejuvenated, leaving them with amazing memories for years to come.
At City Cruises, we know you have choices, so we want to make your event one with a relaxed and hospitable atmosphere with unparalleled views that will be talked about for years to come. Ready to book your networking event? Fill out this form and an event planner will contact you to set sail for success!