Laura Howes grew up hundreds of miles from an ocean, and yet she felt a deep connection to whales from a young age. She headed to Maine for college, where she studied marine mammal conservation and interned for a local whale watch.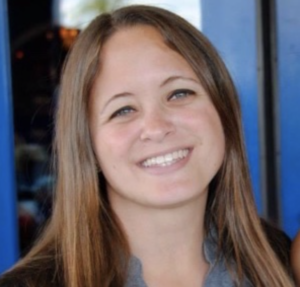 She's shared her passion for marine conservation for the past ten years as a City Cruises Boston Crew Member. Even outside of her job with City Cruises, Laura continues to follow her passion; she volunteers her time doing whale tagging work with the Stellwagen Bank National Marine Sanctuary, studying the underwater movements of whales using non-invasive suction cup tags.
For more from Laura, check out her interview with Boston.com on the many opportunities for whale watching across Massachusetts.
Hvordan vil du beskrive en typisk dag i din stilling?
When you go offshore, every day is different. You can be surprised by a new whale behavior you haven't seen before, be exposed to a variety of offshore weather conditions (from snow squalls to hot, sunny haze), and meet new guests to educate. I am constantly multitasking—working as a naturalist requires a balancing act between customer service, education on the mic, taking whale photos, and managing our interns as they collect data. We also operate up to four whale watch boats a day, so my multitasking continues to make sure that all trips are staffed with a naturalist.
Hvis du ønsker, at vores gæster skal tage én ting med sig fra deres oplevelse, hvad skulle det så være?
People are connected to the ocean no matter where they live in the world, and their actions can directly impact the health of the ocean and its wildlife.
Hvad elsker du mest ved den by, du arbejder i?
The fact that we have Stellwagen Bank National Marine Sanctuary at our doorstep is incredible! We have some of the most exciting wildlife in the ocean just a boat ride away.
Hvilken fantastisk oplevelse har dette job skabt for dig?
I am truly fortunate to have a wonderful staff of naturalists who love what they do; it inspires me to be a better manager and excited to come to work each day. Their energy is contagious—our guests always comment on their knowledge and excitement for what they do!
Når gæster besøger din by, hvad er et lokalt sted, som du elsker og som er et "must see"?
I highly recommend the Isabella Stewart Gardner Museum. That museum is an entire work of art! And as a nature lover, the Harvard Natural History Museum is a must. I love the whale skeletons that include baleen in their mouths (most whale skeleton articulations don't include that!)