Once the haunt of bohemians and beatniks, a star of literature and film, Greenwich Village is one of the most beloved (and expensive) New York City neighborhoods: a vibrant urban community with a bustling performing arts scene and a wealth of cultural character, loaded with architectural and historic integrity.
We've rounded up seven little-known details that offer a deeper look at this lower Manhattan gem, from Houston Street to 14th St, the Hudson River to Broadway. For Greenwich Village history, fun facts, and more, read on.
What is Greenwich Village known for?
Encompassing the West Village neighborhood, Washington Square Park, and the area around New York University, with a 100-block historic district established in 1969, New York City's Greenwich Village is perhaps best known for its strong community connections.
Since at least the 19th century, artists, bohemians, and social activists have flocked here to gain support and inspiration from a community of dynamic and kindred spirits. Heavyweight artists, such as Winslow Homer, Albert Bierstadt, Salvador Dalí, Jackson Pollock, and Andy Warhol, hung out and presented their work, and the likes of Walt Whitman and Mark Twain swapped ideas and fleshed out projects.
The heart of NYC's annual Pride festivities, Greenwich Village has long been an epicenter of LGBTQ life, where some of the most formative events in community—and city—history took place. Don't miss the famous Stonewall Inn, one of the most important historic sites in the Big Apple.
You'll also find a lively food scene in Greenwich Village, with excellent restaurants featuring cuisines from all over the world. The Greenwich Village NYC Food Tour from Devour Tours offers a delicious introduction to the culinary landscape.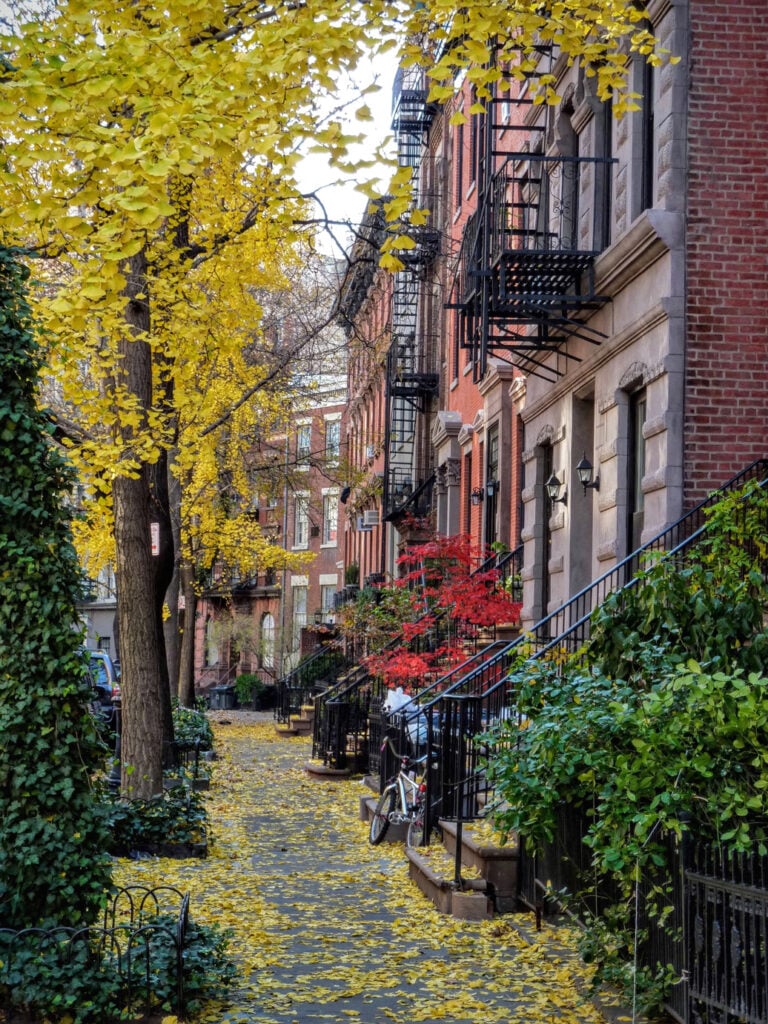 1. Greenwich Village was once declared an independent republic
In 1917, a group of tipsy artists, including Marcel Duchamp and John Sloan, climbed the Stanford White-designed Washington Square Arch to declare the rapidly gentrifying neighborhood the "Free and Independent Republic of Washington Square." After a boozy picnic on top of the monument, the band of artists recited poetry and decorated the arch with balloons and paper lanterns.
This bold move was in reaction to the Village's creeping gentrification, brought on by the capitalist turn of the Gilded Age. The neighborhood had long been a haven for counterculture and progressiveness, so naturally the artists were incensed—and rightly so, though a casual stroll around Greenwich Village today reveals the futility of their gesture.
2. Greenwich Village was home to the first building made for artists
In keeping with its artistic roots, the first building constructed specifically to meet the needs of New York's artistic community could once be found in Greenwich Village.
Located at 51 West 10th Street before it was knocked down in the 1950s, the Tenth Street Studios provided studios and living space for artists beginning in the late 1850s, bolstering the local scene and luring even more aspiring and established artists to the neighborhood.
3. Greenwich Village has the smallest plot of private land in Manhattan
If you head to the corner of 7th Avenue and Christopher Street, you'll discover a small, triangular mosaic tile that reads, "Property of the Hess Estate Which Has Never Been Dedicated for Public Purposes."
The triangular tile is a meager 500 square inches and represents a sliver of land that somehow got overlooked when the New York City government decided to demolish a five-story apartment building called the Voorhis, among others, to expand 7th Avenue and the IRT subway line.
Although the city asked the landlord, David Hess, to donate the plot, he refused on principle, incensed by the city's decision to demolish his building. In 1938, his estate sold it for $1,000 to a shop called Village Cigars, an iteration of which is still in operation today.
4. A buried brook lies under the streets of Greenwich Village
Minetta Brook used to run through Greenwich Village at ground level, meandering through part of Washington Square Park and out to the Hudson River. City officials buried the brook at some point, but it's still wandering along,  minding its own business under foot.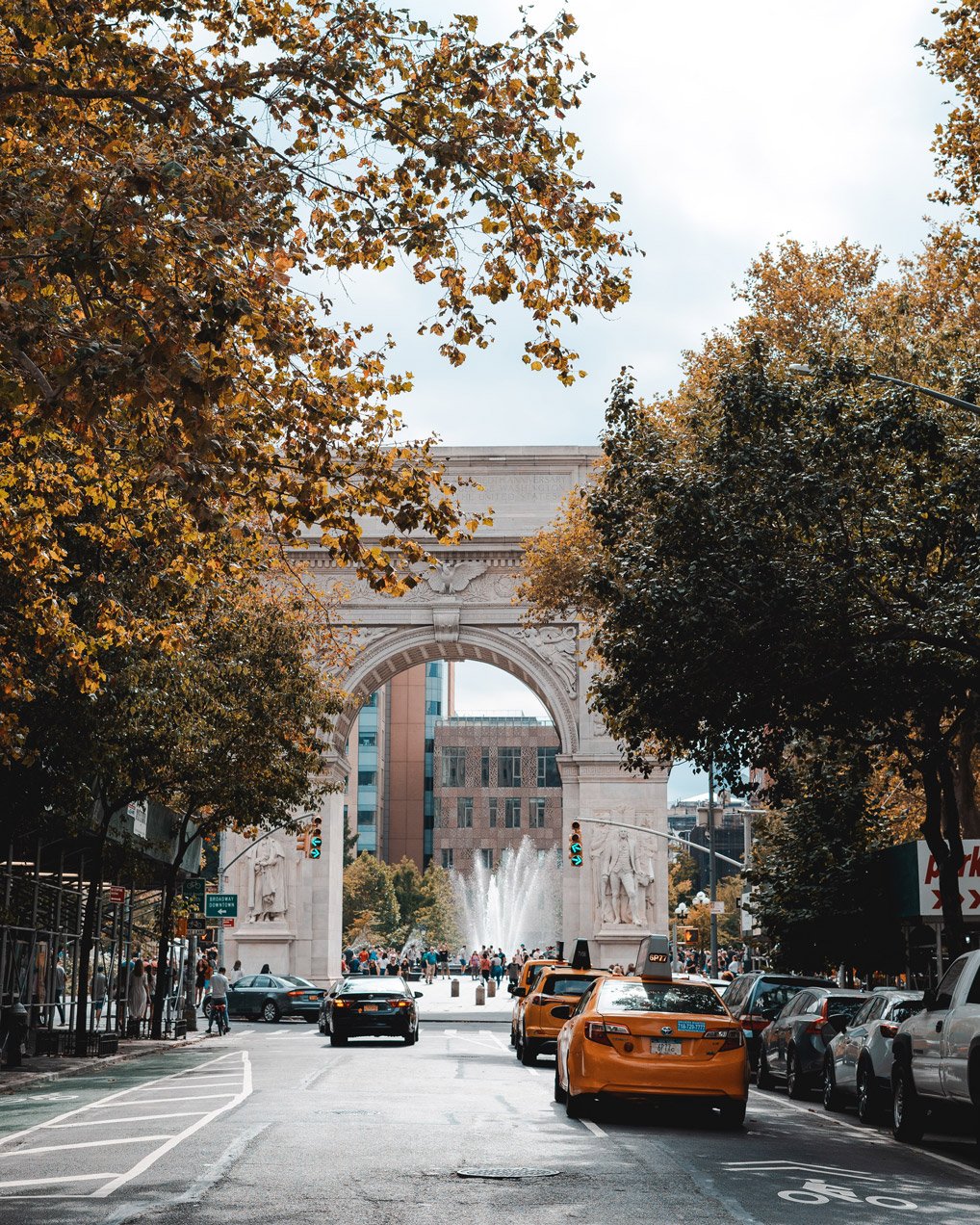 5. Thousands of bodies are buried in Washington Square Park
Speaking of underground surprises: You wouldn't know it now, but Washington Square Park was once the site of a cluster of cemeteries that popped up in the latter half of the 18th century, after the Common Council took possession of the land for public executions and the burial of unknown persons. At one time, an estimated 125,000 people were interred in the park—20,000 of whom are assumed to remain there today.
6. There's a haunted brownstone in Greenwich Village called the House of Death
There are many spooky stories associated with the buildings in Greenwich Village, and the brownstone at 14 West 10th Street, dubbed the House of Death, is a local favorite . Some 22 ghosts supposedly haunt this single spot—among them Mark Twain, who hung his hat there from 1900 to 1901.
7. Greenwich Village has one of the last gaslights in New York City
Before the development of safe electrical lights in the twentieth century, New York's streets were illuminated with the soft glow of stately gaslights. One of the few remaining examples stands on Patchin Place, between Avenue of the Americas and Greenwich Avenue in the West Village. Virtually intact, the light still shines today, though it's powered by electricity rather than gas.