Whether you're a native New Yorker or it's your first time visiting the City that Never Sleeps, NYC tours can be the best way to discover some of the city's remarkable treasures. The fun awaits both on land and on the water!
New York's City two icons, the Statue of Liberty, and Ellis Island are just a few of the most notable places to see. There's much more: From food tours taking you on a taste of New York City to seeing some of your favorite tv and movie locations, your days fill up in a New York minute. Below are some of the most popular options in 2023.
Official NYC Downtown Experience – Statue of Liberty, 9/11 Memorial & Museum, & One World Observatory
This special package provides you access to three world-famous attractions.
Cross paths with Lady Liberty as millions of others have, learning what it represented to those before you. Then step foot on Ellis Island, the ultimate destination for those in pursuit of the American Dream.
To continue stepping through time, visit the moving and heartfelt 9/11 Memorial & Museum, which allows visitors to honor those who lost their lives on the fateful day of September 11, 2001. Then finish your journey through New York City history atop the One World Observatory, where you can view Manhattan in all its glory 1200 feet high in the sky. The Official NYC Downtown Experience is an unforgettable journey through New York City's history.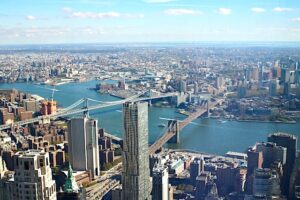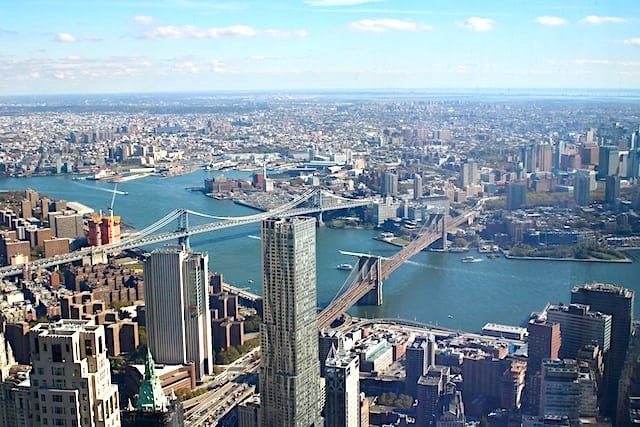 Helicopter tours in New York City
Find yourself in a New York State of mind but from above. Way above! Helicopter tours can be a ride of a lifetime, and New York City is the perfect place to make those dreams happen.
A NYC Tour from a bird's eye view shows you sights from a whole beautiful new perspective. The world-famous views of the Manhattan skyline are toured for up to 15 minutes. It's unique, it's thrilling and undeniably breathtaking.
Dramatic views of the Empire State Building, and the Statue of Liberty tower before you. Panoramic pictures of Central Park, Times Square, and the Financial District sprawl beneath. Manhattan Helicopter Tours is a flight that no postcard or photo could rival.
Food Tours – Greenwich Village of NYC
New York City is famous for its Italian food and there's no better place than Greenwich Village to find out why. Rich in Italian history and culture the west side is full of Italian heritage sites to discover.
Take a bite out of the Big Apple combining food and history with a Greenwich Village NYC Food Tour. It gives you the best of both worlds– fueling your mind and stomach.
Home to New York's first cappuccino, you can sip and drink your way through this iconic area. Savor Italian coffees and authentic espresso as you uncover the stories that make this NYC neighborhood so unique.
Sample a classic NYC pizza slice, fresh homemade pasta, meatballs, olive oils, and desserts. A visit to Greenwich Village will keep your mouth watering as you visit some of the best family-run restaurants.
TV & Manhattan Movie Locations Tour với NBC Studio Tour
We have come to love New York City through the magic of our screens bringing it to life right in the comfort of our homes. Now take to the streets and have a chance to see it all for yourself.
Seeing famous spots from Breakfast at Tiffany's to the long-running hit of Friends and Seinfeld, the TV & Manhattan Movie Locations Tour with NBC Studio Tour leads you off the beaten paths onto places that you may not find on your own.
Visit the studio of Saturday Night Live, the long-running show that hilarious skewers American politics and celebrities. And be sure to to go on NBC Tours to find out what goes on behind the scenes of America's hit television shows.

Catacombs by Candlelight
After exploring New York City from above, discover the secrets down below.
Off the radar of most tourists, the Catacombs by Candlelight tour takes small groups through 200 years of NYC history.
The intimate tour brings you to the crypts of the Basilica of St. Patrick's Cathedral and cemeteries. Witness Neo-Gothic architecture and hear the sounds of the Henry Erben Organ echoing throughout.
The history of those that lie within is shared as stories of priests, families, and bishops are brought back to life. It is an alternative and interesting way to learn more about the layers of history that New York City holds.
Sparing you the struggle of getting lost in the concrete jungle, guided NYC tours will take you to where you need to go. Exploring destinations that bring you that New York feeling, you will find yourself leaving your heart in New York City.