If you're planning to celebrate America's birthday in a city full of rich historical significance—that also offers plenty of modern-day fun—we can't think of a more apropos destination than Philadelphia. Known as the birthplace of the United States and the City of Brotherly Love, this buzzing metropolis was the meeting spot for the 1st Congressional Congress and the Constitutional Convention. The Declaration of Independence was signed here, and Philly was also America's first capital. Now we could go on and on with more impressive hits of history, but we know you just want to know what to do in Philadelphia 4th of July weekend—and trust us, there are options. Whether it's checking out fireworks as part of the WaWa Welcome America multi-week-long festival, attending the Independence Day Parade, or seeing the Philadelphia Orchestra and Fireworks Display, there's something for everyone pursuing patriotic vibes. We're happy to be your guide to what's good, so let's get started!
Things to Do in Philadelphia for the 4th of July
Independence Day is a popular holiday for Americans and a point of pride for the country's citizens. It's the birthday of the United States after all, so the celebration has to be special and there are several things to do in Philadelphia for the 4th of July that make it so. First off, there's the multi-week-long festival—WaWa Welcome America—which is a family-friendly, multi-generational experience featuring a patriotic parade showcasing some of the most historic sites in the nation, educational activities, block parties, free concerts and museum access, movie screenings, and Juneteenth commemorations, all culminating in the annual fireworks spectacular. The festival traditionally runs for 16 days from late June to July.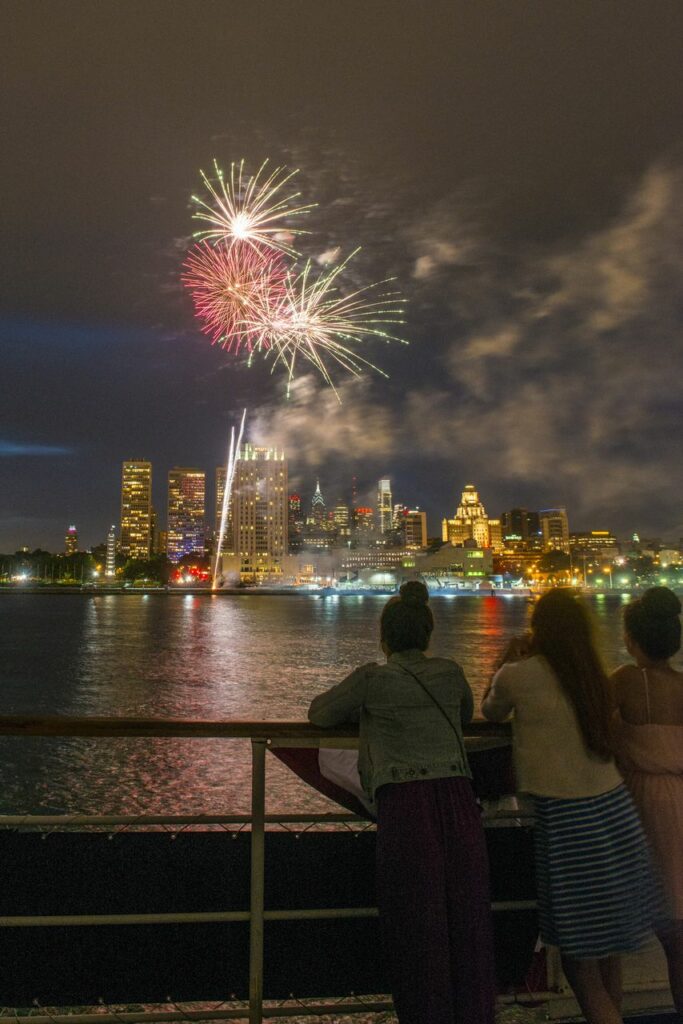 Next, consider the Philadelphia Orchestra and Fireworks Display. It usually occurs on the evening of July 1, and the complimentary show includes a concert at dusk and the first fireworks display of the weekend. On July 3, the Historic Philadelphia Block Party takes place right next to Independence Hall. The afternoon celebration includes food, entertainment, and numerous vendors. On the actual day of July 4, everyone gets in on the action at Party on the Parkway, an all-day street fair that's part of the WaWa Welcome America celebration. It includes food, cultural and sporting events, live music, dancing, activities for kids, exhibits, and more. Visitors can also opt to attend the Independence Day Parade, which also showcases live music plus plenty of floats, marching bands, drum corps, drill teams, dance groups, and a few celebrity guest appearances. It's a unique chronological procession of history that highlights cultural and social diversity.
Of course for those seeking food, fun, music, and skyline views from the water look no further than our 4th of July Fireworks Signature Dinner Cruise. Taking place on the Delaware River, this 3-hour, high-seas adventure has everything you need to make it a memorable night. With chef-prepared menus, breathtaking views of the Philadelphia landscape, a live DJ, and numerous beverages to imbibe (including craft cocktails, wine, and beer), guests enjoy impeccable amenities and service with the backdrop of the city's spectacular fireworks on display overhead.
Fireworks Shows in Philadelphia for the 4th of July
Because the 4inci of July in Philadelphia is hailed as a massive celebration, it should come as no surprise that the city is known for an amazing firework show that takes place above the Philadelphia Museum of Art as part of the annual WaWa Welcome America celebration. The event usually starts around 9:45pm after the WaWa Welcome America July 4inci Concert at 7:00pm. And while this is the main attraction in town for the evening, there are several different spots to choose from for taking them in. There's Benjamin Franklin Parkway, Fairmount Park's Lemon Hill, Schuylkill Banks and Boardwalk, Kelly Drive, Paine's Park, and Sister Cities Park—just to name a few.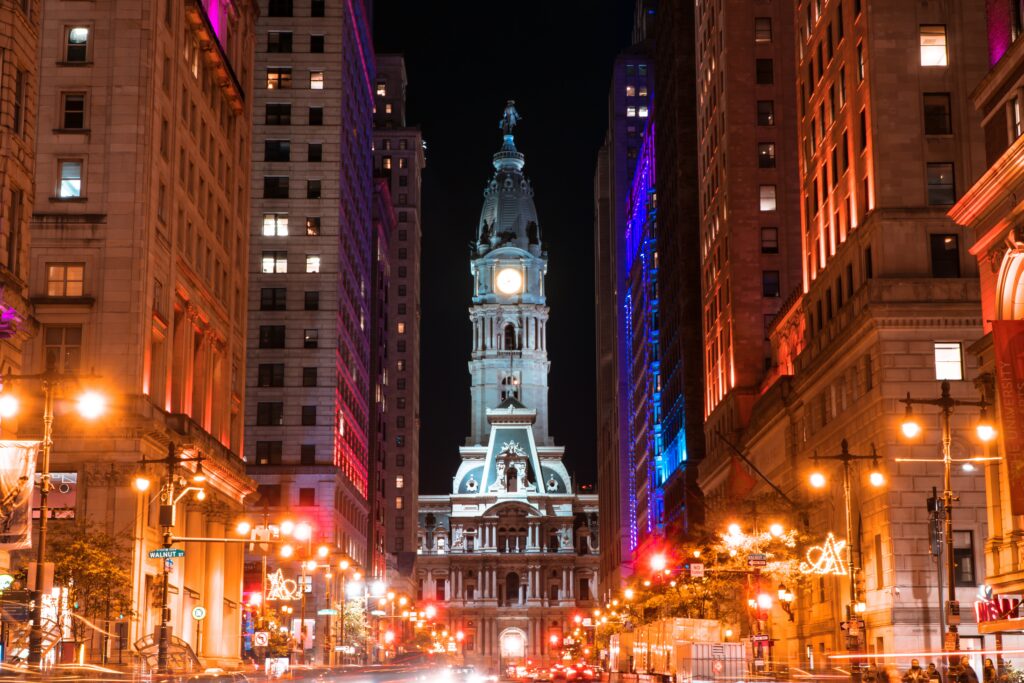 What to Do in Philadelphia 4th of July Weekend
Now that you know all about Philadelphia's 4th of July events, you may be asking yourself: What else can I do while I am there that doesn't have to do with the holiday? The answer: plenty! For culture lovers, no trip is complete without a visit to Benjamin Franklin Parkway. Modeled after Paris's Avenue des Champs-Élysées, it's home to a host of cultural institutions including The Academy of Natural Sciences of Drexel University, the Barnes Foundation, The Franklin Institute, and the Philadelphia Museum of Art. Fans of the movie "Rocky" (and its many sequels) will definitely want to take a quick pic of themselves right next to the iconic statue and stairs also located in this area. Not too far from here, visitors will find the Eastern State Penitentiary too. Opened in 1829, this National Historic Landmark's impressive architecture and radical philosophy for reforming criminals drive travelers from all over the globe to its door. Meanwhile, outdoor enthusiasts gravitate to the city's waterfront (the Delaware River), which has a range of attractions and parks to enjoy including Cherry Street Pier, Race Street Pier, the Blur Cross RiverRink, and the Spruce Street Harbor Park. It's the perfect spot to peep picture-perfect views of the Benjamin Franklin Bridge connecting Philadelphia to New Jersey.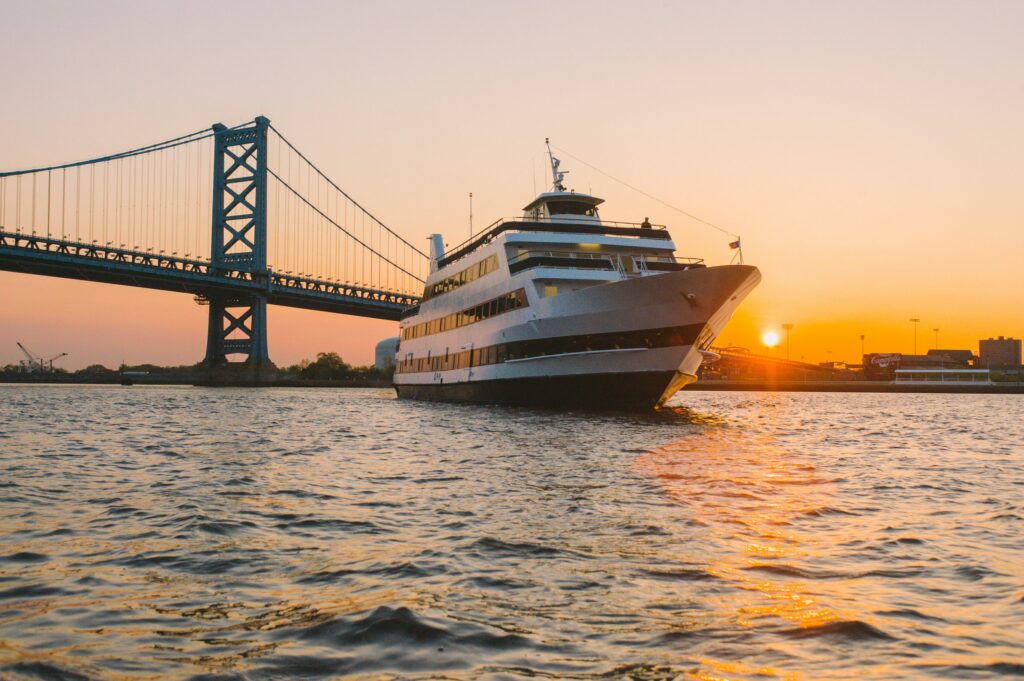 Of course, at some point, you'll need to find some nourishment to keep forging ahead, and if you want to combine that with beautiful views of your surroundings, we've got you covered for every meal of the day with our Signature Brunch Cruise, Signature Lunch Cruise, and Signature Dinner Cruise, featuring unbeatable views of the Philly skyline and waterfront landmarks, delicious food, exceptional service, live music, and more.
Gitmeden Önce Bilin
Because Independence Day is a major holiday weekend, there are a few things to be aware of before you start celebrating in Philadelphia. Weather-wise, daytime temps can get into the 90s and fall down into the 70s once the sun goes down. Dressing in breathable and comfortable clothes is a must (as is sunblock!) and a light outer garment is good to bring as well just in case you get chilly. In terms of parking, in the past multiple roads have been closed and public transportation usually runs on a holiday schedule. For the former, it's best to check up-to-the-minute announcements as they post on the area's tourism site; for the latter, log on to SEPTA for current updates on service. Pets on small leashes are permitted according to the city website, just be sure they'll be comfortable with crowds and loud noises.
It's All About Fun In (and Out) of the Sun
No matter what you decide to do in Philadelphia for the 4th, a trip to this destination is all about enjoying a fun and festive time wherever you end up. With so many activities to mark the occasion, lots of locations to catch fabulous fireworks, and numerous things to do aside from holiday-related events, there is no shortage of ways to make the most of your trip to Philly. The only question you need to ask yourself is: What time should I get going?