Experience a unique team building activity in London with City Cruises. Enjoy a cruise down the iconic Thames, fresh cuisine, and an unforgettable bonding experience. Chart your course towards an extraordinary corporate event today!
Attention all team leaders! Are you searching for a fresh and engaging way to boost team morale and cooperation? Why not navigate your way out of the conference room and onto the historic River Thames with City Cruises London for a team-building experience like no other?
Team building activities are more than just a break from the office. They are essential for enhancing communication, promoting creativity, and fostering a strong and productive workplace culture. The question is, why not combine these benefits with the thrill of cruising down London's iconic River Thames?
Team building plays a crucial role in promoting better communication, productivity, and workplace satisfaction. It involves activities and initiatives aimed at strengthening the bonds between team members, improving collaboration, and creating a positive work environment.
Picture this… You and your team cruising on a boat on the Thames. A refreshing drink in hand and food to satisfy. Not to mention the unforgettable views. Whether you're looking for team building, client entertainment, afterwork drinks, lunch, or dinner, plan an event with us and you'll find out exactly why it's always better on a boat.
Staff Events: Opt for a fun, unique, corporate event with a private boat hire on London's River Thames! It offers a unique opportunity for team building, relaxation or to reward your staff. With lunch, dinner, or drinks, along with fun activities such as having a DJ, solving a Murder Mystery, or Clay Pigeon Shooting, your staff are sure to come back reenergised and revitalised.
Meetings and Events: Staff away days, conferences and team building events. Choose from a wide range of boats, entertainment, dining experiences and drinks packages. If you want something completely different why not try Clay Shooting on board a London private boat hire on the River Thames. Our expert London private boat hire team will take care of everything, from start to finish.
Client Networking: A private boat hire is a memorable way to encourage client networking. Guests can enjoy a delicious dining experience, drinks reception, and entertainment onboard while also getting the opportunity to foster business relationships. This private boat hire would guarantee to leave attendees with unforgettable memories of a unique networking event!
Advantages of Team Building on the Thames
Team building on the Thames provides an entirely new perspective to collaboration and unity. The relaxing ripple of the water, the iconic sights of London, and the shared experience of something out of the ordinary, all combine to create an environment where teamwork is fostered naturally.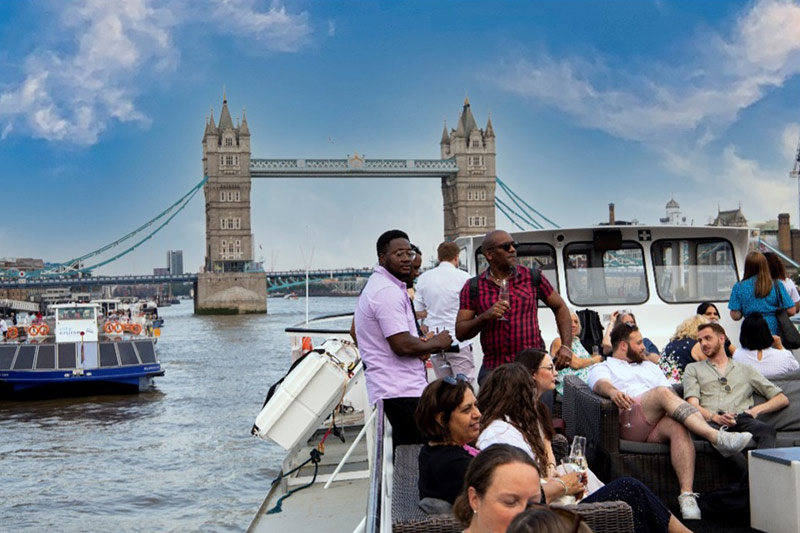 Event Options with City Cruises London Team Building
From client entertaining and after-work drinks, to catered lunches and dinners, City Cruises London can accommodate your team building needs. Each of our events is designed to promote team unity and provide a truly unique experience.
Food and Drinks on Board: The City Cruises London Experience :
Good food and drink are the lifeblood of any successful event. At City Cruises London, we elevate this concept, providing a selection of freshly prepared cuisine and an assortment of drinks to suit every preference. As your team bonds over a shared meal against the backdrop of London's skyline, the positive atmosphere is palpable.
Your Team Building Event with City Cruises London: Planning and Execution
With City Cruises London, planning your team-building event is as serene as the Thames itself. Simply visit our website, select your preferred package, and let us handle the rest. From inception to execution, we ensure your team building event is a resounding success.
Team building with City Cruises London offers an unbeatable blend of productive teamwork, iconic sights, and unforgettable experiences. Why settle for the ordinary when you can chart a course for the extraordinary? Set sail for success with City Cruises London today!
Enquire about your next team building today and our trusted charters team will get back to you in no time!
Here are some other ideas:
London offers a wide range of fun team building activities that can help foster teamwork, collaboration, and create a positive and engaging experience for your team. Here are some suggestions:
Escape rooms: London has numerous escape room venues where teams can work together to solve puzzles and find clues to escape a locked room within a set time limit. It encourages communication, problem-solving, and teamwork.
Treasure hunts: Organize a treasure hunt around London's famous landmarks or specific neighbourhoods. Teams can compete against each other, following clues and completing challenges to find hidden treasures.
Cooking classes: Book a cooking class where your team can learn to prepare a specific cuisine or dish together. It promotes collaboration, communication, and creativity while enjoying delicious foods.
Thamesjet Team Building Experience
If you're looking something for the thrill seekers, Thamesjet is a great team building set on the River Thames in London. Experience an exhilarating fun-filled 50-minute ride, you'll get to see the best sights of London from Westminster down to Tower Bridge as well as experiencing adrenaline pumping speed with fast-paced twists and turns on your way to Canary Wharf and back. Your London speedboat adventure starts at Westminster Pier, from where you will make your way along the most scenic stretch of the Thames to Tower Bridge. Big Ben, the London Eye and the Tower of London are just some of the iconic landmarks you will pass.
Once we pass Tower Bridge the river traffic reduces, which means we can pick up the speed. Get ready to head to Canary Wharf at full-throttle! It will be a great day out for all the team.
FAQs – London Team Building
What are some popular team building activities in London?
London offers a multitude of team building options, from escape rooms and scavenger hunts to workshops and cooking classes. Outdoor activities like rowing or a group hike in one of London's many parks can also be great for team building. As well as City Cruises! Take the team out on River Thames for some fun.
Why should I consider a boat for our team building event?
Holding your team building event on a boat offers a unique and exciting experience. It provides an unusual setting that can help spark creativity, encourage bonding, and make the event more memorable.
How can a City Cruises boat enhance our team building event?
City Cruises provides a one-of-a-kind venue that combines stunning views of London, flexible spaces for different activities, and catering options. The shared experience of being on a boat can also bring your team closer together.
What kind of team building activities can we do on a City Cruises boat?
You can host a variety of activities on a City Cruises boat, from brainstorming sessions and workshops to more structured team building activities. The onboard facilities and flexible spaces can cater to most needs.
Can City Cruises cater for our team building event?
Yes, City Cruises offers a variety of catering options. Whether you want a full sit-down meal, a buffet, or drinks and snacks, they can arrange it for you.
How many people can a City Cruises boat accommodate for a team building event?
City Cruises has a fleet of boats of varying sizes, so they can accommodate team building events for small teams up to larger groups of several hundred people.
How can I book a City Cruises boat for our team building event?
You can book directly through the City Cruises website or by contacting the events team. We  can discuss your specific needs and help you plan your perfect team building event.