Washington, D.C. It's not just a popular destination for tourists from around the globe to travel to, but also a city where numerous people live and work. After all, D.C. is America's capital and the central hub of the U.S. government; so naturally come wintertime, holiday parties are a plenty. And although the city is chockful of excellent restaurants and hotels, one of the most dazzling ways to celebrate the season is — you guessed it! — taking in impressive views of everything the city has to offer as you cruise along the Potomac River. Of course, you're probably familiar with the range of City Cruises offerings you can try during your personal time, but did you know that fun can be had as part of your professional life too? In fact, because our Washington, D.C., fleet has several vessels, packages, and customized amenities to choose from, you can design an outing that's ideal for your entire company with a festive soiree on the high seas.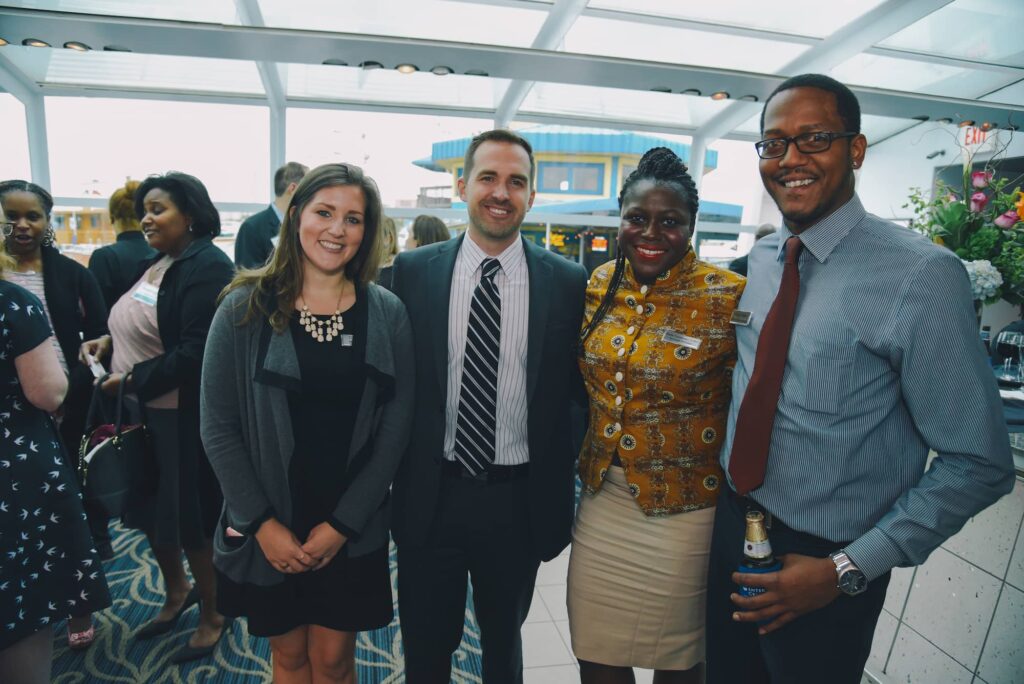 Unforgettable Amenities for Your Corporate Holiday Party in Washington, D.C.
What makes a holiday event meaningful? First off, it's the company you keep, and since you'll already know your co-workers, you'll know what to expect. Second, it's the venue. In this case, a conference room just won't do. While a hotel ballroom or restaurant might give off merry vibes, neither really boasts adventure or excitement. But a boat cruise? You're already primed for a good time simply by going somewhere special that offers exquisite views of city sights. Add to that, an experience that can be catered to your budget, party size, needs, and desires, and success is guaranteed. Not only does every holiday party cruise include an event manager, stewards, captain, and bartenders to ensure that everything runs smoothly, but they also come with tables and chairs, linens, and flatware. A cash or hosted cocktail and wine bar, freshly prepared cuisine, customizable entertainment and photography are also available. With six types of packages to choose from—the premier brunch, premier lunch, premier dinner, signature lunch, signature dinner, and private charters—there's bound to be one that's perfect for your purposes. Here's what they entail.
Corporate Holiday Party Packages
 The premier brunch, a two-hour cruise, features bottomless mimosas, a holiday buffet, live DJ entertainment, and beautiful views starting from $78.90 per person; while the two-hour premier lunch includes a plated holiday lunch menu, live entertainment, and gorgeous views starting from $66.90 per person. For evening enthusiasts, the premier dinner—a three-hour outing—comes complete with a plated holiday dinner menu, live entertainment, and breathtaking evening views of Washington, D.C., starting from $130.90 per person. Meanwhile, for private charters, you can choose from a lunch, cocktail, or dinner cruise; customizable dockside and cruising times; and a variety of beverage choices and food menus, all starting from $2,000 per hour—plus bar and menu costs. Last but not least, there's the signature lunch, a two-hour cruise that includes a holiday buffet, live DJ entertainment, dance floor, and amazing views starting from $54.90 per person; and the signature dinner, a three-hour cruise that features a holiday buffet, live DJ entertainment, dance floor, and breathtaking evening views starting from $107.90 per person.
A Washington, D.C., Event Venue to Remember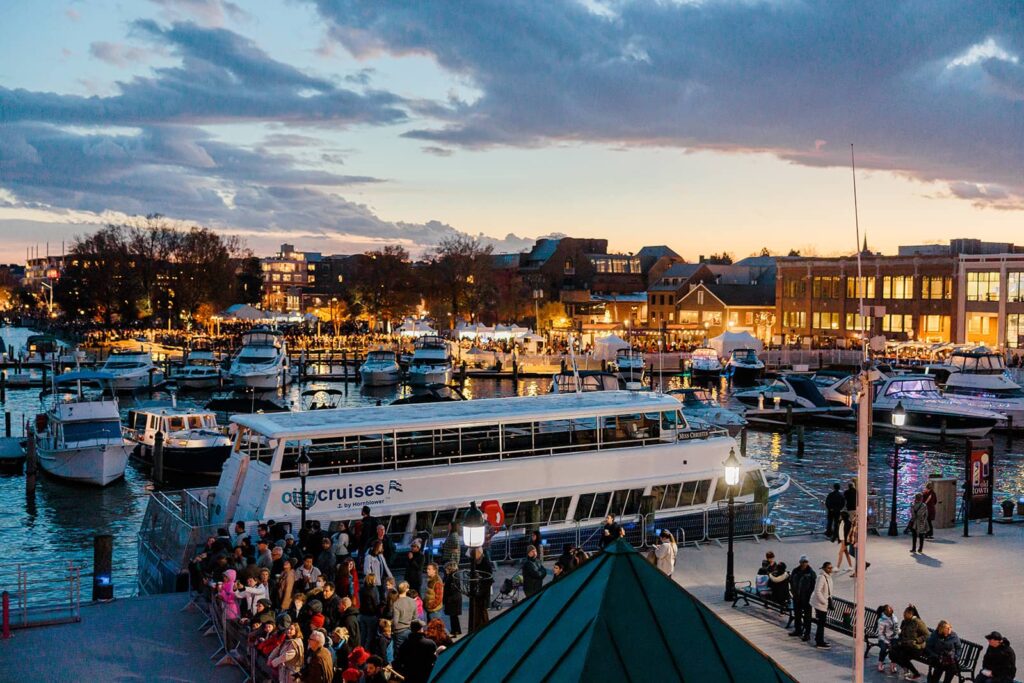 Holiday gatherings are great—especially when you pick the right venue and pack it with amenities people will appreciate, and what's more unique and memorable than a boat cruise on the Potomac River? It showcases majestic views of local iconic landmarks including the Georgetown waterfront, the Lincoln Memorial, the Washington Monument, and the Thomas Jefferson Memorial—just to name a few. Corporate events on the water in Washington, D.C., can be world class when they include City Cruises' range of enticing amenities—including chef-prepared menu selections, full bar service, and all-inclusive packages you can customize to accommodate your budget and party size. Add to that exceptional hospitality, climate-controlled interiors, and open-air outdoor decks, and you'll have a gathering to remember.
Vessels That Impress for Any Corporate Holiday Party
So you've decided that your corporate holiday party venue should be a City Cruises craft. Great choice! Next up: Figuring out which vessel is the right one for the festivities. With several to choose from in the Washington DC City Fleet, finding one that's the right fit will be a breeze. While we don't have enough space to provide details on all of them, we'll highlight a few so you can get a sample of what's in store. To start, let's look at the Odyssey DC (capacity 600). This elegant, one-level vessel is climate-controlled and glass-enclosed and sails north under the city's low bridges to provide up-close views of the monuments. Next, there's the Cherry Blossom (capacity 300). An authentic re-creation of a 19th-century riverboat, this gorgeous craft is one of only six Coast Guard–certified working sternwheelers in the U.S. Add to those Miss Christin (capacity 125), a double-decker private charter boat, and Miss Mallory (capacity 70), a private catamaran, and every size party — large or small — has an option ideal for any event.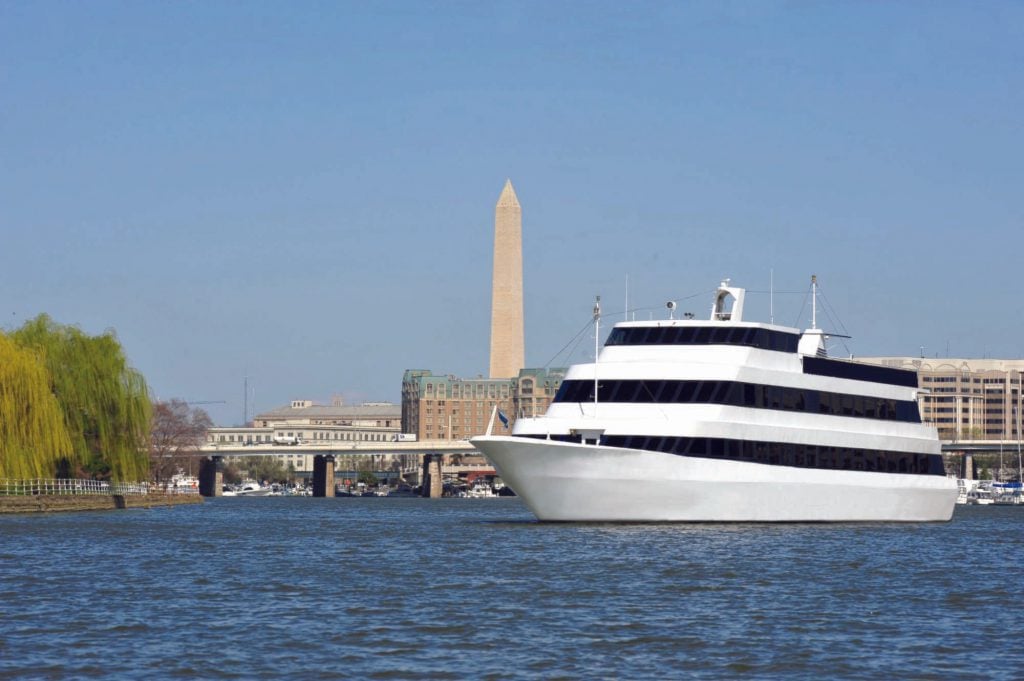 If you're going to throw a corporate holiday party in Washington, D.C., it pays to do it right — and we're not just talking about your budget. Hosting a seasonal soiree with City Cruises guarantees a great experience whether you opt for our range of pre-planned packages or choose to customize and create your own. With remarkable boats, enticing amenities including delectable food and drink, live entertainment, and spectacular views of the city surroundings, your party will make for a memorable experience all of your guests will enjoy. So, what are you waiting for?  Fill out this form and one of our event planners will contact you!Contact City Cruises today to start planning the event of the year!