When it comes to the 4th of July in Chicago, this Midwestern town is chock full of activities and events to celebrate Independence Day. The entire city embraces a festive vibe, especially during a long weekend. There is incredible food, a cool music scene, Lake Michigan as your backdrop, and some of the nicest people you will meet.
July is one of the hottest and sunniest months in Chicago with average temperatures hovering around 80 degrees. Warm weather and a packed calendar of festivals, events, and fireworks displays make summer the peak time to visit. School is out, along with the sun, and everyone wants to be outside and enjoy all the city has to offer. Explore the dining cruises, spectacular firework displays, scenic beaches, fun festivals, and events the entire family will love. Here is your guide to making the most out of the 4th of July in Chicago.
Take a Fourth of July Boat Cruise
What could be more relaxing than a holiday boat cruise? Whether you are looking for a little dining and dancing or learning about the history of the city, there is a cruise for you.
Independence Day Premier Plus Fireworks Dinner Cruise on the Chicago River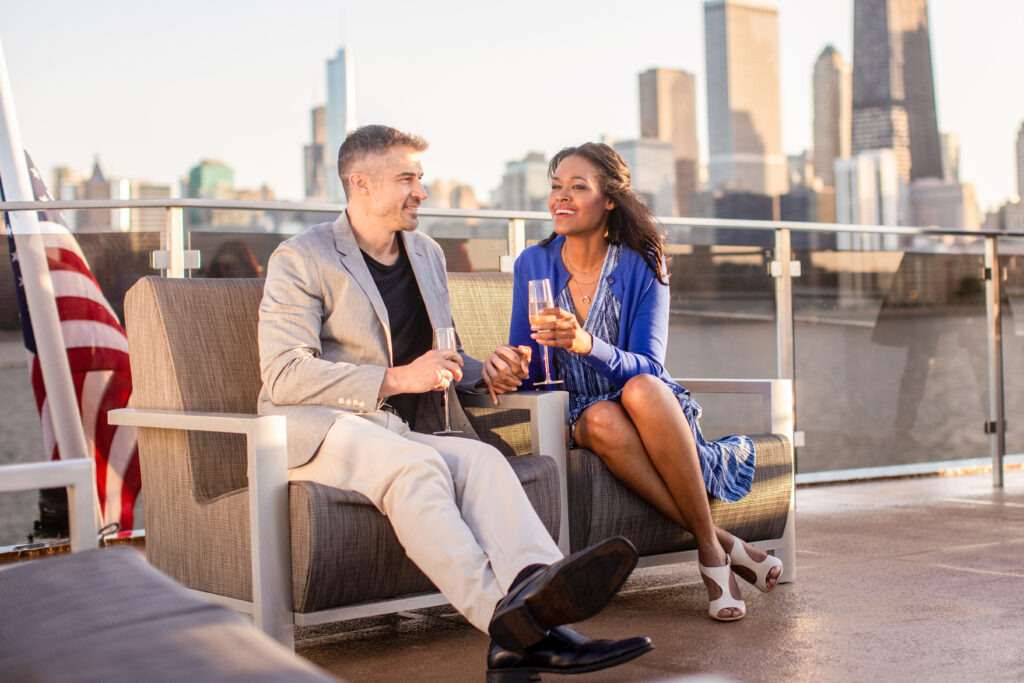 If you are ready to go all out and enjoy unforgettably seeing the fireworks, then this three-hour dinner cruise on the Chicago River is for you. Freshly prepared entrees and spectacular views of the city skyline and local landmarks as well as live DJ entertainment will leave you wanting more. Distinctive service like no other will help you celebrate the holiday weekend as you take in the fresh air honoring the nation's birthday.
Independence Day Signature Fireworks Dinner Cruise on Lake Michigan
This adults-only three-hour dinner cruise on Lake Michigan is the perfect party venue. Celebrate the red, white, and blue aboard this fun-filled cruise and take in the most incredible views, enjoy a delicious chef-prepared meal, creative cocktails, and a showstopping end to your evening with fireworks overhead. Do not forget your dancing shoes because live entertainment will get you up and moving!
Chicago Seadog Lakefront Fireworks Cruise
Are you up for a thrill? Race along Lake Michigan on Seadog Cruises, featuring thirty minutes of heart-pounding fun with exhilarating twists and turns while experiencing Chicago's skyline at night and fireworks display sparkling along the water. Wednesdays and Saturday evenings during the summer months will bring locals and visitors to this action-packed adventure you do not want to miss.
There are so many choices to see Chicago from the water and its two stunning waterfronts-Lake Michigan and the Chicago River. If you want to get your holiday weekend started right, check here for different options: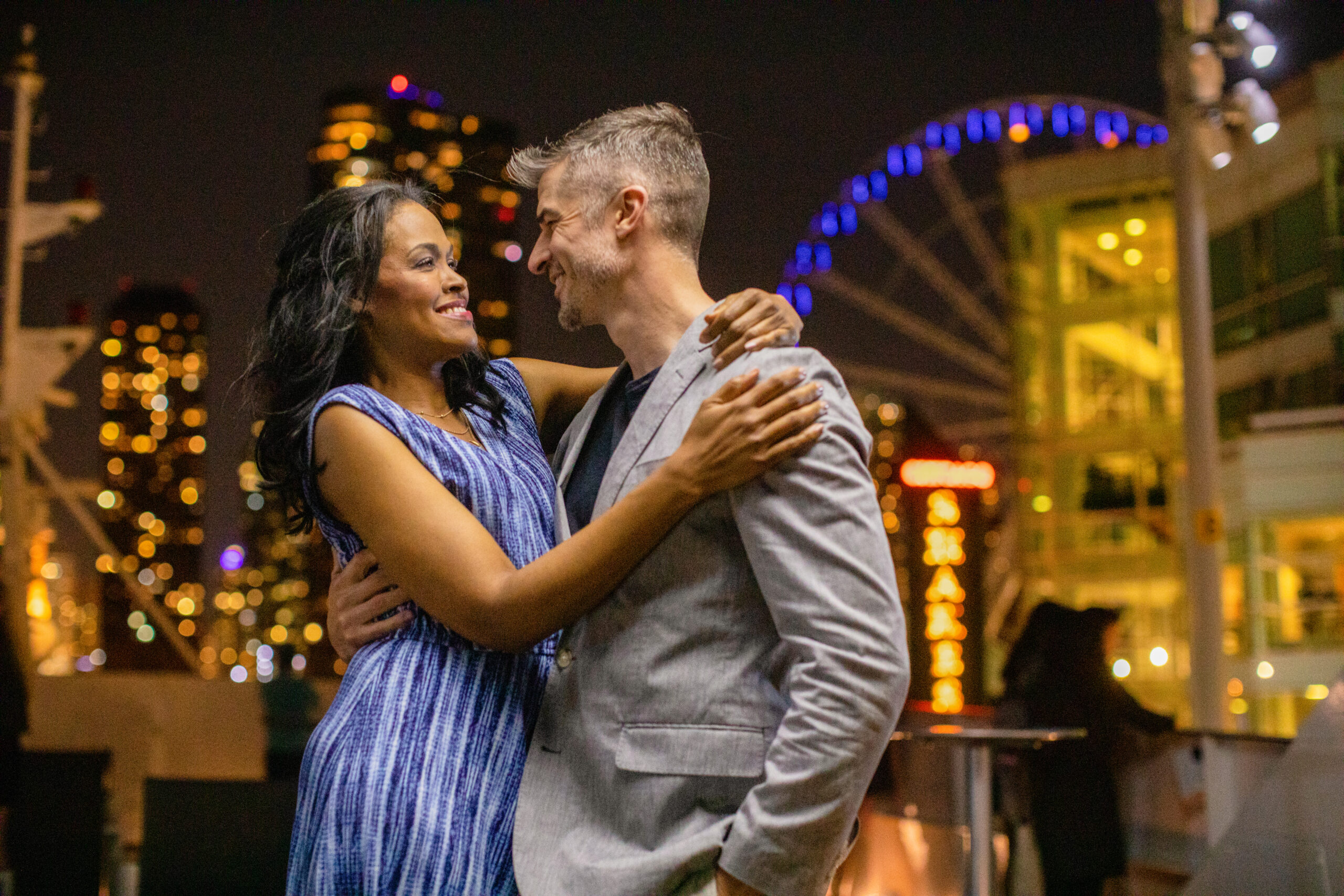 Attend a Festival
Summer festival season is back, and no summer would be complete in Chicago until you check out the local summer events.  From local food trucks and neighborhood parties to outdoor fests with headline acts, here are some of the best festivals to check out in Chicago in July.
Taste of Chicago: Free admission, impressive eateries, filled with cultural excellence and diversity.
NASCAR Chicago Street Race Weekend: July 1st and 2nd, first-ever NASCAR Cup Series, music, and live entertainment.
International Festival of Life: 30th Anniversary Caribbean/African International Festival of Life, July 1st– July 4th, 7th Jerk, Seafood, and Vegan Fest, music, and activities.
4th on 53rd Parade and Picnic: 29th Annual event, Hyde Park, picnic, a festival in Nichols Park, and music.
Grant Park Music Festival: free concerts, master classes, 90th Annual festival, family fun.
Chosen Few DJS Picnic & Festival: featuring today's hottest house musicians in the city where the genre was born.
Attend a Baseball Game
There is no better way to spend an afternoon in July than the ballpark. The Chicago Cubs will play two home games over the holiday weekend at Wrigley Field. Wrigley is one of the oldest and most iconic stadiums in the country. If you are a baseball fan, get to the field to celebrate this holiday weekend like no other.
Watch Spectacular Fireworks Displays
There are many options to see the fireworks in Chicago, including beaches, lakes, parks, and rooftop bars. Navy Pier, an iconic Chicago destination, will host its annual free waterfront fireworks show accompanied by holiday-themed music on Saturday, July 2.
Check out Palatine, a northwestern residential suburb of Chicago that Is known for its vibrant 4th of July celebration. It features carnival rides, arts and crafts, a business expo, as well as entertainment and food. Hometown Fest Parade is one of the biggest 4th of July processions in the area which culminates on July 4th at Palatine Community Park. This family-friendly event includes live bands, activities, refreshments, and competitions. The grand finale after dusk features the Red, White, and Boom fireworks show!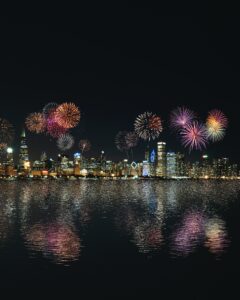 Aurora Fireworks 4inci of July 2023, is a huge celebration that welcomes all. "City of Lights," is a popular 4inci of July celebration featuring a spectacular fireworks display in the evening. This free event is for the whole family to enjoy as the fireworks light up the sky into a colorful canvas.
Schererville Fireworks has come back again to get the whole family involved in the fun. Enjoy the day with your family and friends and groove to the music, munch on some delicious foods, take part in arts and crafts, and of course the beer garden (where you will find all the dads). This is a town favorite so plan on arriving early and don't forget your blankets and chairs.
Explore the Chicago Riverwalk
Chicago's Riverwalk is one of the city's top destinations, whether you want to stroll along or enjoy a fantastic meal. You can find delicious food, cocktails, art, architecture, and stunning views and you can see the fireworks from here too! Imagine savoring a fine wine on a riverfront patio or devouring eclectic foods-all with a Chicago River view. The choices are endless and there is something for everyone at Chicago Riverwalk located on the south bank of the Chicago River.
Get to the Beach
You cannot waste a long weekend being stuck indoors. Make sure to save some time to kick back and relax on one of Chicago's scenic beaches. You can get a drink at a waterfront bar, play beach volleyball, or just curl up in the sand with a good book. If you are feeling adventurous, you can rent a variety of water equipment including jet skis, kayaks, paddleboards, or banana boats. The view is fantastic.
If you are looking for something to do for the 4th of July in Chicago, you will find plenty in this amazing city that takes this American holiday seriously. Take your family and friends out for an Independence Day adventure with so many fun-filled experiences to choose from. Dining cruises with fireworks, festivals, concerts, parades, scenic beaches, and good old-fashioned baseball are just a few. Be sure to check events before heading out for the best parking options and do not forget your blanket or chair.