San Diego, also known as America's finest city, is located on the Pacific Coast and is known for its beaches, parks, and warm climate. It is a vibrant destination waiting to be explored. San Diego County encompasses 18 cities and numerous charming neighborhoods. The arts and culture are booming in this city with numerous galleries and museums, restaurants, and shopping that are impressive. As one of the fastest-growing cities in the United States with a thriving job market, it's no surprise that young people are flocking to this area as one of the greatest places to live. Companies want to keep their teams happy and boost employee retention. Providing your colleagues with an exciting meeting space aboard a City Cruises unique venue and taking them away from the same old boring meeting space will guarantee engagement and satisfaction all around.
 San Diego Events Reimagined… On the Water
City Cruises can provide the perfect meeting space aboard a luxury yacht to leave a lasting impression. Imagine stunning views of the San Diego Bay and the city's skylines as your backdrop. Build your team, entertain clients, conduct training, or throw a party for your organization all while enjoying the unbeatable hospitable of City Cruises San Diego while on the water. Your team and guests will feel inspired by the unique venue setting while we take care of all the details with flexible and customizable packages within any budget. No matter what size event you are hosting, the quality of service will not be compromised.
Nobody Does Meeting Spaces and Venues Better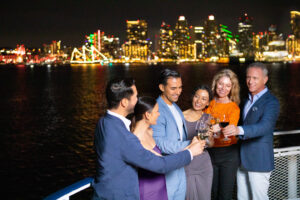 Cruising around San Diego Bay is sure to be more than just a meeting but an experience for your team like no other. Rejuvenate and refresh your guests by leaving cramped office spaces and conference rooms and replacing fluorescent lights with sunshine and fresh air. Being out on the water will help your colleagues tap into their creative sides, leading to greater engagement. Providing your guests and colleagues with a comfortable and unexpected meeting space environment will create happy and committed employees. This investment towards company culture will benefit the company as well as the employees by building a strong relationship amongst all parties. There is no greater way to get your team motivated than showing them that you are invested in their well-being and that you truly value their input. There is something about being on the water that has a calming and relaxing effect to get your best work done.
City Cruises is top of the line when it comes to providing a unique and luxurious venue for your next company meeting or event. We will provide it all from start to finish. You and your guests will just need to concentrate on getting your work done while enjoying the skyline views of San Diego and feasting upon delicious chef-prepared menus, imbibing in cocktails with our fully stocked bars, having conversations in cozy seating, taking in the fresh air on our open-air outdoor decks, or relaxing indoors in climate-controlled interiors. Want entertainment? We have it. Onboard games, music, and team-building events can all be customized to meet your needs. We will handle the details. All you have to do is enjoy with your guests.
Plan Your San Diego Event Today and Make Memories Forever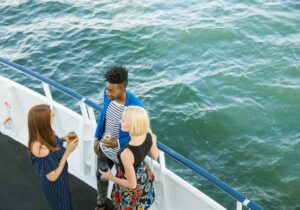 The current workforce is looking for more than just a competitive salary. People want to feel engaged and a part of something beyond the typical workday. Understanding your employees' needs and improving the employee experience is key to supporting long-term engagement and retention for your teams. Paying attention to employee feedback is an effective strategy to learn about your employee's perspectives and needs. Putting it into practice is crucial for building trust and creating a culture where people want to continue and contribute to the company's overall success. Hosting your next corporate event in San Diego on the water will build excitement and become an event that will be talked about for years to come.
City Cruises can accommodate any group size from the smallest and most intimate meeting spaces, from renting a table or a deck to taking over the whole yacht. If you can imagine it, we can make it a reality.  From the Newport Hornblower which accommodates a smaller group with intimate meeting spaces and large, picturesque windows, your guests will love the contemporary lounge and soaring ceilings. Have a need for a venue that will hold up to 1,200 guests? We have you covered with Inspiration Hornblower, boasting wall-to-wall windows for enjoying the bay while dining. State-of-the-art amenities aboard this 222-foot luxury yacht will definitely impress everyone. Get your team out on the open-air sky deck which offers 360-degree views of downtown San Diego while collaborating and bonding. This is an event meeting space that will be a showstopper.
City Cruises is More Than Just a Venue
City Cruises can host a variety of events, each customized to make it the experience that you imagine. Whether it's a team meeting, team-building event, client dinner, product launch, or professional development, we have you covered. We want to help you create an event that is more than transportation, but an experience that your guests will look forward to attending. Hosting an event aboard a City Cruises yacht in San Diego will boost morale and productivity. Experience your next corporate meeting while soaking in the skyline views while cruising along the San Diego Bay leaving the confines of walled spaces and taking in the fresh air allowing the backdrop of the city to inspire big ideas. Discover the difference with City Cruises today and fill out this form to get started.