Hosting a corporate event may not seem necessary for your company, however, you may be surprised. Outings, no matter big or small, will provide your clients, employees, and other industry partners with an opportunity to mingle with colleagues, and will most likely boost your business and create or maintain a positive company culture. Choosing the right venue for your corporate event can set the tone for success. Get your people talking by hosting your next corporate event in Long Beach or the greater Los Angeles area aboard a City Cruises luxury yacht, and bring everyone together with an unforgettable venue on the water.
Cruise Into a Successful Event in Los Angeles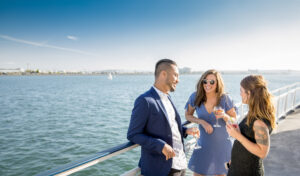 Long Beach, California, known for its waterfront attractions, bike-friendly roads, cultural festivals, and unbeatable weather, is located just south of downtown Los Angeles. As the name suggests, Long Beach is a one-of-a-kind place to relax and head to the beach, but it is also a great place to work. Great weather, beautiful parks, diverse communities, and affordable housing all entice young workers to call Long Beach home. To maintain your best talent, allow your coworkers to interact, and create a sense of community, corporate events are a must. Thinking outside the box and planning an event that will wow your team will likely deliver an experience that will provide wonders for your workforce and clients.
Want a unique venue with exceptional scenery of southern California's world-famous beaches and harbor views? City Cruises offers chef-prepared menu options, full bar service, and all-inclusive packages that can be customized to fit your budget and party size. Experience greater Los Angeles from the water and enjoy picturesque views of Long Beach's coastal city skyline and sandy shoreline.
Wave Goodbye to Boring Long Beach Corporate Events
At City Cruises, sail away from the ordinary and enjoy the extraordinary for an unbeatable corporate event in the Los Angeles area. We offer a wide array of choices when it comes to hosting your event, each providing an amazing backdrop to soak in the scenery. Here's what we offer:

Employee Outings & Team Building: Host your next company celebration on a unique floating venue and show your employees a new side of Long Beach! While onboard, you'll enjoy an unforgettable dining experience with customized menus, all-inclusive packages, and spectacular views from the water. The close of a business deal, team-building experiences, summer outings, company cocktail events, and retirement celebrations; if you can dream it, we can make it happen.
Client Entertainment: If you're looking to entertain, take to the water. There are few settings more impressive than a yacht, which is why it's the perfect venue for your next event. Celebrate a product launch while cruising past iconic sights. Treat your customers to dinner among the ocean breezes. Close a business deal and then take to the upper deck to cheers. We'll take care of all the details; you enjoy the event — and the Long Beach Harbor view.
Holiday Parties & Outings: Holiday outings are the perfect opportunity to reconnect with your employees, build team morale, and enjoy spectacular views of Southern California's world-famous beaches and harbor. City Cruises serves as a unique company holiday party venue – with chef-prepared menu options, full bar service, and all-inclusive packages that can be customized to fit your budget and party size. Your guests will love our distinctive hospitality, climate-controlled interior, open-air outdoor decks, and incredible views of the marina and celebrity homes – all from the water!
Meetings & Outings: Meetings with a view? Sounds like a dream. It's the reality with us. All the amenities of a traditional meeting venue, with an even better view of Long Beach Harbor. With a variety of yacht sizes, find the perfect one to host a small team meeting or a larger conference. Onboard Wi-Fi, plenty of space to work, and catered meals will make everything a breeze. There are countless benefits to offsite venues, come see the benefit of having one on the water.
 Everything's Better on a Boat, Especially Corporate Events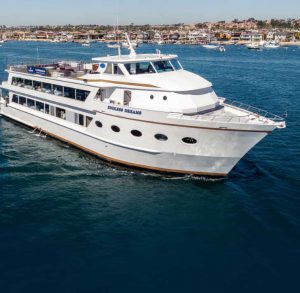 The key to any successful business event lies in knowing your audience. Creating an event that is tailored to your colleagues or clients helps to provide an experience that will resonate with them. Events are a great time to build relationships, engage employees, and enhance company culture. Coming together to celebrate company successes, reward good work, and bond with one another shows your team that they're an integral part of the greater good. Make it a worthwhile experience and not just another event by giving them a venue that they won't soon forget. The serenity and calm breezes of the water will make your coworkers feel a sense of adventure when stepping away from traditional corporate event venues.
City Cruises will take your event to the next level. Our dedicated event planners will handle all the details for you from start to finish and everything in between. We offer flexible and customizable packages that will ensure you and your guests will create treasured memories with our warm and friendly hospitality that stands above the rest. We can accommodate any event size from the smallest of gatherings to a large event. Rent a deck or the entire yacht. City Cruises is ready to make your next event a great one. We can provide entertainment to keep the atmosphere fun and lively so you can enjoy yourself and mingle with your guests. Hosting successful corporate events will likely have a positive impact on productivity and employees will feel appreciated and recognized. Contact City Cruises today by filling out this form for an unforgettable meeting.