Each year Navy Pier in Chicago offers the most splendid fireworks throughout the summer and for special occasions. If you're in the area, the Navy Pier fireworks are a must-see! They're fired over the water for an even more spectacular event, and there are multiple ways to see the fireworks, including from a boat or from Maggie Daley Park.
Best Ways to View Navy Pier Fireworks
Viewing the Navy Pier Fireworks is one of the most talked about activities for those visiting Chicago, IL. These spectacular fireworks are visible throughout Navy Pier, from rooftop restaurants, the walkway, and the cruise ships. As the fireworks are shot from outside Navy Pier Chicago, viewing them from a Navy Pier fireworks cruise will offer a close-up view of the show.
Navy Pier Fireworks: About the Show
Fireworks at Navy Pier are prevalent throughout the summer and for New Year's Eve. The Navy Pier fireworks schedule typically includes shows on Wednesdays and Saturdays until Labor Day weekend. This summer, the fireworks schedule also includes an annual Fourth of July fireworks show.
The fireworks coincide with music as they explode over Lake Michigan, providing an even more exciting event. While the schedule typically specifies two days per week in warmer weather, it's important to note that the schedule occasionally changes, and additional fireworks shows can occur. For the most up-to-date news, it's best to check the schedule for Navy Pier fireworks 2022.
Navy Pier Fireworks: Best Places for Viewing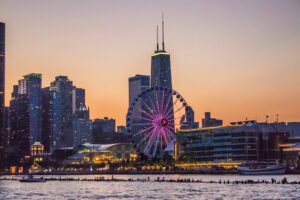 Maggie Daley Park
Maggie Daley Park is a newer spot for viewing Navy Pier fireworks, as this park was built between 2012-2015. It's the northeastern part of Grant Park, sitting nearby Millennium Park. Maggie Daley Park is one of the most popular viewing spots for families, as there's a large playground where kids can play until the fireworks begin.
Chicago River Cruises
If you plan on joining the New Year's Eve Premier Plus Dinner Cruise on the Chicago River to view the fireworks, you'll find a pleasant experience on the water. This evening cruise includes dinner and drinks, so you can relax in your seat and watch the show while dining.
The Fourth of July Premier Plus Early Dinner Cruise on the Chicago River is another option that provides stunning views of the fireworks alongside award-winning wines and a plated dinner.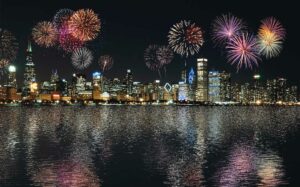 Lake Michigan Cruises
Many options are available for cruises along Lake Michigan, especially evening options with stunning views of the fireworks. The New Year's Eve Signature Dinner Cruise on Lake Michigan is the perfect option for an evening of fun. A dinner buffet, full bar, and DJ help create a memorable evening on the water.
The New Year's Eve Premier Dinner Cruise on Lake Michigan provides a more elegant viewing experience, complete with a 3-course meal, DJ, and a sparkling wine toast.
There's also a 4th of July Premier Lunch Cruise on Lake Michigan, which you can take advantage of. This lunch cruise includes fun cocktails, beer, wine, and a chef-curated menu to help you celebrate the holiday.
Shore Club
The Shore Club is an ideal viewing point for adults, as you'll find tasty, colorful cocktails here. It sits alongside Lake Michigan at North Avenue Beach. This spot is only open in the summertime, so you cannot catch New Year's Eve fireworks at Shore Club. Anything along the shoreline of Lake Michigan that's nearby Navy Pier provides an excellent viewing spot. Hence, Shore Club offers great views of the fireworks.
Grant Park
Other sections of Grant Park are also ideal for watching the fireworks. Certain spots are less crowded, so you can relax and enjoy the show without battling others for a view. If you want to avoid other firework watchers, bring a blanket and sit between the Adler Planetarium and the Shedd Aquarium. Alternatively, you can watch fireworks at Promontory Point.
Navy Pier
At Navy Pier itself, there are many excellent viewing locations for the fireworks show. You can simply walk around the pier and view the fireworks. Or, head to one of the rooftop bars or restaurants for stunning views and fun drinks. Alternatively, you can select one of the above cruises, which leaves directly from Navy Pier for fireworks views.

Navy Pier Fireworks: Planning a Visit
If you're planning to see the fireworks over the summer or for New Year's Eve, it's essential to begin creating your itinerary with the schedule in mind. Ensure you check the fireworks schedule to know which days you need to visit Chicago. For example, if you're planning to visit for New Year's Eve, you'll want to arrive at least one day before; this way, you'll have time to settle into the city and arrive at your viewing location with plenty of time.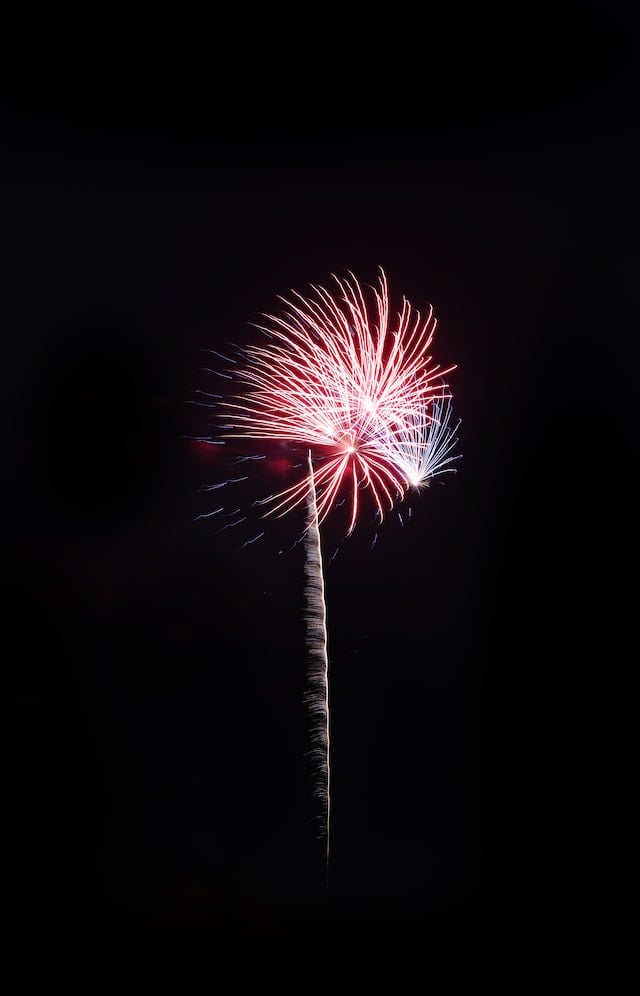 Navy Pier Fireworks: FAQ
Ninaweza kutazama wapi fataki za Gati la Wanamaji la 2022?
Matangazo mengi ya kutazama yanapatikana kwa fataki za Navy Pier, ndani na nje ya gati. Mbuga za karibu, kama Maggie Daley Park, hutoa matangazo bora ya kutazama. Unaweza pia kutazama fataki kutoka kwa meli, mgahawa wa paa kwenye gati, na ufukwe wa karibu kando ya Ziwa Michigan.
Je, kuna maegesho ya bure kwenye gati la Navy?
Kwa bahati mbaya, hakuna maegesho ya bure kwenye Gati la Navy. Kuna karakana ya maegesho ya onsite ambapo unaweza kuhifadhi gari lako kwa usalama wakati wa kuchunguza kile Gati ya Navy inatoa. Bei ya maegesho inategemea muda gani unakaa, na chaguzi za kuegesha kwa masaa machache, siku, au kwa mwezi.
Je, fataki ni bure kwenye gati la Navy?
Yes, the fireworks are free to view at Navy Pier. You'll run into a cost if you select a specific activity that requires payment, such as a cruise.
Unaweza kuona fataki kutoka Riverwalk Chicago?
Yes, you can see the fireworks from the Chicago Riverwalk. The Riverwalk runs throughout the city, and while it does not connect directly to Navy Pier, it brings you close enough to view the fireworks during the summertime.