For a true New York cold-weather experience, there's nothing better than bundling up and hitting the rink.
There aren't many places in the world as breathtakingly beautiful as New York City in the winter. Even if you've never been there yourself, you've probably seen the Big Apple turn into a winter wonderland on the big screen, in timeless classics such as Elf, When Harry Met Sally, or Home Alone 2: Lost in New York. (And let us be the first to tell you, it really is just as gorgeous as it seems on TV.) So, if you're on the fence about taking a wintertime trip to the city that never sleeps, our advice is to take the plunge — plus, there's plenty more to do during the winter in NYC than sightsee.
For a true New York cold-weather experience, there's nothing better than bundling up and hitting the ice rink. Yep, the city has several great ice-skating rinks for all skill levels, whether it's your first time lacing up a pair of skates or you're looking to get a quick warm-up in before you try out for the New York Rangers. Plus, the rinks are super festive during the holiday season, and a perfect place to take pictures and have a blast with the whole family.
So, without further ado, let's dive into some of the best places to ice skate in NYC during the winter.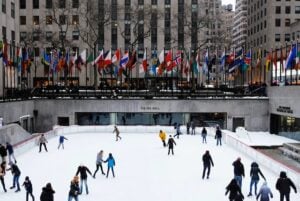 Kituo cha Rockefeller
If there's only one place you ice skate during your time in New York, this one is tough to beat. The Rink at Rockefeller Center officially opened for the opens in early November, and is conveniently located at Rockefeller Plaza between 50th and 49th Streets. Enjoy some cold-weather fun under the world-famous Rockefeller Center Christmas Tree any day of the week from 9 a.m. to midnight by purchasing a ticket and reserving a time slot in advance.  Guests are welcome to bring their own skates, but if you don't want to lug them around all day, you can rent them while you're there.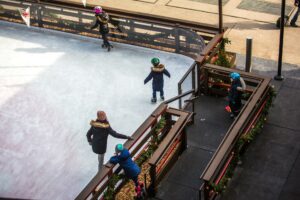 Bryant Park
For those looking to enjoy some ice skating in the middle of a massive winter village, there's no better place than the Bryant Park Ice Rink. The rink opens in late October, and runs from 8 a.m. to 10 p.m. daily. The best part? At Bryant Park, if you bring your own skates, ice time is totally free — and you can reserve your skate time in advance. (You can also rent a pair of affordable skates while you're there.) After you've worked up a sweat — and an appetite — be sure to explore the surrounding winter village, complete with a European-inspired open-air market, which features artisanal shops housed in custom-designed, "jewel box" kiosks. (Pro Tip: This is a great place to do some holiday shopping!)
Central Park
Smack dab in the middle of Manhattan is Central Park, and besides beautiful scenery and the NYC skyline, there's also an ice-skating rink! Wollman Rink at Central Park opens in late October, and you can view the schedule on their website. Simply purchase your tickets in advance and reserve ice time to get started. Guests can bring their own skates or rent an affordable pair and a locker at the rink.

Lakeside Rink
If you're heading to Brooklyn this winter, you've got to stop by Prospect Park and check out Lakeside Rink for some top-notch ice skating. The rink opens in mid-November, and while tickets are currently walk-in only, they'll be available on the rink's website soon. The rink has several skating sessions during the day, and guests can bring their own skates or rent an affordable pair at the rink.
Now, ice skating isn't the only fun wintertime activity in New York — there are plenty of other exciting things to experience and sights to take in. Hoping to soak up some culture while in town? Hit up the Meet The Met: Metropolitan Museum of Art Tour, where an expert guide will lead you through 5,000 years of art in just three hours. You'll also pop up to the Met's rooftop garden for incredible views over Central Park, so don't forget to pack your camera!