From immersive experiences on the river to sports games, museums, and more, the Windy City is full of fun and exciting things to do for Father's Day.
Well, people, we've made it through the first quarter of the year, and though we've pushed through (most of) the frigid weather and are currently battling seasonal allergies, we've also got gifting on the mind. If you haven't already decided what to get Mom for Mother's Day (which is Sunday, May 14, by the way), you should get on it straight away — it's right around the corner! However, just when you think you've got a break from gift-giving, Father's Day comes around (Sunday, Jun 18, this year), and the dad in your life, of course, deserves an equally great gift. If you're planning on celebrating Father's Day in Chicago this year, you're in luck: The Windy City is full of fun and exciting things to do for Father's Day, from immersive experiences on the river to sports games, museums, and more. And, if you're hoping to plan on an incredible itinerary for Dad, but your creativity levels are feeling a little drained, don't worry: We've got you covered! Here are a few surefire attractions around the city that'll be sure to make this year a Father's Day to remember.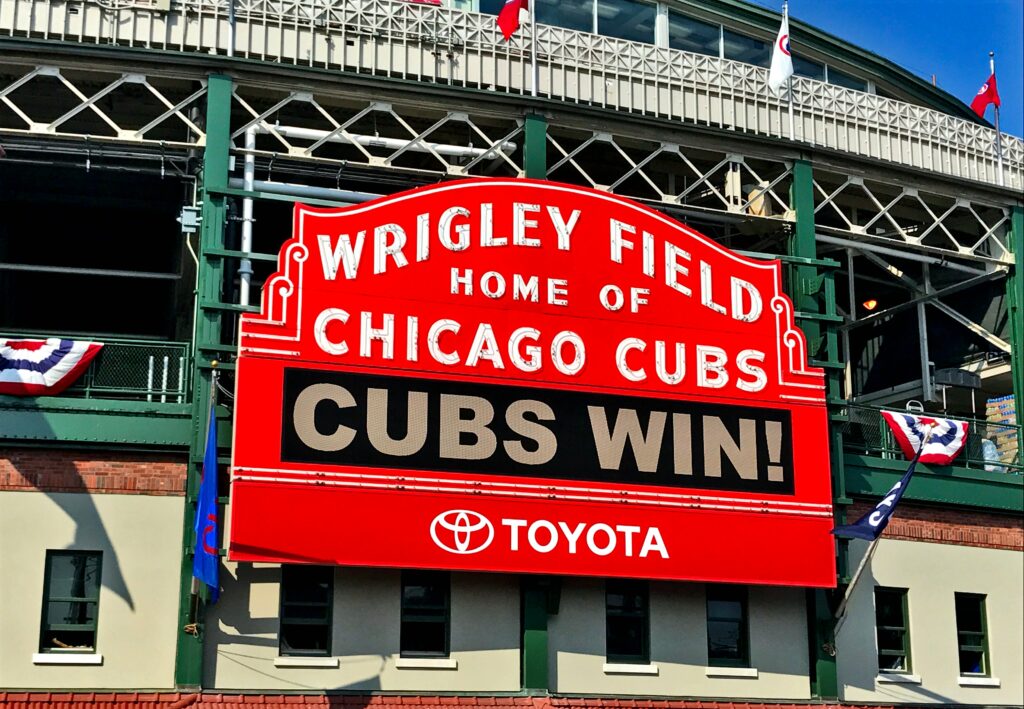 You'd be hard-pressed to find an activity that screams "Father's Day" louder than going to see a baseball game. While Chicago has two popular teams, the Cubs and the White Sox, the Cubs are Playing Baltimore Orioles at 12:00pm on Father's Day, so if that's up Dad's alley, make sure to act fast and snag a ticket ASAP! Otherwise, checking out the famous stadiums is also a great idea, specifically Wrigley Field, which is the oldest park in the National League and the second-oldest in the majors. It's also the only remaining Federal League Park and was designated a National Historic Landmark in 2020.
Father's Day Brunch
If Dad is new to the city, there's no better way to spend the day than on the Father's Day Premier Plus Brunch Cruise on the Chicago River. You, Dad, and the whole family will revel and stare in awe at the city's iconic landmarks as you sail along the Chicago River. While onboard, you'll enjoy chef-prepared dining accompanied by live entertainment, a selection of wine and classic cocktails, as well as the most impressive views of the skyline from the comfort of your own table. (Pro Tip: You can reserve a window table for the best views — just don't forget to bring a camera!)
For dads who love museums, history, and nature, you can't go wrong with the Field Museum. Take Dad on a journey back in time and check out the museum's whopping catalog of 40 million specimens and artifacts, including SUE, the world's most complete Tyrannosaurus rex. This is a great one for the whole family.
Chicago Seadog
Is Dad an adrenaline junkie? If so, you can't beat a high-octane, jet-propelled tour like the Chicago Seadog Extreme Thrill Ride. You'll enjoy the city's iconic skyline at, well, the speed of Seadog with an exciting thrill ride on Lake Michigan. After you and Dad depart from Navy Pier, you'll take on exhilarating high speeds and full, 360-degree spins as you blast off on your journey. Get ready to experience full-throttle slalom runs, sharp twists, and hairpin turns — Dad is going to love the raw power and excitement of the Seadog Extreme's two 1400 horsepower engines. And, of course, there's plenty of good music and fun narration about Chicago's history and architecture throughout the cruise.
After a long morning of checking out the city, you and Dad will have definitely earned a pint or two. Luckily, Chicago has no shortage of incredible, world-renowned craft breweries, which tend to be more pet-friendly and kid-friendly than your average bar (just make sure to check ahead of your visit), including Revolution Brewing, Maplewood Brewery & Distillery, Dovetail Brewery, and many more.
Father's Day Dinner
Of course, no Father's Day is complete without a great dinner — and you probably won't have to twist Dad's arm to get him to agree to a delicious steak dinner like the one you'll have while on the Father's Day Premier Dinner Cruise on Lake Michigan. You'll create some excellent family memories that are sure to be treasured forever, all while taking in the amazing evening on Lake Michigan. When onboard, get ready to experience particularly high-quality service with chef-created, plated entrees, as well as a selection of wine, beer, and classic cocktails. Keep the party rolling with music from the climate-controlled interior or pop out to soak in the picturesque backdrop from the open-air, outdoor decks. Start a new tradition the whole family will enjoy and celebrate Father's Day in Chicago on the water.
But, at the end of the day, no matter what you decide to do for Father's Day in Chicago, just make sure you have a great, fun time celebrating the dad in your life!