The exciting city of Chicago is a perfect place to plan a wedding. The city has a rich history, known for a variety of attractions, America's first skyscraper and the birthplace of the car radio and remote control, and the home of deep-dish pizza. The city in the heart of the Midwest makes a perfect backdrop for a wedding, so why not tie the knot in the Windy City? 
Imagine the wedding of your dreams with the Chicago skyline and all its architectural and engineering landmarks as part of the wedding party. You and your guests will be in awe of the city's personality and how it adds a touch of style and excitement to the big day. 
While planning a wedding can be stressful, City Cruises event coordinators in Chicago are ready to help you plan a stress-free, all-inclusive wedding that is customized and within your budget. We'll take the worries out so you have the wedding of your dreams. 
Weddings on the Water in Chicago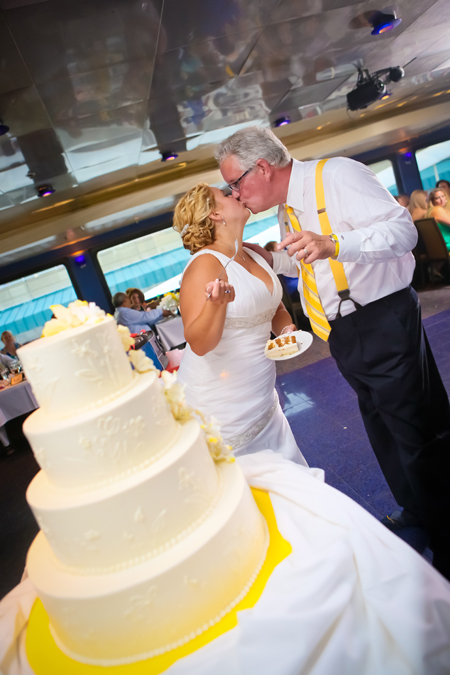 The perfect spot for your Chicago wedding is aboard one of City Experiences' unique floating venues with views of Chicago's iconic skyline that will thrill you and your guests. We offer chef-prepared menus, a full bar, and all-inclusive, customized wedding packages to fit your budget, your party size, and your style, helping to make your wedding stand out from the crowd. 
Whatever your needs for the perfect wedding, we have it – from ceremonies to receptions. We'll make your rehearsal dinner a night to remember. Start the celebration right with your family and closest friends in an intimate and unique setting. Leave all the planning to us and just step aboard and enjoy. If it's related to your wedding, we will make it happen. Your guests will enjoy our distinctive hospitality aboard our floating venues, which have climate-controlled interiors and open-air outdoor decks. 
If your wedding is already planned, City Experiences has the perfect floating event venue for engagement parties, bridal showers and luncheons, day-after wedding brunches, bachelor and bachelorette parties, and even vow renewals. Each celebration features breathtaking architectural views of the Chicago skyline from Lake Michigan to the river.
Ready to be inspired? Check out Chicago Style Weddings Designers Challenge and "Come Sail Away" with City Experiences for a nautical-themed wedding – the perfect event venue with built-in cityscapes and multiple dining decks and observation spaces. While you're there, browse through our photo gallery and be sure to vote for "Come Sail Away" as your favorite wedding design. 
Have Guests Enjoy a Chicago Walking Tour
When in Chicago enjoy the local food with a walking tour. Your guests will enjoy the Ultimate Chicago Food Tour: West Loop Neighborhood. The place to be for great eats in Chicago is the West Loop and your wedding guests will love it and do it up well.  
Guests will enjoy Chicago classics and lesser-known ones in one of the best places to eat in the city. It's here where some of the city's top chefs come to hone their craft. Your guests will enjoy eating in family-run favorite spots from trendy ones where award-winning chefs whip up some of the most delectable delicacies that will ring true with any palate. While learning about the rags-to-riches story about the West Loop neighborhood you'll also learn how Oprah Winfrey helped put the area on the map. 
Food establishments visited include a family-run restaurant known for its deep-dish pizza; a corned beef sandwich shop; the Time Out Market, a food lover's paradise; a small-batch donut shop whose owners are two pastry chefs; and a James Beard award-winning venue offering delectable cupcakes. 
Take to the Water with a Brunch or Dinner Cruise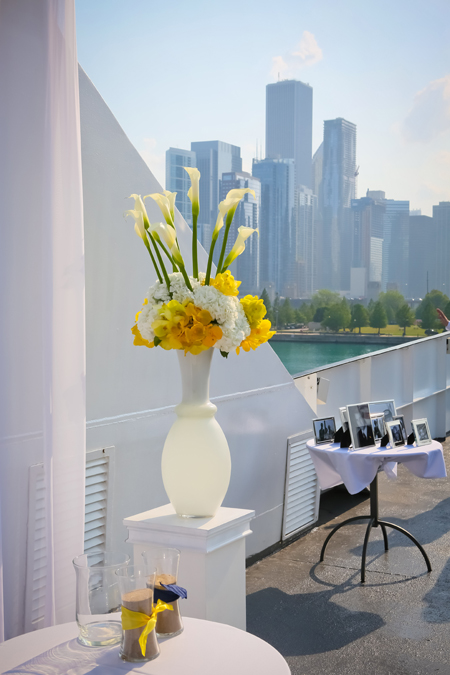 Get intimate with Chicago during the Premier Plus Architectural Brunch Cruise on the Chicago River where you'll experience the city on the Chicago River. You and your guests will enjoy dining, bottomless mimosas, amazing views, and a narrated architectural tour of the city. 
The two-hour cruise includes three-course chef-prepared plated menus and cocktails from a climate-controlled interior and an open-air outdoor deck while you take in the views of the city. You'll have a guaranteed table for your party, and you can get an upgrade to a window table for even better views. 
If you take the Premier Dinner Cruise on Lake Michigan you'll spend the evening dining and enjoying the picturesque views that are right at your fingertips. Chef-prepared menus along with creative cocktails await you and your guests while you enjoy either the climate-controlled interior or open-air rooftop decks. 
The two-and-a-half to three-hour cruise offers spectacular views of Chicago's skyline including the Willis Tower and Adler Planetarium. You'll have a table for your party size, and you can all enjoy dancing to the DJ-curated music. 
Chicago is a hometown enjoyed by all, and it's the perfect wedding location where family and friends come together to celebrate. Let City Experiences help make your special day even more special while planning your dream wedding, so you just be on time and enjoy your special day! Fill out this form today and an Event Planner will contact you!