With historic architecture and iconic landmarks that don't disappoint (hello, The Bean in Millennium Park), there's plenty to see in Chicago—and of course, water plays a huge role in it. But did you know what's become increasingly in demand as well? Private Chicago yacht charters and yacht rentals. When people want to customize their experience on the water for any range of events—corporate outings, social gatherings, holidays, and other major celebrations—boat charters and boat rentals are your best bet. Not only do they offer a unique venue in breathtaking surroundings, but the amenities provide an unforgettable affair designed with luxury and comfort in mind. The fact that we have a fleet of vessels ranging in capacity and style, which are some of the largest and most lavish in class, just helps seal the deal for hosts seeking the perfect event space.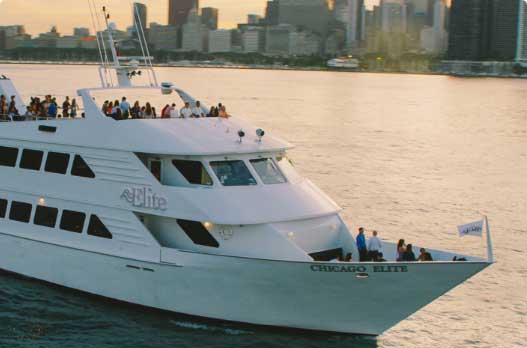 What to Expect on Your City Cruises Yacht Charter in Chicago
There's a lot to look forward to on a City Cruises yacht charter because Chicago features some of the most highly regarded architecture in the states, and the best way to take it all in is (of course) from the water. In fact, we recently shared some of the amazing sites you can expect to see on an excursion. Iconic landmarks and the magnificent skyline make for an unforgettable experience, and City Cruises enhances everything with all-inclusive packages, chef-prepared menus, full bar options, and entertainment that can be customized to whatever you need. Picturesque views are easy to clock and capture, from the climate-controlled interior and the open-air outdoor decks no matter what the occasion—and there are plenty of them that you can plan. From corporate and educational events to social gatherings, weddings, or any type of celebration you're toasting, a yacht charter helps guests make the most of Chicago.
Why Choose City Cruises for Your Chicago Yacht Charter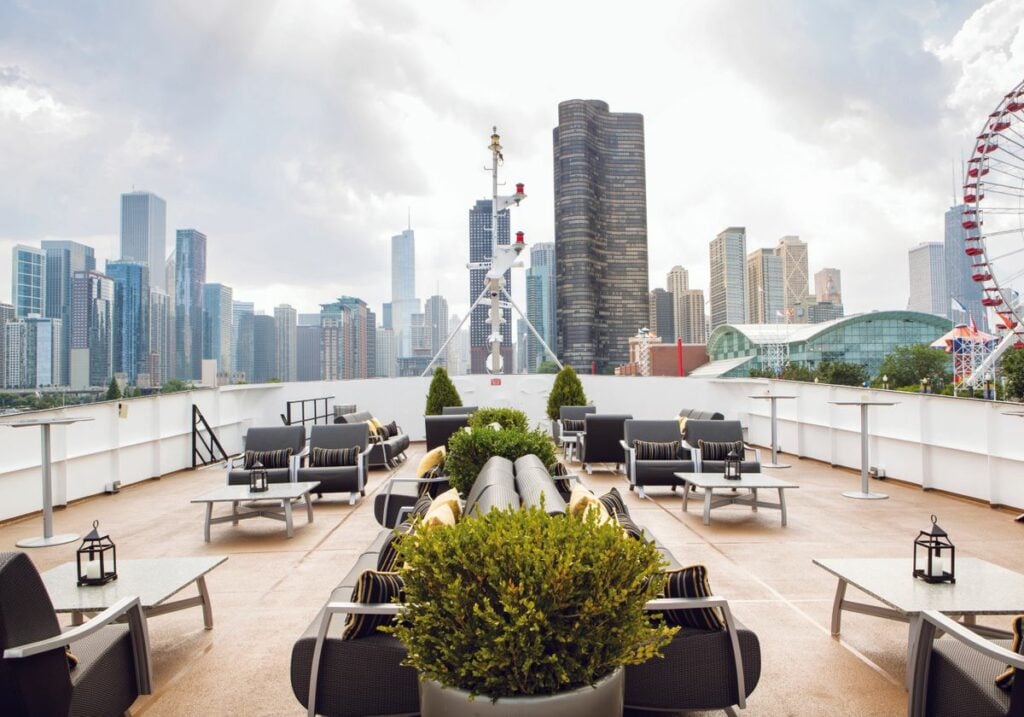 Now that you know Chicago yacht charters are an ideal option for your event, it's time to get to the good stuff: intel on the City Cruises fleet options. Because once you learn about our offerings it will be easy to determine that we're the best choice to book. With vessels that cater to guest capacities ranging from 125 to 749 people, and feature stylish surroundings, there's a lot to consider; but let's look at two options to get you started. First, there's the Chicago Elite. It has two fully enclosed, climate-controlled decks, plus an open-air sky deck that provides panoramic views of the city's spectacular skyline. Dine on the elegant dinner deck, then adjourn to the cocktail deck to kick back, relax, sip on some drinks, and enjoy an elevated view of Chicago's stunning skyline. For significantly larger groups, the Odyssey Lake Michigan is a four-level dining vessel with three interior climate-controlled dining decks along with a rooftop observation deck. The former includes the elegant topaz deck complete with a dance floor and majestic skyline views; the sapphire deck, which features a bar and dance floor; and the amethyst deck which has a private bar and upper-level skyline views. Onboard, guests will relish the opportunity to indulge in the delicious cuisine, which includes plated-style dining, as well as entertainment and lavish decorative touches throughout the yacht.
Experience Chicago Like Never Before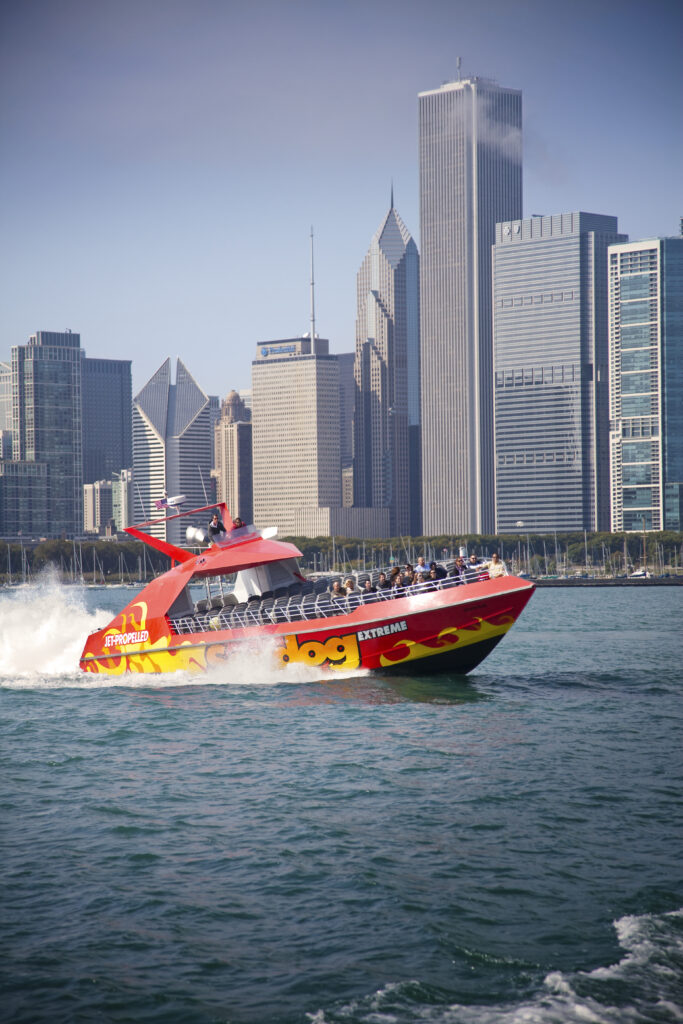 So, there's experiencing Chicago and then there's experiencing Chicago. For the former you could be led by guidebooks and roam the streets near iconic landmarks to get an up-close look; but for the latter experiencing these sites as living entities across the city skyline is a whole different story. When you're cruising on the water, the impact and beauty of seeing these structures front and center is hard to describe—but you know and feel it when you do. The unique perspective you get is leveled up even more when you dictate the pace and are able to choose the specific areas you want to view. Whether it's the illustrious Willis Tower, Grant Park, Tribune Tower, or the Wrigley Building, Chicago architecture is a feast for the eyes and the ideal way to immerse yourself in the city. You can also add a thrilling boat ride on the Seadog if there are any adrenaline junkies in your group who feel the need for speed.
How to Book Your Chicago Yacht Charter with City Cruises
Now that you know what you can look forward to, the question remains: How do you book a yacht charter with City Cruises? The answer: Pretty easily. Just fill out this form and one of our event planners will contact you!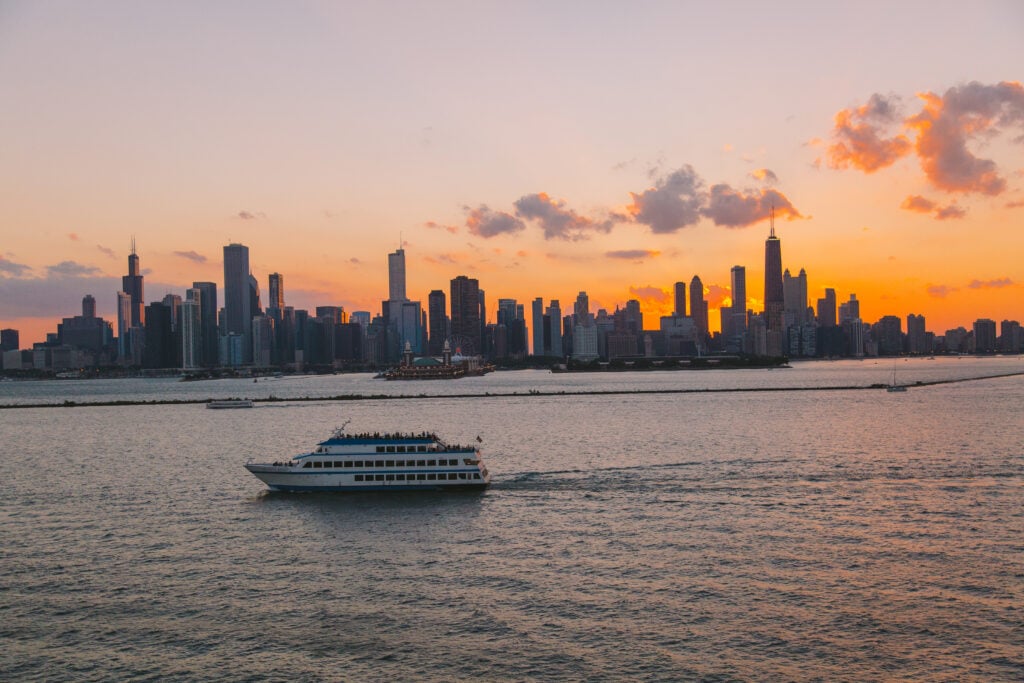 Don't Be Shy in Chi-Town
Let's be honest: A city like Chicago is best experienced by boat. Why else would it be surrounded by water making so many of its sights unforgettable when seen from the high seas? So naturally, hosting a group event on a yacht is the perfect way to impress your guests and give them an experience they will never forget. Appropriate for any occasion—professional or personal—comfort, safety, style, and numerous amenities are all provided by City Cruises through our impressive fleet of vessels as well as a booking process that's super simple. That means there's no excuse for not choosing to cruise especially if you want to plan a Chicago gathering that you and your guests will remember forever.