London, a city that never sleeps, takes on a unique and magical charm in February. As the winter frost starts to give way to the first hints of spring, the city bursts with energy and excitement. From cosy corners to vibrant festivals, February in London offers a myriad of experiences that will leave you enthralled. So, bundle up and get ready to explore these delightful activities that will make your February in London a truly memorable one.
Valentine's Day Adventures:
Whether you're head over heels in love or celebrating your own awesomeness, London has something special for everyone on Valentine's Day. Take a romantic stroll along the South Bank, illuminated by fairy lights and overlooking the River Thames. Or look at the south bank from a different perspective and wine and dine your valentine on a valentine's day river dinner cruise! And last and not least, if you're up for an unconventional adventure, join one of the quirky anti-Valentine's events happening across the city, celebrating the joys of singledom.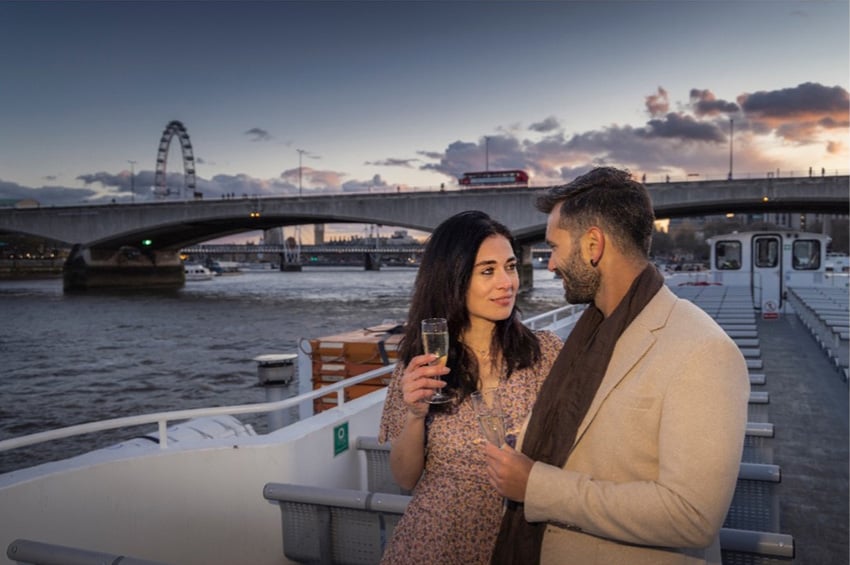 West End Wonders:
London's West End is synonymous with top-notch entertainment, and February is no exception. Treat yourself to a night at one of the dazzling theatres and enjoy a mesmerizing performance. From classic musicals to gripping plays, the West End offers a variety of shows that will leave you captivated.
Explore Museum Lates:
London's museums are not only repositories of history and art but also offer unique late-night experiences. Many of the city's museums host special after-hours events in February. Imagine strolling through The British Museum, Tate Modern, and the Victoria and Albert Museum with fewer crowds, engaging talks, and even themed parties. It's a fantastic opportunity to immerse yourself in culture while avoiding the daytime rush.
Pancake Day Extravaganza:
February brings along Pancake Day, also known as Shrove Tuesday. Embrace the tradition of indulging in delicious pancakes topped with an array of mouth-watering ingredients. Join pancake races in various locations across the city, where participants flip pancakes while racing – a quirky and fun sight to behold!
Chinese New Year Celebrations:
London's vibrant Chinatown comes alive during the Chinese New Year celebrations, which typically fall in February. Join the colourful parades featuring lion and dragon dances, martial arts performances, and mesmerizing fireworks displays. Immerse yourself in the rich culture and traditions of the Chinese community as they welcome the New Year.
Tranquil Culinary Exploration:
February in London calls for warming your soul with delicious comfort food. Explore the city's eclectic culinary scene by indulging in hearty British pies, creamy hot chocolates, and aromatic stews. Discover hidden gems tucked away in quaint corners, offering the perfect ambience for a cosy meal.
---
London in February is a magical journey through winter's embrace, offering a plethora of exciting activities that cater to various tastes. From winter wonderlands to cultural celebrations, theatre extravaganzas to culinary delights, the city provides a playground of experiences that will make your February unforgettable. So, grab your coat, don your scarf, and venture into the heart of London to make the most of this enchanting month.