Philadelphia isn't just one of the greatest cities on the East Coast — it's one of the greatest cities in America. From an incredible restaurant scene and five professional sports teams; to rich history, an awe-inspiring skyline, and much more, the City of Brotherly Love has something for everyone. However, it's also home to countless businesses big and small, and in Philly, they work hard and play harder. So, if your business is located in Philadelphia or the surrounding area, you have a unique opportunity to take advantage of the city's waterfront for throwing corporate holiday parties that are sure to leave a lasting impression. After all, there's no better way to treat your employees than taking them out on the water to party under the stars with exceptional views along the Delaware River and Philadelphia's historic waterfront and skyline. Not sure where to begin? No worries — we've got you covered. With City Cruises, everything is taken care of for you, and your vessel, entertainment, dining, and overall experience are customized to suit your individual needs every step of the way.
City Cruises Philadelphia Fleet of Yachts and Floating Venues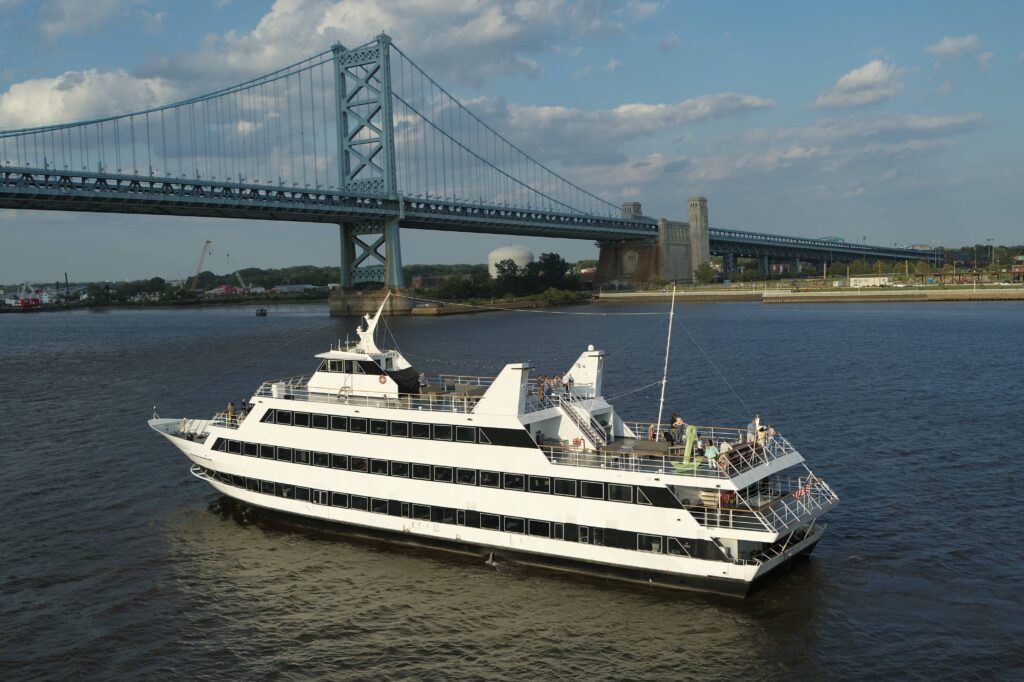 The first step is picking your vessel — or as City Cruises likes to call it, your floating venue! Philadelphia City Cruises fleet has everything you need to throw the ultimate holiday party for your employees, and there's a perfect venue for whatever you're celebrating. The Philly fleet includes the 집결 그리고 필라델피아의 정신 — both of which are complete with state-of-the-art amenities and some of the most experienced crew in the city. The 집결 is a two-level elegant private yacht with an upper-level cocktail lounge, lower-level dining room, and two outside decks with a third-level skydeck; and the 필라델피아의 정신 is a three-level yacht-style dining vessel with three interior climate-controlled dining decks and exterior observation deck. Both ships are excellent choices, and while it might seem hard to pick just one, your City Cruises representative will be happy to help you figure out which is best to charter or rent for you and your company's needs.
What to Expect on a Philadelphia Corporate Holiday with City Cruises
While aboard, you'll enjoy delicious chef-prepared menu options that can feature seasonal menus; full bar service packages with creative cocktails, delicious craft beer, and wine; and a slew of non-alcoholic drink options. As far as onboard entertainment goes, you can tailor the activities and music to your precise preferences in advance. Plus, you and your guests will be completely comfortable during your entire voyage thanks to the ships' climate-controlled interiors and open-air outdoor decks. (Pro Tip: Don't forget to bring your camera for some skyline pictures!) Holiday party cruises can also include tables, linens, flatware, and chairs; an event manager, stewards, a captain, and bartenders; and custom photography. Oh, and did we mention that there's also plenty of dancing?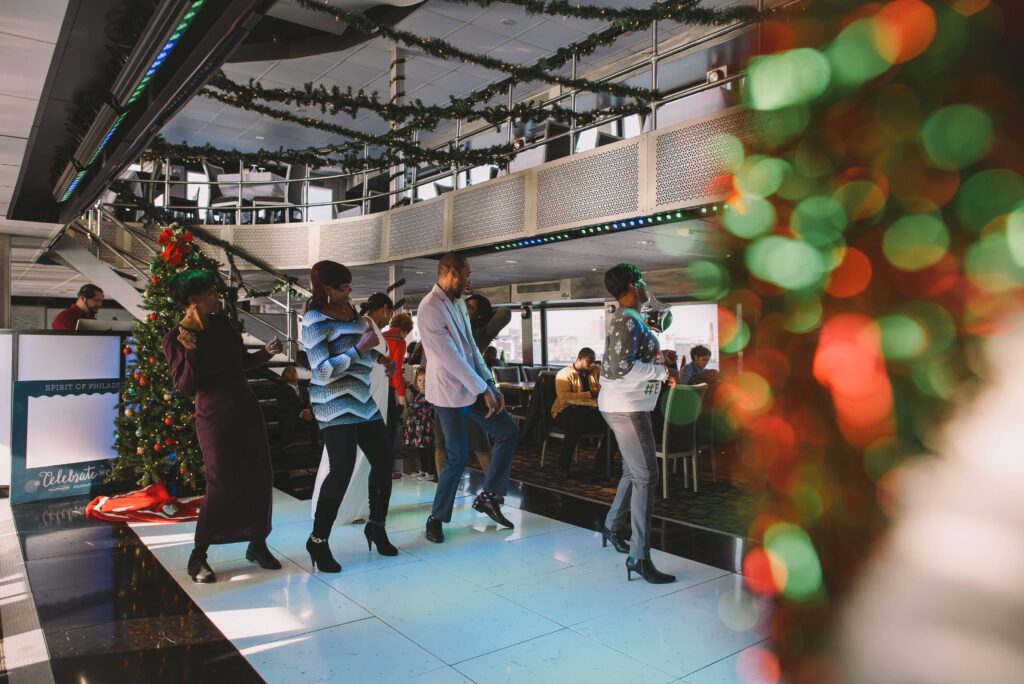 Don't Stop at Philadelphia Holiday Parties – You Can Book Other Private Group Events Too!
Now, don't think that you're just limited to only holiday parties: City Cruises hosts a wide range of corporate events, from employee outings and client entertainment excursions to high-level meetings, special events, and holiday parties. Plus, you can book private events as well —whether it's a going-away party, birthday party, a wedding, a bachelor bash, or any special occasion, hosting your event on a charter vessel will be a time to remember.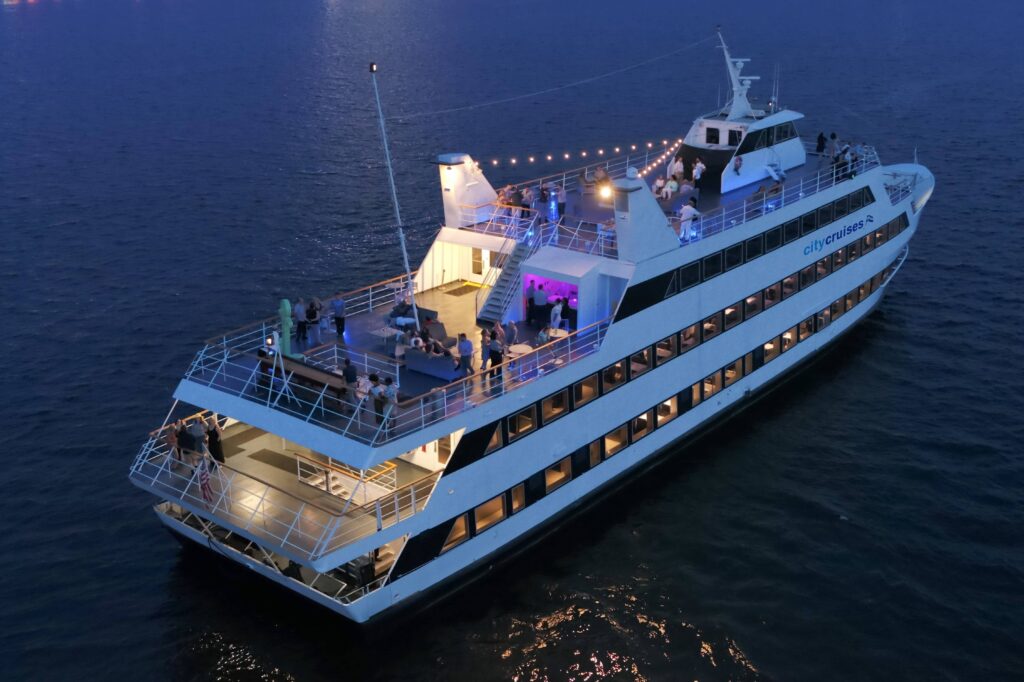 With City Cruises, you'll be able to get the best views of the Philly skyline — which is sure to make your corporate holiday party a great time. Plus, with the brand's flexible packages and amenities, businesses of all sizes can enjoy a night out on the water, since you're sure to find a package that fits your budget. With this one-of-a-kind floating venue, top-tier staff, and planning crew, the only thing you'll need to focus on is enjoying yourself. (And making sure everyone gets out on the dance floor!)
However, when all's said and done, you should be able to hold your venue — floating or otherwise — to a high standard, and you need to be sure that whomever you trust with hosting your corporate holiday party in Philadelphia will deliver. That's why City Cruises is your best option: Their years of experience, unmatched amenities, top-tier fleet, and personalization options mean they're ready to turn your next corporate holiday party into a bash for the ages. So, what are you waiting for? Fill out this form and an event planner will contact you to get started with your City Cruises charter vessel and make your company's next corporate holiday party a night you and your guests will never forget.