This year, celebrate your birthday in a place where you can do it in style and make it as special as you are. Make your day (or a full weekend) your own and spend it in Norfolk, a city that is 66 square miles with so much to do and see, including seven miles of Chesapeake Bay beachfront. From delicious restaurants and fun cocktail bars, Norfolk also has a rich art scene, and so much more making it perfect for that next birthday celebration.
Some facts about Norfolk include that it is the home of the world's largest naval base, it has a booming downtown area, and the USS Wisconsin battleship calls it home. If you love the arts, Norfolk is where you will find the Virginia Opera, the Virginia Symphony Orchestra, the Virginia Arts Festival, and you'll also find Nauticus, a maritime discovery center.
Start Your Birthday with Brunch on the Water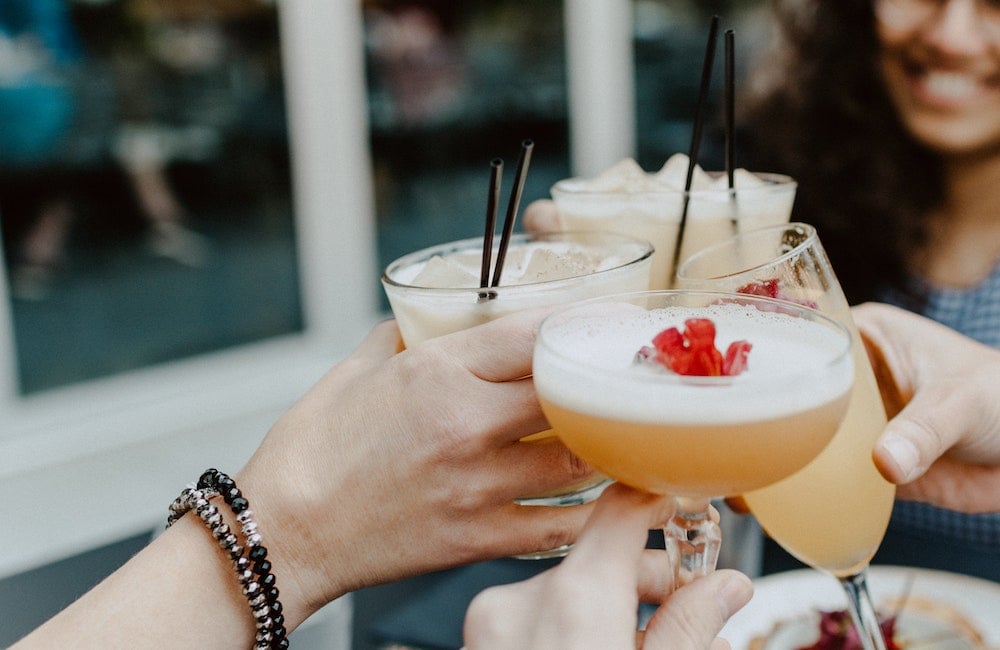 Birthdays are better with brunch, so kick off your celebration with City Experience's Norfolk Signature Brunch Cruise, an unforgettable experience for you and your guests. Bring your family and friends to dine and dance on Norfolk's Elizabeth River. You will be surrounded by the city's spectacular skyline while on a casual day out for brunch on the water for this two-hour cruise.
You and your guests will enjoy a chef-prepared brunch buffet featuring both breakfast and lunch delights, from scrambled eggs and a French toast bake to a Greek salad and over-roasted salmon. While you dine, you will take in the amazing views of Norfolk's magnificent architecture. Catch city landmarks, including the Navy's Atlantic Fleet while you're either in the climate-controlled interior or on the open air-roof decks of the boat. Along with the views, indulge in unlimited mimosas, free-flowing champagne, and sparkling cider and listen to the sounds spinning from the live DJ. Dress is casual.
A Special Birthday Dinner Cruise
If dinner is more your style, the 2.5-hour Norfolk Signature Dinner Cruise with City Experiences will prove to be an unforgettable gift for you and your guests. Everyone will enjoy a casual evening out dining and dancing on the Elizabeth River while taking in the views of Norfolk's wonderful skyline. Your dinner buffet menu will include a variety of salads from Caesar to Greek as well as pre-selected main courses ranging from oven-roasted salmon to Birria-style chicken.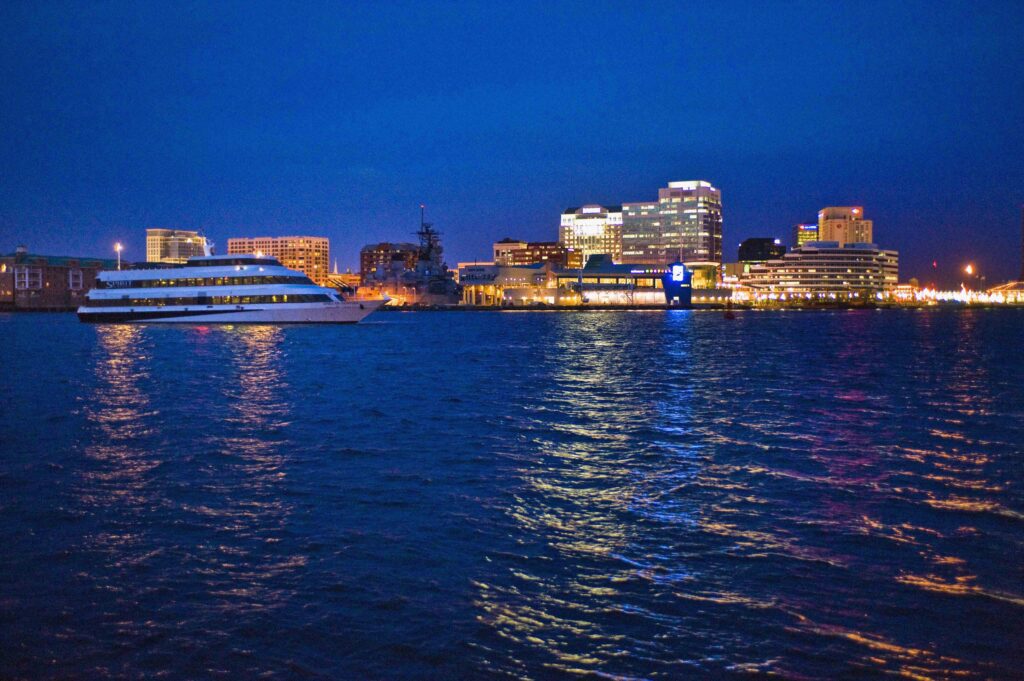 You and your guests will be able to take in views of the city's architecture at night as well as Norfolk landmarks from either the climate-controlled interior of the boat or the open-air roof decks. A full cash bar is available. Your birthday wouldn't be complete without the live DJ so you can dance the night away.
Your Nightlife Birthday Starts Here on the Water
If it's the nightlife you crave, you've come to the right place to celebrate your birthday. The Norfolk After Dark Dance Cruise is a late-night cruise sailing on the Elizabeth River featuring the best views of Norfolk. You and your guests (must be 21 and older with a valid ID) will enjoy a two-hour cruise while dancing to the hottest songs played by premier DJs in a nightclub atmosphere. Communal seating is first come, first served.
Take a bite out of the delicious late-night buffet featuring freshly prepared appetizers and small bites. A full bar is available offering creative cocktails, wine, and beer from the well-stocked cash bar.
Norfolk's Great Sights to Take in for Your Birthday
Do you have an affinity for maritime and battleships? If so, then visit Nauticus for your birthday. It's a true maritime discovery center on the waterfront in Norfolk. It is the perfect place for experiential learning for all age groups. "Through interactive exhibits and STEM to STERN programming, Nauticus uses the museum, Battleship Wisconsin, sailing center, and Schooner Virginia to tell the story of the maritime environment, industry, and the military," according to the website.
If you are a lover of the arts, Norfolk has a host of things to do for your birthday, starting with the Virginia Opera, which is in its 48th year of putting on spectacular productions featuring bright young artists. The 2023-24 season will feature Wagner's Siegfried, Rossini's The Barber of Seville, Moravec's Sanctuary Road, and Puccini's Madama Butterfly.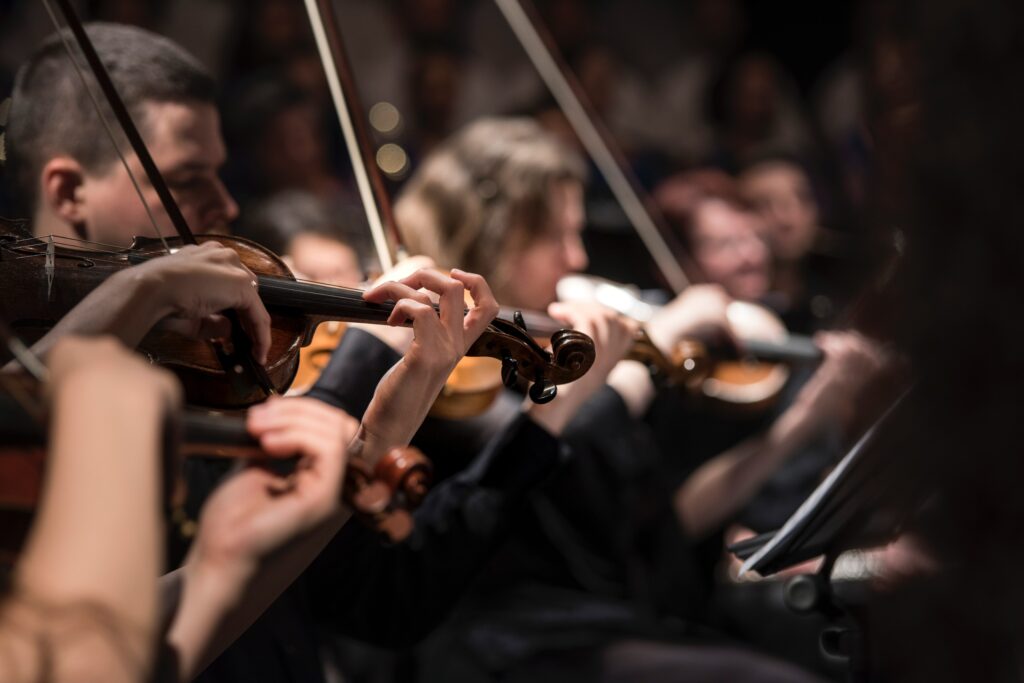 The Virginia Symphony Orchestra has a host of concerts to celebrate your birthday. Start with the Symphony by the Sea Concert Series on the Virginia Beach Oceanfront with free concerts including the Sinatra and the American Songbook. Other free concerts include Symphony in the Park and Symphony Under the Stars.
How about some Van Gogh for your birthday? The Virginia Arts Festival has a variety of upcoming events and experiences including Beyond Van Gogh: The Immersive Experience. Now in its 26th year, the Virginal Arts Festival "has transformed the region's cultural scene, presenting great performers from around the world and making this historic region a cultural destination for visitors from across the United States and around the world," according to the website.
Head Downtown for Nightlife and Dining
Downtown Norfolk has a booming nightlife and is a haven for cool bars and restaurants. The Monastery Restaurant has a more than 25-year history of serving European cuisine to diners. This historic restaurant is perfect for a birthday celebration, whether you want a table for a small group or a room for a private party. "Behind the Monastery's unsuspecting exterior brick and stained-glass facade awaits a genuine European experience," the website said. Dine on Serbian Goulash, Breaded Pork Cutlet, and Entrecote Sautee ala Poele among other European-inspired dishes.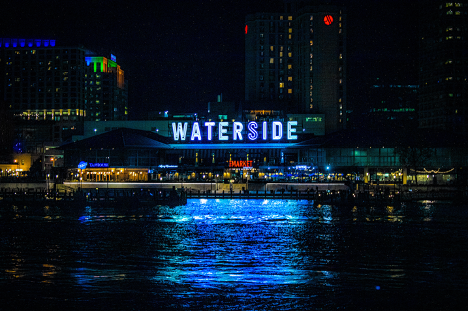 Bring your friends to Todd Jurich's Bistro for a unique and upscale birthday dinner. No matter your diet, the restaurant has something for everyone and can accommodate vegetarians, vegans, or those who are gluten-free or dairy-free. "We take great measures to utilize small farmers and producers who practice natural and ecologically sound agriculture," according to the 웹 사이트. From dinner starters including the signature pumpkin and crab soup to the roasted beet salad and entrees including Chicken Buratta and local lump crab cakes, you'll want to save room for the famous warm brioche bread pudding to end your birthday celebration just right.
Norfolk is a wonderful city that has so much to offer. From the arts and the museums to the array of cruises around the city to the restaurants, this is the perfect place to spend a birthday. And then some.
The Best Birthday Party Venue in Norfolk
Looking to have a traditional birthday party with a not so traditional venue? Say no more, City Cruises' luxurious fleet of yachts can be used to host your next birthday party… on the water! Say goodbye to the traditional restaurant settings, and get ready to blow out the candles in a truly memorable way. A private birthday party on a boat is hard to top, so contact us when you are ready to start planning. Our team is ready to handle the small details such as food, drinks, and entertainment, allowing you and your guests to fully enjoy this one of a kind experience without worry. And the fun doesn't stop at birthdays, we can host all types of events on the water, from weddings and wedding related events, to corporate events, and everything in between. All you have to do is fill out this form today and an Event Planner will contact you!
FAQs – Norfolk Birthday Things to Do
Why is Norfolk a great place to celebrate a birthday?
Norfolk, with its rich history, vibrant culture, and stunning waterfront, provides an exceptional backdrop for birthday celebrations. From the beautiful Botanical Garden to its lively dining scene and numerous attractions like the Virginia Zoo and the Chrysler Museum of Art, there's something to suit every age and interest.
What makes City Cruises a perfect option for a birthday celebration in Norfolk?
City Cruises takes birthday celebrations to a whole new level with stunning views of the Norfolk waterfront, top-notch service, and a memorable dining experience. We offer a variety of cruise options, so whether you fancy a brunch, lunch, dinner, or a cocktail cruise, we have something for you. Celebrate your birthday in style with us!
What options does City Cruises offer for a birthday celebration in Norfolk?
City Cruises offers the flexibility to rent out the whole boat, a deck, or a private table, allowing for a celebration tailored to your needs. You can choose from brunch, dinner, and cocktail cruises, each of which offers a unique ambiance, delicious food, and breathtaking views.
Can City Cruises in Norfolk accommodate a large birthday party?
Yes, City Cruises can accommodate large birthday parties. Our spacious boats provide ample room for guests, and our team will work with you to ensure everything runs smoothly, from boarding to entertainment to dining.
What are the food and drink options available on a City Cruises birthday celebration in Norfolk?
City Cruises offers an extensive menu of gourmet dishes, from brunch to dinner, prepared fresh onboard by our expert chefs. We also have a fully stocked bar serving a variety of cocktails, wines, and craft beers, providing the perfect complement to your meal and celebration.
How can I book a birthday celebration with City Cruises in Norfolk?
Booking a birthday celebration with City Cruises is easy. Simply visit our website, check the availability of your desired date and time, and make a reservation. If you need any assistance, our dedicated team is available to help you plan the perfect birthday experience.
Is there entertainment provided on a City Cruises birthday celebration in Norfolk?
Yes, City Cruises offers onboard entertainment to add an extra layer of fun to your birthday celebration. Depending on the cruise you select, you may enjoy live music, a DJ, or other forms of entertainment. Please check with us for specifics when booking your celebration.
Original post date: July 6, 2023