While it is the capital of Portugal, Lisbon is a European metropolis with a rich history all its own that mixes the past with the present. This vibrant, colorful city has everything you need from shopping, flea markets, and grand architecture to great food and festivals galore. Here is our guide to what's upcoming this year.
Music, Film, and Food-Filled Festivals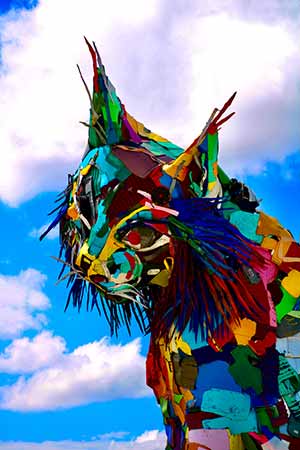 In March, animation lovers should head to Lisbon for the MONSTRA – Lisbon Animation Festival. Held since 2000, the festival promotes and presents animated films from all over the world. It's the perfect place to discuss ideas and see "where animated film meets other media and arts, aiming to present, disseminate, experiment and discuss ideas, crossing over new artistic approaches and forms, on which animated film is the narrative and aesthetic expression," says animation-festivals.com.
The IndieLisboa International Film Festival takes place every year starting at the end of April and into early May. The 11-day festival features more than 270 Portuguese and international films, including documentaries and short, and experimental works. It's great for film buffs who want to catch a screening and perhaps attend some forums and workshops.
Seafood lovers will have a grand time at Peixe em Lisboa, the annual festival in April that is literally devoted to them. Since 2008, International and Portuguese chefs have created seafood and fish in a myriad of different ways during this 11-day event. You'll find a gourmet market with fresh fish, seafood, and other local products. Also take part in workshops, cooking classes, and wine and food pairings. Make sure to bring your appetite!
If you care to tango, or just want to watch, Lisbon is the place to be. The Lisbon Tango Festival take place May 31- June 4, 2023, and features more than 55 hours of dancing, live performances by tango orchestras, and amazing DJs–all in one venue. There are even classes so you can learn or perfect your tango moves.
What is often considered the most important festival of all in Lisbon is the Santo Antonio (Saint Anthony) Festival. It celebrates St. Anthony who was the patron saint of Lisbon as well as of marriages and of lost things. All the festivities begin on June 12. What you'll find or smell are sardines as they are grilled. It's a big part of this event. You will see colorful streets and decorations and hear lots of folk music as well. Many newly married come to celebrate. Feast your eyes on grand costumes, dancers, and musicians, and many parties to attend.
More Festivals in Lisbon than Meets the Eye

June is also a great month in Lisbon because the Arraial Lisboa Pride, or Lisbon Gay Pride, takes place. What began there in 1997 now attracts about 70,000 people. It's colorful, fun, and takes place on two weekends. It is Portugal's largest LGBTQ event.
For all the horror film fans out there, head over to Lisbon in September for Motelx, the international horror film festival. This is where you go to get your scary on. Since 2007, this festival has hosted numerous international movies and premieres. It has attracted roughly 20,000 horror cinephiles, including famed guests such as George A. Romero and Roger Corman. You'll enjoy feature and short films, plus documentaries and a host of parties, workshops, and masterclasses.
When October comes around, it's all about the Lisbon Marathon, considered as "possibly the world's most gorgeous marathon," as stated in Forbes. Runners begin in Cascais, a coastal village, and run along the coastline and banks of the Tangus River. The marathon also has live music throughout, adding an even more fun vibe.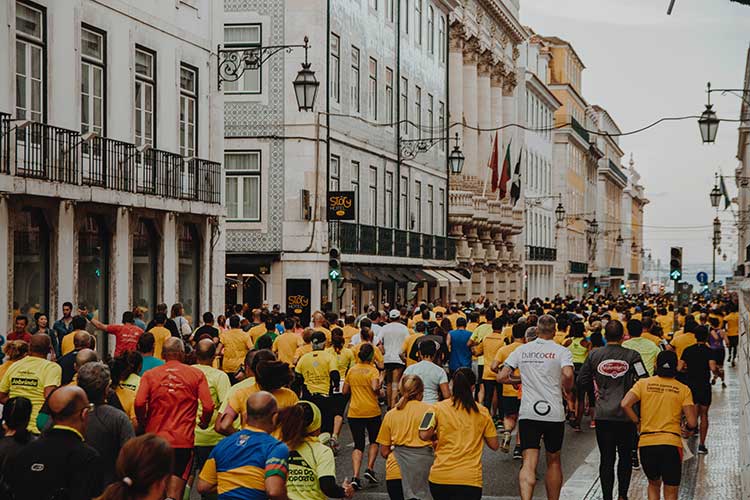 When in Lisbon Make Sure to Eat and Drink Like a Local
When stepping away from all the festivals in Lisbon, get to know this charming European city even more. The Tastes & Traditions of Lisbon Food Tour is three and a half hours and will show you everything that is local including the oldest and most-trusted establishments. You will also visit the best-kept secrets. Historic neighborhoods such as Baixa and Chiado and Bica will come to life as you enjoy a taste of iconic dishes as well as Portuguese pastries.
Get on the Lisbon in a Day Tour with River Cruise, Jeronimos Monastery, & Traditional Lunch. It's an eight-and-a-half-hour tour where you'll see everything you've ever wanted to see in Lisbon. It includes early access to Jerónimos Monastery; enjoy a relaxing river cruise, and then explore the city's neighborhoods while trying some local classics, all with a guide who truly knows the city.
Come to Lisbon for its history and charm while you check out all the exciting festivals, cool neighborhoods and delicious Portuguese food.