Baltimore is the perfect place for a visit where you can take part in all the fun things and sights this city has to offer. The city, with its rich history and a host of social and cultural activities and attractions, also has a very small-town feel. It's no wonder it's affectionately known as Charm City.
There's lots to do here, so let's start with the waterfront at the heart of Baltimore. It is home to the Maryland Science Center, National Aquarium, and the American Visionary Arts Museum. Plus, the views are spectacular making it the perfect place to see a stunning sunset. "This magnificent metropolis has a seaside harbor that delivers plenty of places to catch the golden hour in all its glory as well as impressive architectural structures, tranquil landscapes, and historical sites," according to a City Experiences article.
Exciting Things to do at Baltimore's Inner Harbor
The National Aquarium is great for a first stop in Baltimore. It's a nonprofit with a mission "to inspire conservation of the world's aquatic treasures," said its website. There are many experiences including 4D movies, behind-the-scenes exploring, or coming face to face with some incredible animals. Enjoy a variety of special tours or experiences including the Shark Behind-the-Scenes Tour, Animal Care and Rescue Center Tour, a Guest Diver Program, and more.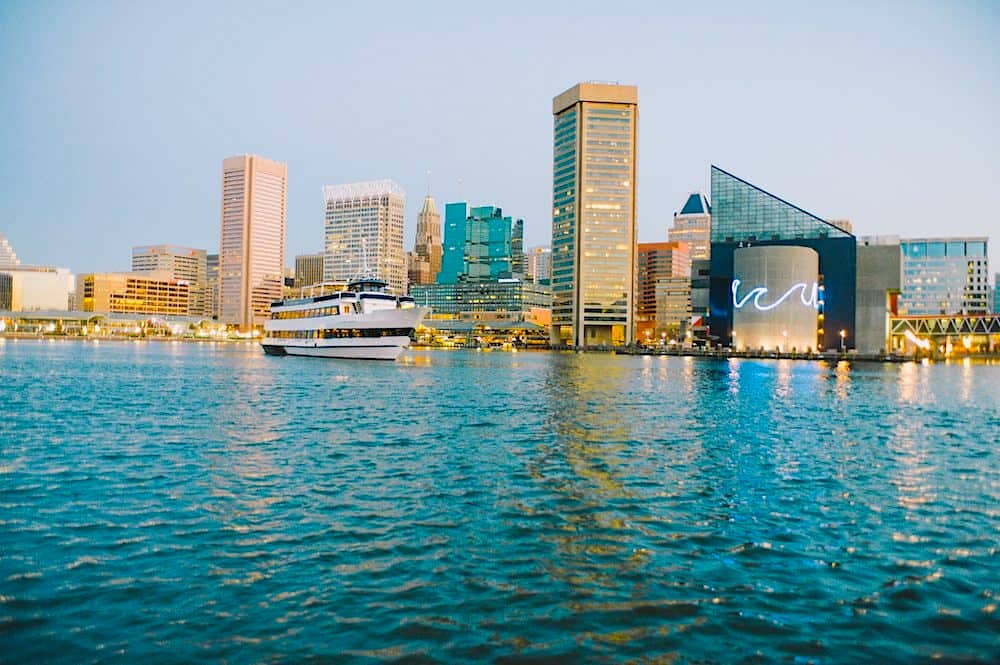 Get your science on and head over to Maryland Science Center with or without the kids. This is a wonderful place where participation rules and there are interactive, hands-on experiences. "We believe that exploring the possibilities of science is active, not passive, and inclusive," according to the website. Check out exhibits such as Dinosaur Mysteries, Life Beyond Earth, and Space Link. There's even You – The Inside Story where you can find out all about your body and how it works. There are also learning programs for children, teachers, and parents.
According to CNN, the American Visionary Art Museum is "One of the most fantastic museums anywhere in America." Here you'll find "original thematic exhibitions that seamlessly combine art, science, philosophy, humor and especially social justice and betterment," according to the website. The museum has a host of current exhibitions and permanent collections from a variety of artists as well.
Learn, Do, and Engage in Baltimore
You're in Baltimore, so if it's baseball season, head over to Oriole Park at Camden Yards to catch a Baltimore Orioles game. You can also enjoy Birdland Murals. In 2019, the Orioles partnered with PNC Bank so that local artists could be featured at Oriole Park. Fans can check out the work of these talented artists.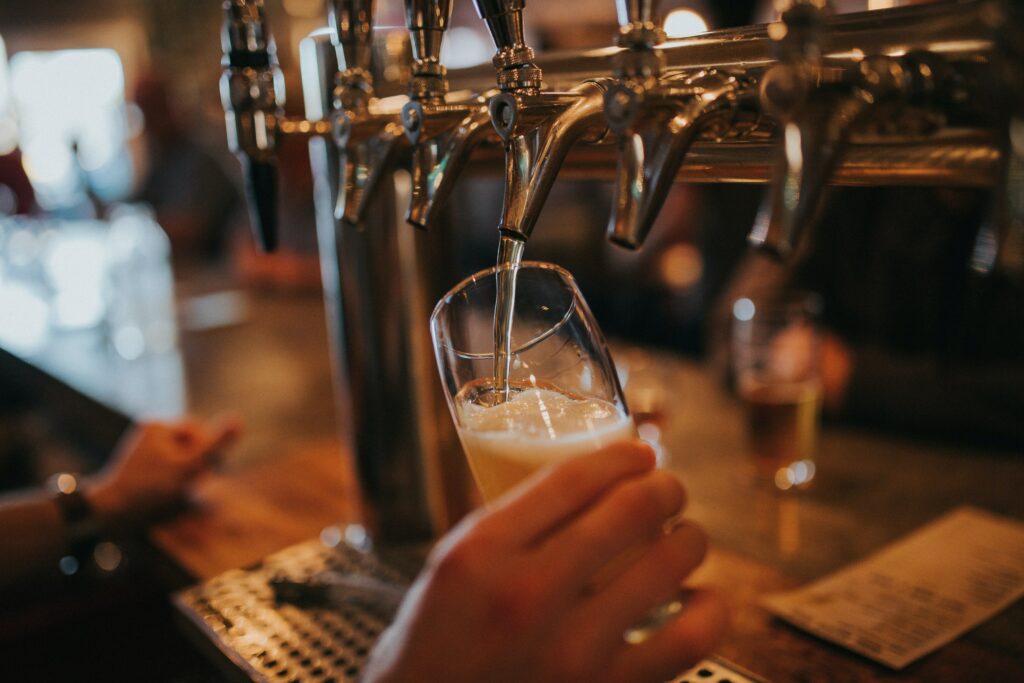 Try something a little spooky in the city with Baltimore Ghost Tours. Whether you are local to Baltimore or a visitor, if you like history along with ghost stories, this will be perfect for you. You can enjoy walking tours for all ages or a 21-and-over haunted pub crawl. Tours include The Original Fells Point GhostWalk, The Mt. Vernon GhostWalk, the Mt. Vernon Haunted Pub Tour, and more. The tours are on Friday and Saturday nights from March to November.
Visit the Reginald F. Lewis Museum of Maryland African American History & Culture where you can learn all about the lives of Maryland African Americans. You'll find numerous programs throughout the year as well as events. Find more than 400 years of history from which to learn in the museum's permanent collection. Here you will learn about Maryland's African American history in politics, industry, the arts, education, and more.
Cruise Around Baltimore
Enjoy Baltimore by cruising around the city. Take the one-hour Baltimore Harbor Tour to see the sights including the USS Constellation, Fells Point, the National Aquarium, the John W. Brown Liberty Ship, and more. There will be an engaging, animated narration of Baltimore's rich history throughout the cruise while you can take in the view from the climate-controlled decks. The cruise is from March through October on Friday-Sunday (and other select dates). There will be a well-stocked cash bar and light concessions available for purchase. You can bring the children, and it's free for kids under three.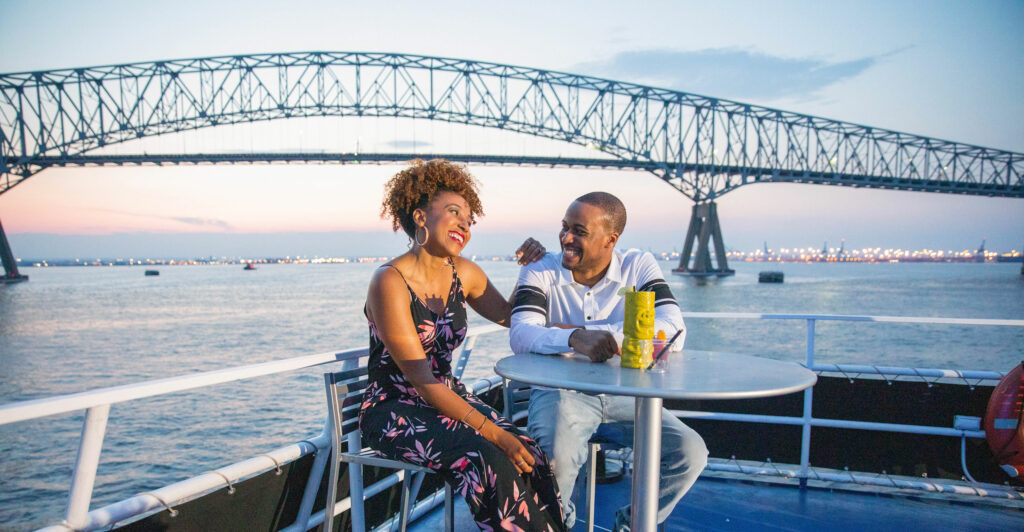 Revel in a different type of happy hour and take the Baltimore Sights & Sips Cruise on the Inner Harbor Spirit. This fun one-hour cruise sails from April to October on select Fridays, Saturdays, and Sundays. Dress in your best casual attire for this relaxing cruise where you will be surrounded by spectacular skyline views. Enjoy the animated narration of Baltimore's rich history along the waterfront. A well-stocked cash bar featuring creative cocktails, wine, beer, and light snacks will be available. Admission includes one beer/wine drink ticket.
Lunch is better on the water so take the Baltimore Signature Lunch Cruise and bring your family, your friends, your co-workers, or all of them! You will all enjoy a buffet lunch along with the amazing sights of Baltimore. For two hours, you will sail from the Inner Harbor and continue along the Patapsco River. Enjoy a mix of salads and main courses from which to choose. There is something for everyone including vegetarian, vegan, and gluten-free options. There is a well-stocked cash bar as well as a live DJ for your entertainment.
Baltimore has it all. It's a city not to be missed. From the attractions at the Inner Harbor to cool walking tours and cruises with spectacular views, this city is one for the books. So put it on your list.