Philadelphia, the birthplace of the United States, is known for Independence Hall, the Liberty Bell, Cheesesteaks, and its diehard sports fans (Go Eagles!). When visiting Philly, you must check a few things off your bucket list. You've got to: visit the "Love Sculpture", snap a picture of the Liberty Bell, dig into an authentic cheesesteak: (Jim's or Pat's), run up the "Rocky Steps" (or at least get a photo), taste a soft pretzel (a delicacy), and enjoy the beauty of the Delaware River. Once undeveloped, the river waterfront area has begun to boom thanks to exciting attractions, parks, and events throughout the year. Thinking about hosting an event in the City of Brotherly Love but just not sure where. Look no further, the beautiful Delaware River is calling you to get creative and get your team out of the typical event space, and get them out on the water, or as natives say "the wooder", for a venue like no other. Throw in amazing views of the Benjamin Franklin Bridge, and Philly's historic waterfront, chef-prepared cuisine, full-bar service, and lively entertainment and you have all the elements that you need for a successful networking event in Philadelphia.
City Cruises-A Top Networking Venue in Philadelphia
In an era when it's all been done before, and personal connections matter more than ever, hosting a networking event in Philadelphia aboard a unique floating venue is a fantastic choice to impress even the most selective guests. That's where City Cruises comes in. We offer more than just a venue aboard a luxury yacht. We offer an experience that will build excitement, inspire conversations and connections, and provide a space to meet clients and colleagues at all levels in a professional yet casual environment. Guests can mingle with one another in a relaxed setting while cruising along the Delaware River, with breathtaking Philadelphia city views and historic landmarks as the backdrop.
Your Novelty Networking Experience Begins Now
You want to find that sweet spot when hosting a networking event. Somewhere between relaxed and casual, but with a setting conducive to getting the job done. At City Cruises Philadelphia, we can help you create an atmosphere where participants feel comfortable and engaged. We offer flexible spaces to accommodate any size. If you are hosting a small gathering and need a table, consider it done. Need a deck to get everyone out and talking, we can do that too. Hosting a major corporate networking event and need an entire yacht? Our event planners can make that happen. No matter what your needs are, we have the space to turn your event into something that goes beyond your expectations. Need food and entertainment? We provide tasty and freshly prepared cuisine from our experienced local chefs, full bar service to keep the drinks flowing, and onboard activities to keep it fun and engaging.
Customized Cruises to Impress Your Guests in Philadelphia
Every networking event is an opportunity to exchange ideas, boost your professional confidence, and expand your visibility, and at City Cruises, we offer customizable packages to fit your specific needs. From conception to completion, we will work alongside you to create a networking event that surpasses any others. Imagine the ideas and conversations that will transpire on an open-air deck with calming waters, refreshing breezes, and a glass of wine in hand. You and your guests will feel relaxed and refreshed in a unique setting that allows you to kick back no matter what time of year. We have indoor spaces to get cozy or cool off whatever the temperature is outside. We offer a truly personalized experience, allowing you to customize every aspect including onboard entertainment and activities. We have a dedicated crew at your service so that you can enjoy exceptional hospitality on our luxurious yachts.
City Cruises' immeasurable fleet with Rendezvous and Spirit of Philadelphia will sweep you off your feet as your chosen venue. Each yacht provides stunning and historic Philadelphia skyline views during your event. The Rendezvous can accommodate up to 140 guests and boasts two elegant levels as well as a Skydeck. Guests can gather on the upper level for the cocktail lounge or on the lower level to dine. Gorgeous mahogany and soft hues give everyone a place to gather in luxury and comfort with windows overlooking the river. Two outside decks allow guests to enjoy the weather and unwind while soaking it all in. If you are hosting a large corporate networking event, the Spirit of Philadelphia will float your boat! (Pun intended) This three-level yacht with three interior climate-controlled dining decks as well as an exterior observation deck has all the bells and whistles for a standout event. There is a spacious dining room and dance floor on each level, and of course, a bar nearby to keep the drinks flowing. Take it up to the top deck to enjoy your cocktail with a bird's eye view. Our event planners will work within any budget and size that you need. We offer a variety of menu and entertainment options to create an event tailored just for you.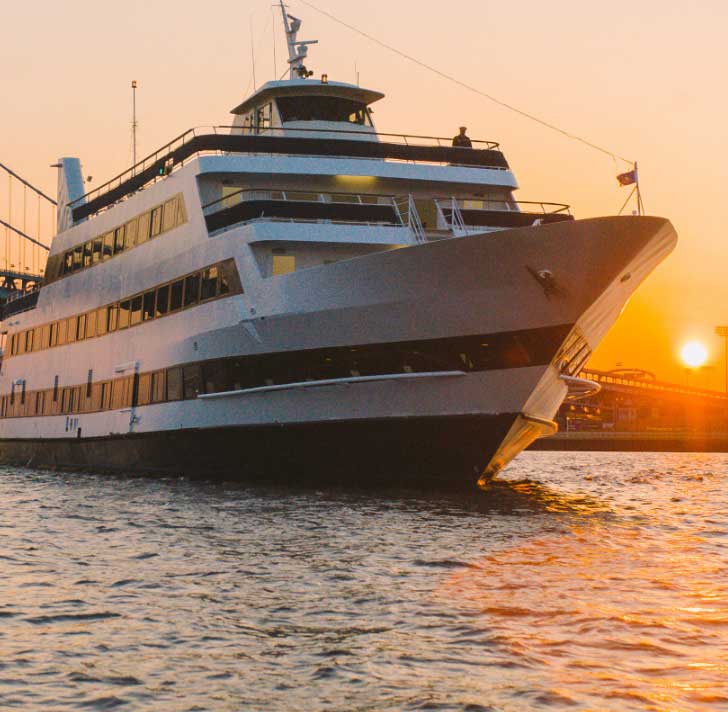 Success= A Networking Event Aboard City Cruises
Philadelphia is known as the city of many firsts -the first Capital of the United States, the first public zoo, the first hospital, and the first public library. Be the first to get your team out on the water with an unbeatable networking cruise that will go down in the books as the best yet. At City Cruises Philadelphia, we can guarantee that your networking event will be both productive and fun. We want you to relax and enjoy alongside your guests while we handle all the details for you. Delicious food, amazing views, and exciting activities and entertainment will keep them talking.  Experience Philadelphia from the water and impress your guests with unrivaled hospitality. The locals will be saying, "No, yeah" when they hear where this event will be (which means yes!) What are you waiting for? Fill out this form and one of our event planners will contact you!