When you ask a New Yorker what they think you should do while you're in town, chances are, they'll say, "EAT!" Thanks to hundreds of years of immigration and the diverse cultural melting pot it created, New York City, above all else, is a food town — complete with some of the literal best restaurants in the world — that has something for everyone. And, contrary to popular belief, you don't have to spend a ton of money to enjoy the city's incredible flavors (though you certainly can). In fact, many of the best eats in town are affordable and delicious, from the food trucks that line the streets to the never-ending barrage of corner stores and bodegas, each with their own take on the dishes that bring New York to life.
New York City Dining Guide
If you're not sure where to visit when you're in town, the first thing you're going to want to do is to do a little research. A good place to start is the New York Times' "100 Best Restaurants in New York City." Just make sure to make some reservations in advance — like, way in advance, since getting a table at some of these high-profile places can be tough. There's Via Carota, a celebrity-favorite bistro that serves up classic Italian fare; Jeju Noodle Bar, a Korean noodle house that specializes in delicious seasonal ramyun; Le Bernardin, internationally acclaimed chef Eric Ripert's three-starred seafood restaurant; Rezdora, where you can enjoy the cuisine of Emilia Romagna in the form of hand-rolled pasta; Veselka, the 24-hour Ukrainian diner with some of the best late-night food in town; and much, much more.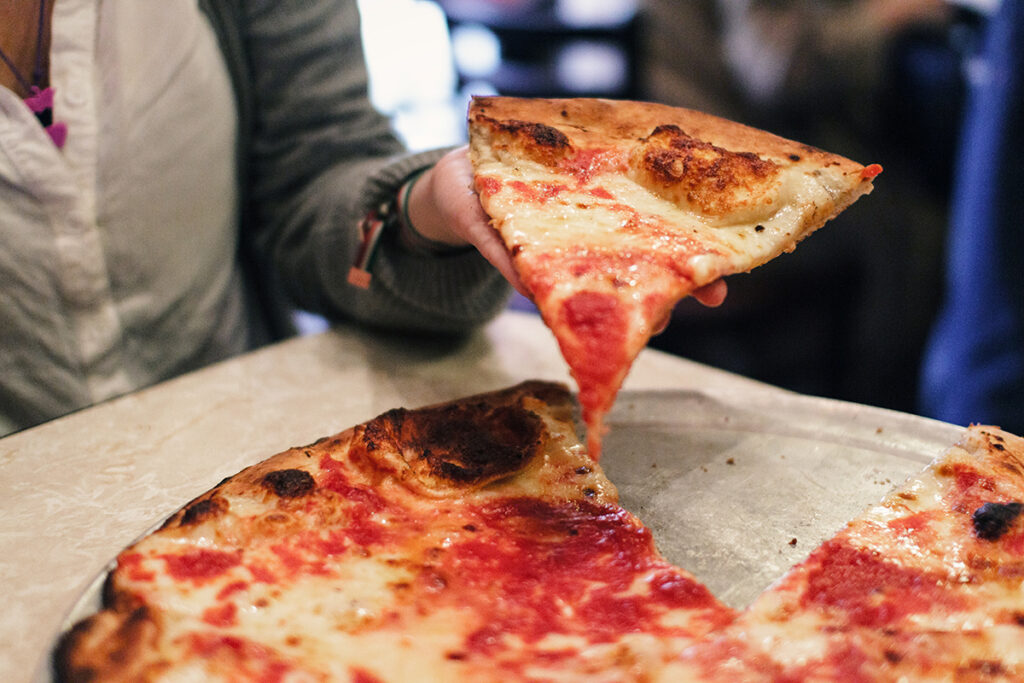 Now, for newcomers, we know it can be a tall order (so to speak) to parse through a giant list of restaurants in a city you've never been to, but try your best to score highly sought-after reservations, and navigate your way through the hustle and bustle of one of the most fast-paced places on the planet. That's why we've taken the liberty of rounding up a few of the best food tours in New York City — so you can focus on chowing down and having fun!
Don't Miss These NYC Food Tours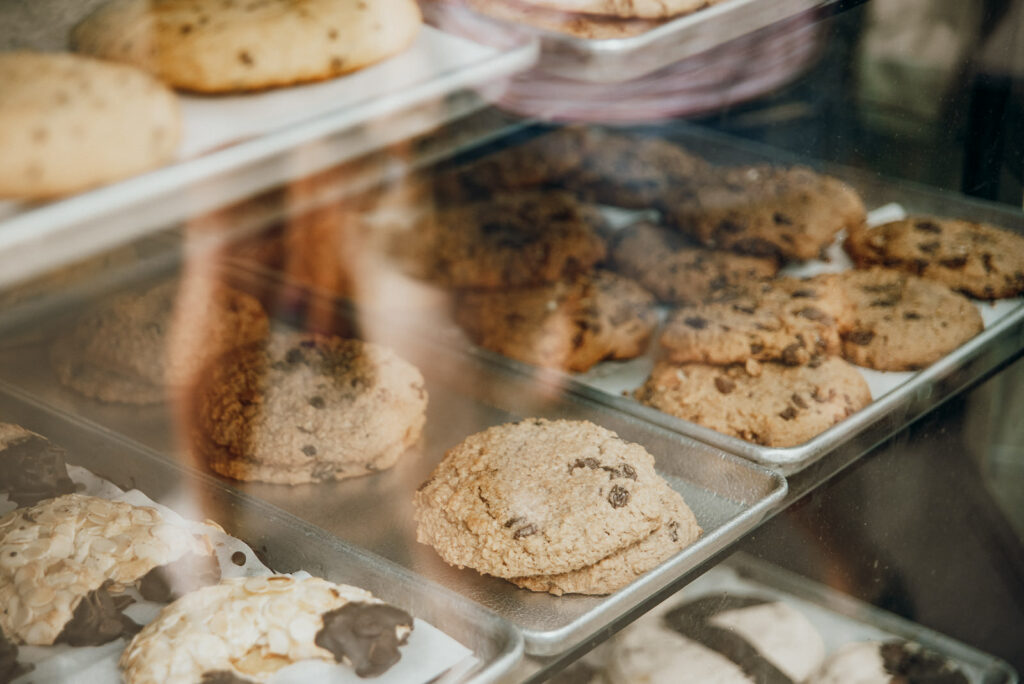 Ultimate Greenwich Village NYC Food Tour – If you've ever seen Friends or Sex and the City, you know about Greenwich Village. However, it's way more delicious and fascinating than TV makes it seem. On the Ultimate Greenwich Village NYC Food Tour, you'll immerse yourself in the irresistible bohemian allure and mouth-watering culinary scene of NYC's trendiest area on an unforgettable food tour. Whether it's classic city staples, new international favorites, old-school pizza joints, or creative donut shops, you'll taste a part of the neighborhood's colorful history and discover the stories left behind by the Italian-American community, artists, beatniks, and more. Get ready to experience the easygoing, community-oriented vibe of one of the city's most loved areas in the best way possible — through its food.
Dumplings, Delis, & History: Lower East Side Historical Food Tour – Love a good sandwich? You've come to the right place. On the Dumplings, Delis, & History: Lower East Side Historical Food Tour, you'll spend a morning wandering through the vibrant Lower East Side (LES) and discovering the neighborhood's rich history — and richer tastes! Along the way, you'll sample its classic staples, including bagels and Jewish deli meats; expand your palate with some international foods introduced by immigrants to the neighborhood over the years; and interact with local shop owners and learn about their family traditions (and recipes!) passed down for generations. With each bite, you'll savor the unique flavors that tell the neighborhood's story and make the Lower East Side a must-visit destination for food and history lovers today.
Nothing Says New York City Dinner like The Bateaux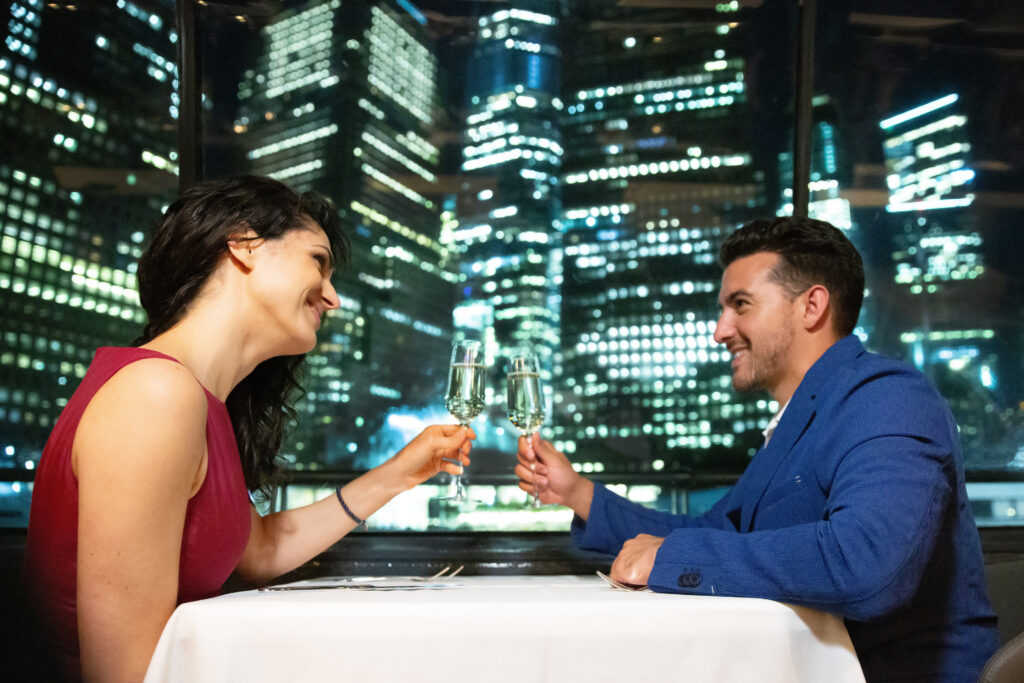 Bateaux New York Premier Plus Dinner Cruise – If you're looking for a more mellow — and incredibly scenic option — you can't go wrong with the Bateaux New York Premier Plus Dinner Cruise. An unforgettably elegant experience, you'll embark on a cruise along the East and Hudson Rivers where you'll take in iconic views of the famous city from the glass-enclosed deck. Inspired by European design, your cruise on this unique vessel offers a new, luxurious perspective from the water, along with a delicious plated dinner with freshly prepared entrees, salads, and desserts. Plus, you and your guests will be serenaded by a live band performance with a female vocalist, featuring songs that cover multiple styles and eras — the true New York City experience.