From visiting unique historical sites to indulging in lots of delicious food and drinks, there's something for everyone.
It's time to break out the Hawaiian shirts, margarita mix, and suntan lotion, since if you're heading down to Key West, Florida, you're bound to have some fun in the sun!
Key West is the southernmost city in the entire United States and the most western island connected by a highway in the Florida Keys, a group of islands off the southern coast of the state. Now, you could drive there, but it's about a three-hour journey by car from Miami — thankfully, the Key West International Airport and the connecting hotel shuttle buses and taxis make getting there a breeze!
And there's a lot more to the island than sunny beaches and gorgeous sunsets (though they do have plenty of both of those). One of the best ways to experience Key West is to hop on an Old Town Trolley Tour, where you can see historic sights and stop to  wander around the historic downtown in Mallory Square.
In fact, the island is home to a ton of fun and exciting things to do, including strolling the boardwalk and indulging in lots of delicious food and drinks. So, ready your sun hats, and let's look at the top fun things to do in Key West, Florida.
Dry Tortugas National Park – A trip to the Keys wouldn't be complete without stopping by Dry Tortugas National Park. The only way to get there is by boat or seaplane, and besides beautiful coral reefs, extensive marine life, and jaw-dropping views, the park is home to the famous Fort Jefferson, one of the nation's largest 19th century forts in the United States. While never fully finished, the fort is the largest brick masonry structure in the Americas and is made from over 16 million bricks.
Southernmost Point – While Key West is the southernmost city in the continental US, there's only one Southernmost Point — conveniently marked with a large, colorful landmark buoy! You shouldn't leave the island until you've had your picture taken standing next to it, so don't forget to bring your camera!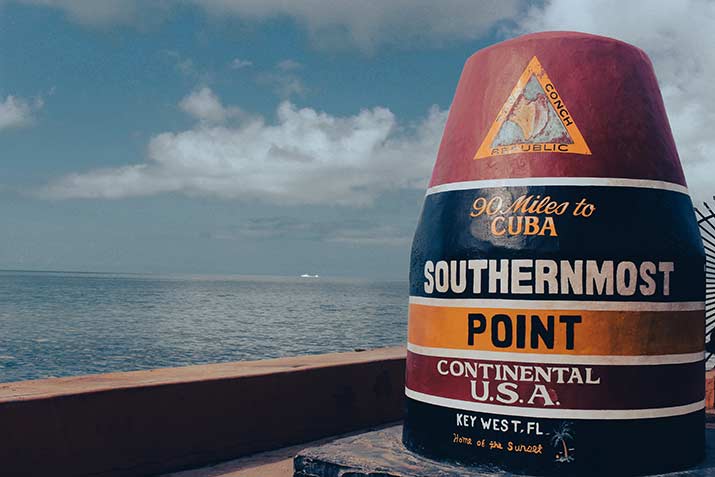 Hit the Beach – Okay, if there's one thing you surely had in mind during your trip to Key West, it's hitting the beach. Known for its clear blue waters, the island city has plenty of swimmable beaches to choose from, including Fort Zachary Taylor Historic State Park Beach, with its charming, rocky shore and gorgeous views; and Higgs Beach, with its white sand and free-range roosters (yes, really!).
Duval Street – If you've worked up an appetite from all the swimming and sightseeing — and we think you will — there's no better place than Duval Street. The busy promenade is chock full of street vendors, shops, restaurants, and bars. It's also a great spot to people-watch and really get a feel for what life is like in Key West. (Pro Tip: Now is the time to break out those Bermuda shorts and Hawaiian shirts — the margaritas will soon be flowing!)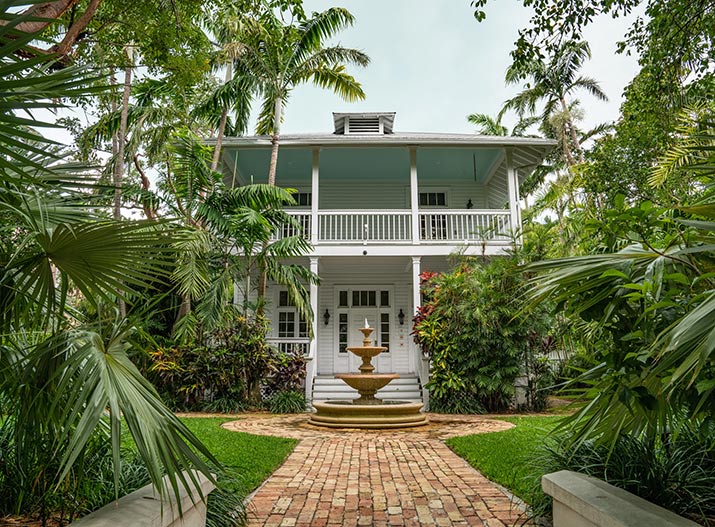 Hemingway House – In case you're not familiar, Ernest Hemingway is one of America's most prolific and culturally significant authors of all time — and he happened to live in Key West for around a decade. During this time, he wrote (and partied) extensively, and if you're heading to the island, you can visit The Ernest Hemingway Home and Museum to see how the famed literary titan lived while in the Sunshine State.
Sunsets on the Boardwalk – While technically, Florida is known as the Sunshine State, when you're in Key West, it's more like the Sunset State. With some of the most beautiful sunsets in the country, you're bound to have a few relaxing afternoons watching the sun go down over the water with your loved ones. The best places to do so? The boardwalks, of course! Check out Key West Historic Seaport, with plenty of bars and restaurants to pop into — or, if you're looking for a quieter spot to enjoy the sunset, White Street Pier is second to none.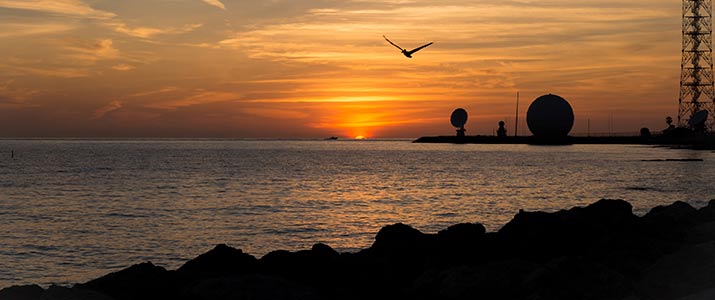 Sloppy Joe's – With all that exploring, you're bound to get thirsty. For a reprieve from the southern Florida heat, duck into the iconic Key West bar, Sloppy Joe's. First opened on December 5, 1933 — the day Prohibition was repealed — the bar has become a Key West institution, and Ernest Hemingway himself was the one who suggested the name of the saloon. The weathered doors are open until four in the morning 365 days a year, with delicious food, generous drinks, live music, and dancing. There's even a gift shop to pick up a few souvenirs to show off back home — if you ever leave, that is!