Doubling as the Republic of Ireland's capital and largest city, Dublin provides visitors with a wealth of experiences to enjoy. From historical sites, refined Georgian architecture, galleries, and museums to shops, restaurants, amazing pubs, and plenty of live music, this destination delivers a warm and welcoming spot for all ages. Situated on the country's east coast at the mouth of the River Liffey, the city's charm and character are matched only by its friendly residents known for engaging in plenty of craic ("crack"—loosely defined as a good time) over a pint of the black stuff (the area's iconic drink—Guinness). Whether you are a foodie, art enthusiast, literary lover, history buff, or just looking to experience Ireland at its best, you will discover more than you expected in the diversity of Dublin. While we cannot cover everything, we think you will enjoy we did pull together a list of the Top Ten City Experiences you will want to seek out—so let us get going!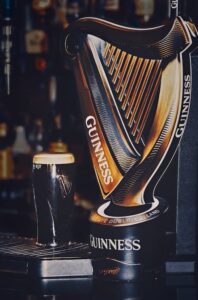 1. Guinness Storehouse
Seven floors to explore, a fabulous rooftop bar with breathtaking views of the city, and a complimentary pint will greet you at this scenic bar. The backstory to one of the most beloved beers in the world is what visitors to the Guinness Storehouse will discover at the center of the St. James's Gate Brewery beyond the big, black-lacquered door. Within the massive contemporary complex, spaces are dedicated to the dramatic tale of Ireland's signature brew, which spans more than 250 years. The attraction is popular with travelers from all over the globe.

2. St Stephen's Green Park
Spanning twenty-seven acres, this urban oasis is a popular public park situated in the center of Dublin. Featuring a Victorian layout with landscaped gardens, an ornamental lake, waterfall, tree-lined paths, decorative gazebos, and a bandstand, historic St Stephen's Green Park is filled with public artworks and sculptures of notable residents (we are looking at you, James Joyce) and historical events. An ideal spot for people-watching, tourists and locals enjoy the respite this serene space offers from city life. There is also a playground for little ones and a garden designed for those with visual impairments. But whether strolling, sunning, or sitting, just make sure to depart by dusk when the park officially closes for the day.
3. Grafton Street
If you have seen the movie Once, you will be familiar with the lore of Grafton Street. Known as a signature spot for buskers (street performers), the sound of poets, singers, and more fills the air on a regular basis. Some have even made it to the big leagues (hello, Damien Rice). In addition to entertainment stylings, style enthusiasts can check out lots of trendy options for shopping (both international and national brands) or grab a drink and a light bite at a café or restaurant nearby. Museum-wise, visitors can also access The Little Museum of Dublin, Dublin Castle, or the Irish Whiskey Museum, all located in the vicinity of Grafton Street.
4. Trinity College
Celebrated as the country's most esteemed university, Trinity College showcases refined Georgian and Victorian architecture through its buildings as well as cobbled squares and wildflower meadows. The idyllic setting is also home to The Long Room, the main chamber of the Old Library, which has 200,000 of the library's oldest books including the Book of Kells (an illuminated Gospel manuscript from the 9th century). There is no better place for a bookworm, and at close to sixty-five meters in length, The Long Room is impressive. Just as impressive? Some past university alumni, including Oscar Wilder and Nobel Laureate Samuel Beckett.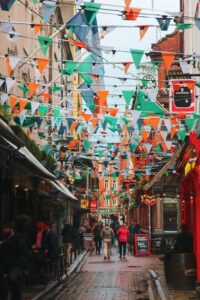 5. Temple Bar District
Known for art, entertainment, nightlife, and culinary happenings, the Temple Bar District is an area of Dublin where travelers can discover Irish folk music and what is considered quintessential pub life—ceol agus craic (tons of fun and plenty of pints). In addition to galleries, in this area cultural attractions are plentiful—from the Irish Film Institute and the National Photographic Archive to the Project Arts Centre and DesignYard. You will also find the Irish Rock N Roll Museum close by as well. Of course the best way to get to this district is to start with Pub, Grub, and History: Dublin Food & Drink Tasting Tour. The three-hour, guided experience offers pairings of pub classics with Irish beer and whiskey, stops at historical sites and famous hotspots, and stories of the city's fascinating past. It begins at Lower Bridge Street and ends in the heart of Temple Bar's cobbled streets—the latter of which is proceeded by a walk through the archway of the Ha'penny Bridge.
6. EPIC The Irish Emigration Museum
A leading attraction for travelers to the city, this museum traces the Irish diaspora, its history and emigration to other countries. Located in Dublin's Docklands, a trip here illuminates what it means to be Irish around the world via stories of influential figures in a variety of fields who left home and planted roots elsewhere—but never forgot where they came from. With high-tech, interactive exhibitions and galleries, EPIC provides an entertaining and educational experience.
7. Merrion Square
As one of the city's biggest and most grand Georgian squares, Merrion Square is surrounded by Georgian houses on one side, the Leinster House Garden on the other, and two museums—The National Museum of Ireland and the National Gallery of Ireland. The former is renowned for national and international archaeology, Irish art, culture, and history, plus national history; the latter is home to the country's European and Irish art from 1300 to today, an expansive library and archive. The central park area of Merrion Square includes colorful flowers and shrub beds as well as a famous (and well-photographed) statue of Oscar Wilde reclining on a rock.
8. Saint Patrick's Cathedral and Christ Church Cathedral
Situated a mere half mile from each other, Saint Patrick's Cathedral and Christ Church Cathedral are two sites sought after by travelers to Dublin as iconic structures with rich provenance and as special places for religious pilgrimage and worship. Saint Patrick's is the national cathedral of the Church of Ireland, an architectural and historical site, and is known for its world-famous choir (also Ireland's oldest); the Christ Church Cathedral is known for its architecture, beautiful design, and historical artifacts. Tours are available at both destinations.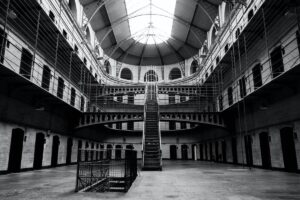 9. Kilmainham Gaol
Located on the outskirts of Dublin approximately three kilometers from Temple Bar, this former prison is now a museum run by the Irish government. Many of the country's revolutionaries, including the leaders of the 1916 Easter Rising, had been imprisoned here and executed upon order of the United Kingdom's government. The history of what occurred here is a poignant experience for visitors. The onsite museum has a collection of more than 10,000 objects—many donated by the country's citizens. There are often temporary exhibitions on display as well.
10. Dublin Zoo
Found in Phoenix Park, the Dublin Zoo is a popular attraction for tourists to the city. (Because who does not love animals?) It was founded and designed in 1830 by Decimus Burton and opened the next year as a private society by anatomists and physicists that was subsidized by affluent patrons. Today its focus is fixed on breeding programs, conservation projects, and fostering animal awareness. As a registered charity, the Dublin Zoo partners with zoos globally to contribute to the conservation of biodiversity for the planet.