All good bosses know that it's of the utmost importance, that as a manager, you take care of your employees — both at work and out of the office. Even folks living in New York City, one of the most fun and lively places in the world, can feel bogged down at work, and even the best, most on-the-ball workers can experience burnout. That's why recognizing excellent work and rewarding high levels of productivity is so critical for maintaining a happy and healthy workforce and workplace. One simple and effective way to make sure everyone stays enthusiastic about their jobs and performs at their best is by throwing fun and memorable holiday parties. Besides the fact that it's important to reward your workers for all the hard work they put in throughout the year, having a few big holiday blowouts is a surefire way to team-build, develop camaraderie and connections, and help your workers feel at home in the office.
Now, New Yorkers know a thing or two about partying (they don't call it "The City That Never Sleeps" for nothing), so you're going to want to make sure that your holiday shin-dig is well thought and one that will clear the high bar for fun that comes with living in the Big Apple. We've all been to a holiday party or two that felt like a waste of time, or just wasn't working, where employees and managers alike shuffled around the room counting down the seconds until it was okay to sneak out. That's no way to show your employees that you care — and thankfully, it's easier than ever to make sure your holiday celebrations are fun, safe, and enjoyable for everyone involved. How? By taking your holiday parties to the next level — sea level, that is!
New York City Holiday Party on the Water
Yep, hosting your New York corporate holiday party on a boat or on a yacht makes team building a cinch — instead of popping the same old invite on your employees' calendars, heading to the same old restaurant, followed by the same old bar, your staff will be over the moon to hit the waves aboard a gorgeous vessel. If you're not sure where to start, we've got your back. Below, we have outlined a few of the best offerings for New York City corporate holiday party venues out there, so you can start planning your next festive team adventure ASAP.
Feriearrangementer i New York
New York Holiday Events – Get ready to take in some unbeatable views of the Manhattan city skyline along the East and Hudson Rivers. City Cruises has the most unique company holiday party venue in the city, complete with chef-prepared menu options, full bar service, and all-inclusive packages that can be tailored to fit your budget and party size. You and your guests will live it up with City Cruises' distinctive hospitality, climate-controlled interior, open-air outdoor decks, and incredible views of some of the city's best attractions, including the Empire State Building, Statue of Liberty, One World Trade Center, Ellis Island, Brooklyn Bridge, and Governors Island — all from a whole new perspective, and no that is not the name of the yacht!
Virksomhedsarrangementer på vandet i New York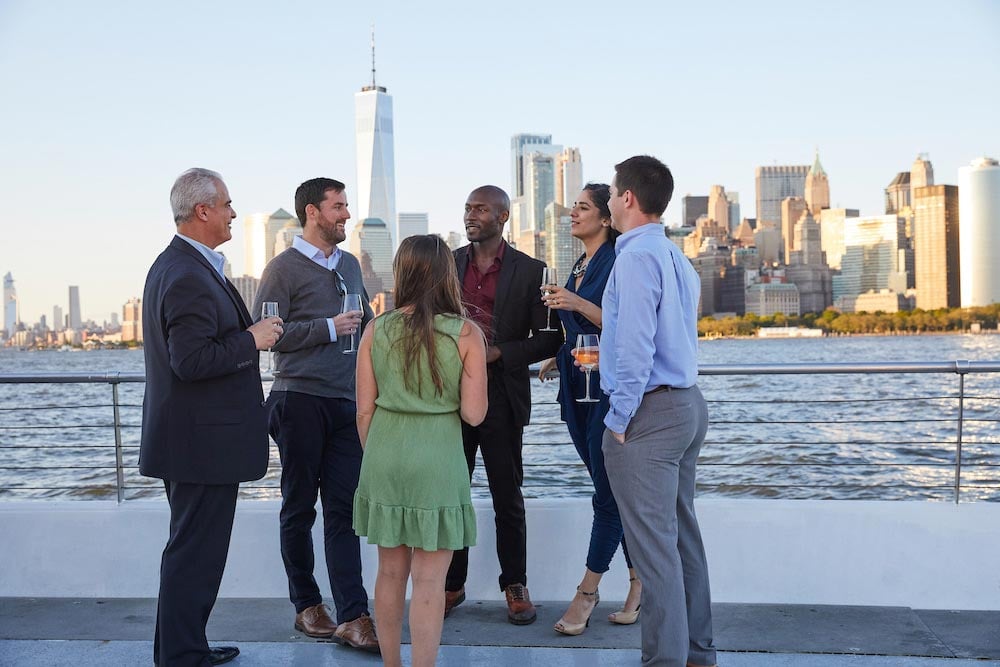 Virksomhedsarrangementer på vandet i New York – Whether you are team building, celebrating a launch, or entertaining clients, you can't go wrong with some time on the water. There are few settings more impressive than a yacht, which is why it's the ideal location for your next event. Ringing in a new product launch, treating your customers to a fine meal, or closing that big account is all the sweeter while you're cruising past iconic New York City sights. Plus, City Cruises takes care of all the details — all you have to do is show up and soak in that view.
Explore Our New York City Fleet – The mighty City Cruises fleet in New York City has everything you could look for in a New York City corporate event space. (The Hornblower Infinity was literally featured in HBO's Succession.) Ranging from massive, multi-tiered yachts to Manhattan's only all-glass, European-inspired vessel — all of which are complete with state-of-the-art amenities and some of the most experienced crew in the city — there's a perfect venue for whatever you're celebrating. It should also be noted that you have the option of booking a single level rather than the entire yacht if you are looking for something more intimate.
All that being said, you're also not limited to just holidays: Whether it's a going-away party, birthday party, a wedding, a bachelor bash, or any special occasion, having your New York City party on a boat will be a blast. So, what are you waiting for? The fleet of City Cruises vessels are ready and waiting to make your next celebration one for the history books! Ready to book your holiday party? Fill out this form and an event planner will contact you.
FAQs – NYC Holiday Party Venue for Companies
What makes a holiday party on a City Cruises yacht unique?
The unique experience of celebrating a holiday party on a City Cruises yacht lies in its breathtaking views, luxurious amenities, and unparalleled atmosphere. Instead of the usual restaurant or bar, you can host your holiday party amidst the stunning Manhattan city skyline, cruising past iconic New York landmarks such as the Empire State Building, Statue of Liberty, and Brooklyn Bridge. Coupled with chef-prepared menus, full bar service, and tailor-made packages to suit your needs and budget, City Cruises ensures a one-of-a-kind holiday party experience for your employees.
What kinds of corporate events can be held on a City Cruises yacht in New York City?
Apart from holiday parties, City Cruises in New York City can host a wide array of corporate events. This includes team building activities, product launch celebrations, client entertainment, or any special occasion such as birthdays, weddings, or going-away parties. Their experienced crew and state-of-the-art amenities ensure that regardless of the event, your celebration aboard their yacht will be memorable and enjoyable.
What services does City Cruises provide for corporate holiday parties in New York City?
City Cruises provides a comprehensive array of services to make your corporate holiday party hassle-free and memorable. They offer a selection of chef-prepared menus, a full bar service, climate-controlled interiors, and open-air decks for your guests to enjoy the incredible views of New York City's skyline. Their all-inclusive packages can be tailored to fit your budget and party size, and their distinctive hospitality ensures a smooth and enjoyable event for everyone involved.
Can I customize the corporate holiday party package at City Cruises in New York City?
Yes, City Cruises offers a range of customizable packages to cater to your specific needs and budget. Whether you're planning a big blowout or a more intimate gathering, their team can help you design the perfect event, from the food and drink options to the onboard entertainment and activities.
How do I book a corporate holiday party with City Cruises in New York City?
Booking a corporate holiday party with City Cruises in New York City is a straightforward process. You can get in touch with them through their website or contact them directly over the phone. Their dedicated team of professionals will assist you through every step of the booking process, ensuring your event is a resounding success.
What options do I have for small company holiday parties in NYC?
NYC offers a variety of unique venues suitable for small company holiday parties. If you're looking for a distinctive, memorable experience, consider hosting your party on a City Cruises yacht. They offer flexible packages that cater to parties of all sizes, including smaller groups, providing a memorable experience without the overwhelming size of a large venue.
Can I book a single level of a City Cruises yacht for my small company holiday party?
City Cruises provides the option of booking a single level rather than the entire yacht if you're hosting a smaller, more intimate gathering. This offers you the same stunning views and excellent service without the need for a larger space.
How to throw a good company holiday party in NYC?
1. Choose a Unique Venue: New York City has an abundance of unique venues, and one of the most unique ones is a City Cruises yacht. Hosting your Christmas party on a yacht cruising along the East and Hudson rivers will provide your team with stunning views of the city skyline, and iconic landmarks like the Empire State Building and Statue of Liberty.
2. Plan Your Menu: Food and drinks play a significant role in any party. City Cruises offers a variety of chef-prepared menu options, full bar service, and the ability to customize your food and drink offerings based on your team's preferences.
3. Incorporate Festive Decorations: The décor can significantly impact the mood of your party. You could consider incorporating festive elements such as Christmas lights, ornaments, and a Christmas tree. City Cruises' staff can assist with decorating the yacht to make it feel festive and welcoming.
4. Organize Entertainment: Whether it's a live band, a DJ, or even a fun team-building activity, City Cruises has you covered!