Who says work must be unfulfilling and boring? If you're in a job that you don't love, or if you're a supervisor who sees that your team is lacking enthusiasm, it could have a negative effect on the company and the bottom line. Your employees are your most important asset. Without them, things will go south. It's important for employees to feel like they are contributing to the greater good of the company.
Something else to take into consideration is that employees truly want to feel valued. "Employees prefer to be a part of something that is more than just a job, something fun to look forward to every day rather than a boring monotonous environment," according to the Society of Corporate Compliance and Ethics. "When businesses encourage their employees to have fun, employees become more engaged."
What better way to have fun than with a group? Team building and group settings accomplish way more than just a good time. "Team building is essential to so many critical functions of a team, including communication, collaboration, morale, and productivity," says HRMorning. It helps with "team trust, which is directly tied to innovation, effective decision making and employee retention."
Team-Building on a Boat with City Cruises in San Francisco
It's not just team-building that can help a corporate team come together for the greater good of the company, but the type of team-building too. Coming together at a special venue can help as well. For companies in San Francisco, a team-building venue on the water is easy. This beautiful city is on the water and home to many corporations and smaller businesses, making it a perfect place to host private and corporate team-building events. San Francisco is not only a magical city with so much to do, but it's also a welcoming and beautiful backdrop to any team-building event on the water. Host Your Group Event on the Water with City Cruises in San Francisco.
City Cruises has unique floating event venues offering all-inclusive packages, chef-prepared menus, full bar options, and customized entertainment no matter your needs. What's best is that the views are breathtaking. And those views can be seen from City Cruises' climate-controlled interior and open-air outdoor decks.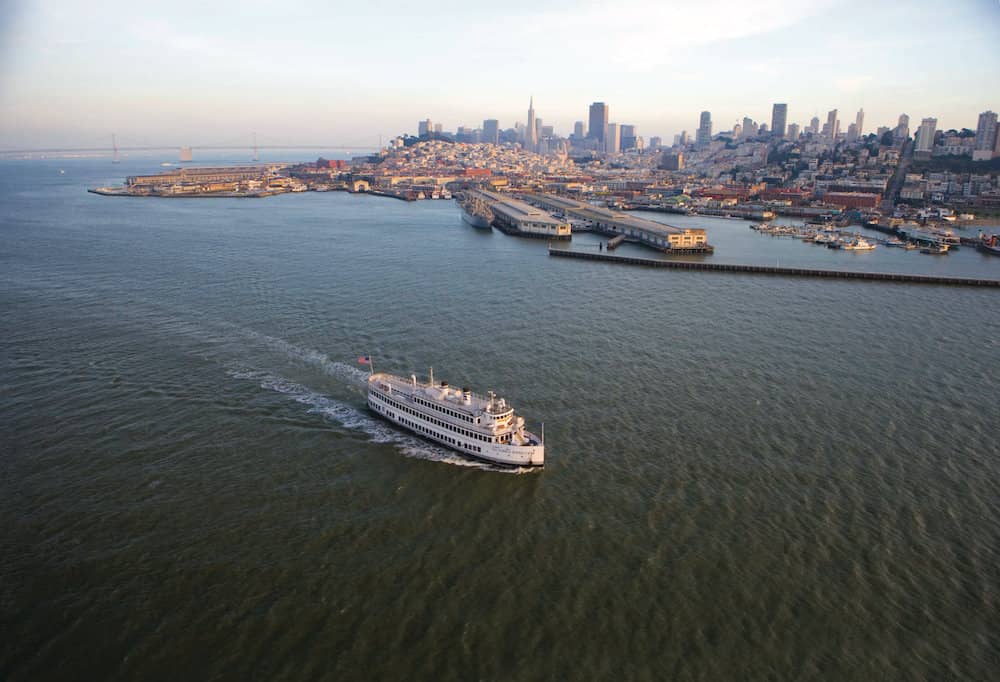 Team-building on a City Cruises venue brings everyone together in a friendly and relaxed setting. It's an adventurous way for companies to engage their employees in team-building activities that help increase communication among team members. It also helps to improve teamwork. When on board there are a variety of team-building activities to take part in, which include teamwork exercises, trivia games, engaging with speakers who may include their own participation exercises, and more. Your team will be able to kick back and relax while enjoying not only the views but getting to know each other better while building trust among each other.
Depending on your needs, you can choose lunch, dinner, or cocktails for your team. From small to large groups, City Cruises can accommodate a variety of party sizes and needs. Everything is taken care of by a warm, welcoming, and helpful staff who can help with any questions to make the event everything you need and more.
Team-Building and Employee Outing Events in San Francisco
Move your typical company event out of the usual place and take it onto the water with Employee Outings in San Francisco. Instead of staring at the same four walls, try an amazing experience with the sea breeze on your back and the iconic sights of San Francisco. Get ready for an exciting experience while our City Cruises hospitable staff takes care of the rest.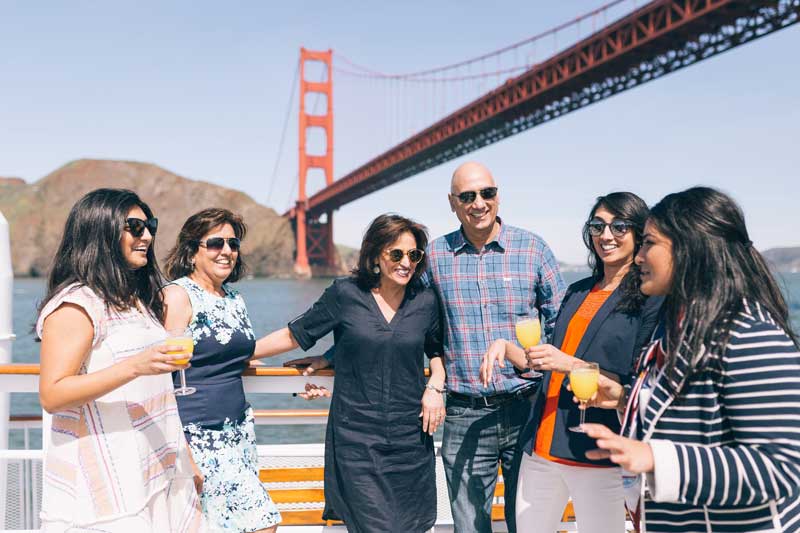 You can choose packages such as the two-hour Lunch Cruise Package, the two-hour Cocktail Cruise Package, or the three-hour Dinner Cruise Package. All feature food, a bar, background entertainment, and exciting views of the city. You can also upgrade your special team-building event to include menu upgrades, bar upgrades, and team-building experiences including a Salsa Cook Off Cruise and Scavenger Hunts.
As the holidays approach, don't just have a typical holiday party at your company, try a holiday event to build team morale while also enjoying the breathtaking views of San Francisco Bay. City Cruises has whatever you need depending on your specifications, from menu options, bar service, entertainment and photography, and a full staff. The views include the Golden Gate Bridge, Alcatraz, the San Francisco skyline, and Bay Bridge. You can choose from packages including a two-hour Premier Brunch cruise, two-hour Holiday Sunset Signature Dinner, or the three-hour Belle of the Ball cruise.
Corporate Group Events on the Water in San Francisco
You can also host your corporate group event in San Francisco with City Cruises. From entertaining clients to meetings, tradeshows, or conferences, it's all better on the water in a City Cruises vessel.
When you need to entertain corporate clients, take them on one of our City Cruises San Francisco yachts. It's the perfect way to show clients you are authentic and care about their business. Whether you are hosting clients for dinner, closing a business deal, or celebrating a much-anticipated product launch, a City Cruises yacht through San Francisco is the only way to go. There are a variety of all-inclusive packages from which to choose to dazzle your clients.
You can also have your corporate meetings and events on a yacht. No matter the size of your meeting, City Cruises San Francisco offers a variety of yacht sizes to fit your needs. From hosting a small meeting for your team or a larger conference, you will have everything a traditional venue offers but so much more because you're on the water with fascinating views of San Francisco. Choose from a variety of all-inclusive packages to suit your needs.
Choose from City Cruises San Francisco Fleet and Venues
No matter the size of your event, City Cruises has a yacht for your corporate event. Our vessels are available for charter for all types of private events and are a great option for any team-building situation. Our San Francisco Fleet and Venues feature four amazing yachts:
The San Francisco Belle has a capacity of 1,500. This Bay Area landmark is the largest dining vessel on the West Coast and recalls old-world elegance with wrap-around decks, a paddle wheel, and gold detailing. It features three spacious interior decks, and seating for dining throughout. This unique San Francisco vessel offers panoramic views of the city skyline.
With a capacity of 510, California Hornblower is City Cruises San Francisco's flagship vessel. It blends classic and contemporary styles and features dining on three spacious climate-controlled decks. The sundeck opens up to panoramic views of the San Francisco Bay.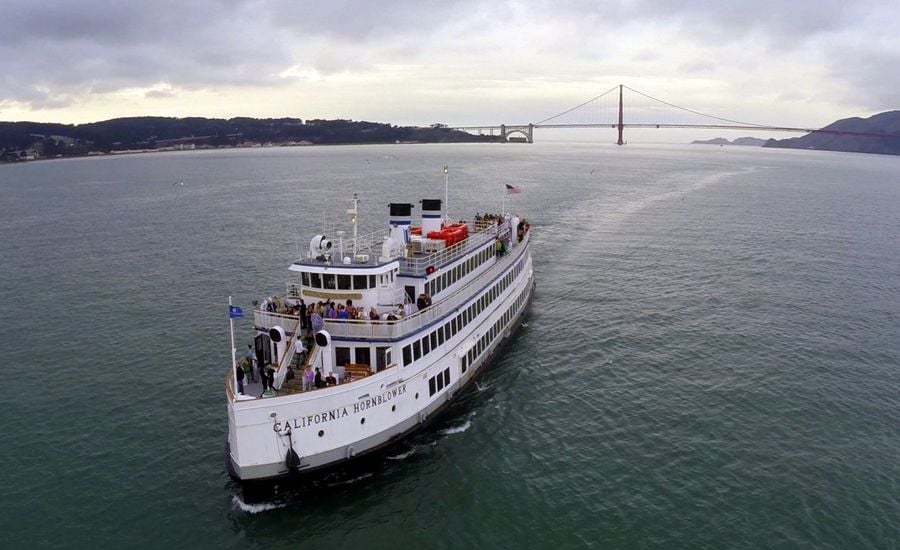 The more modern San Francisco Spirit can hold 400 people. It has color-changing LED lights throughout, three spacious interior decks, and a spacious sundeck so guests can get a great view of the skyline.
Classic charm awaits you and your guests on the Empress Hornblower with a capacity of 250. It will take you back in time as it is made to look like a turn-of-the-century riverboat. Two interior decks have a simple yet elegant ambiance. Guests can enjoy the views from the wraparound outer and top decks.
Book Your San Francisco Team-Building Event Today!
By incorporating team-building into your corporate culture, there are likely to be positive changes within your company and among teammates. It creates camaraderie and helps to build trust. When that happens, your team members are more likely to feel positive about the work they do and want to continue to do a good job. Team-building on a City Cruises yacht takes your team to the next level because it's not the same old four-walled meeting room. When you get out on the water with your team, the sky is the limit…literally.
Plan your next team-building event with City Cruises San Francisco and incorporate these events into your corporate culture. The more you bring everyone together for the greater good of the company, the more likely you will have happier team members and do better business. Fill out this form and an Event Planner will contact you!