It's the holiday season, and nothing screams "the holidays" quite like the beautiful sandy beaches of Newport Beach, California! Wait… Southern California is known for its gorgeous year-round weather, making it the perfect place for a number of holiday-related events (as long as they don't include snow).
Many consider living in the picturesque beauty of Newport Beach, California a dream come true. With its stunning views, rich history, comfortable weather, and exciting entertainment, life in this coastal paradise is nothing short of amazing. However, even while living in this picture-perfect setting, the demands of work and stress can even weigh down those lucky enough to call Newport Beach home. As a manager or supervisor, recognizing outstanding work and rewarding those who go above and beyond is crucial in maintaining a happy and healthy workforce. A great way to ensure that your team stays enthusiastic and committed is to throw a fun and memorable holiday party. Newport Beach offers the perfect setting for a corporate holiday party that will help your company continue to foster camaraderie and make your employees feel appreciated and valued.
A Vibrant Venue for a Newport Beach Holiday Party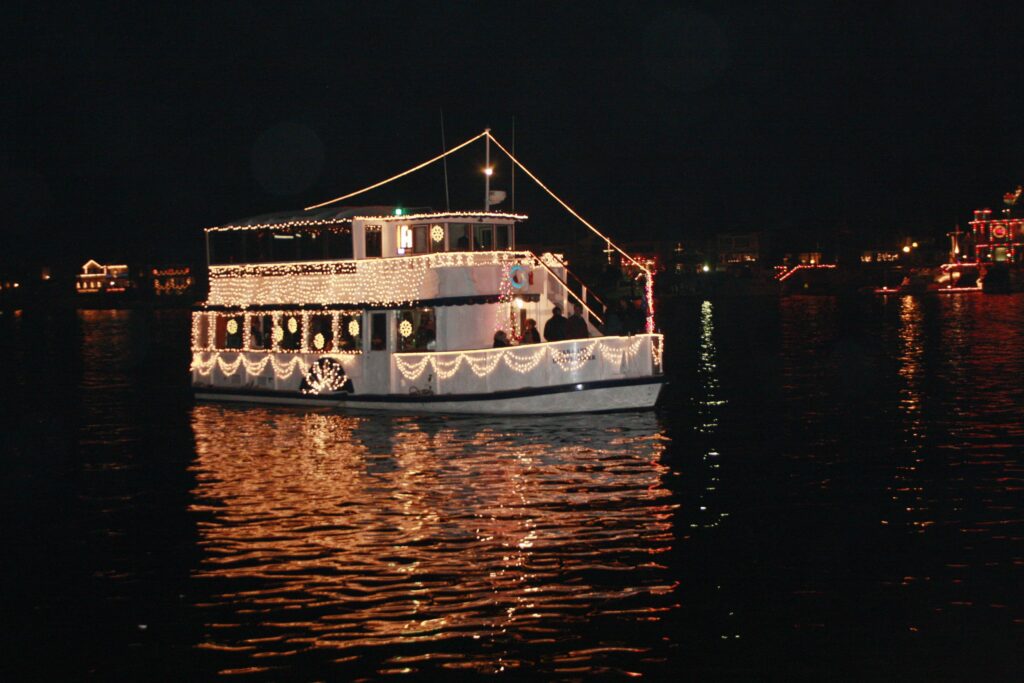 Newport Beach is home to a ton of festivities, nightlife, and entertainment options. Even with all of the vibrant options that Los Angeles offers to use as a corporate holiday party venue, obviously, you want your event to stand out. The easiest way to do that – ditch the normal routine and the mundane and consider booking a venue that shows how much fun your company's culture really is. The best way to do this? Simple, by hosting your corporate holiday party on the water in Newport Beach!
Newport Beach Corporate Holiday Party on the Water
Picture it now, your employees sailing aboard a beautiful boat or yacht across the waters of Newport Beach in Southern California. This unique experience will turn your corporate event into an unforgettable adventure. Instead of the typical party venues such as a plain event space or run-of-the-mill restaurant, your team will be thrilled to embark on a holiday celebration like no other… on the water!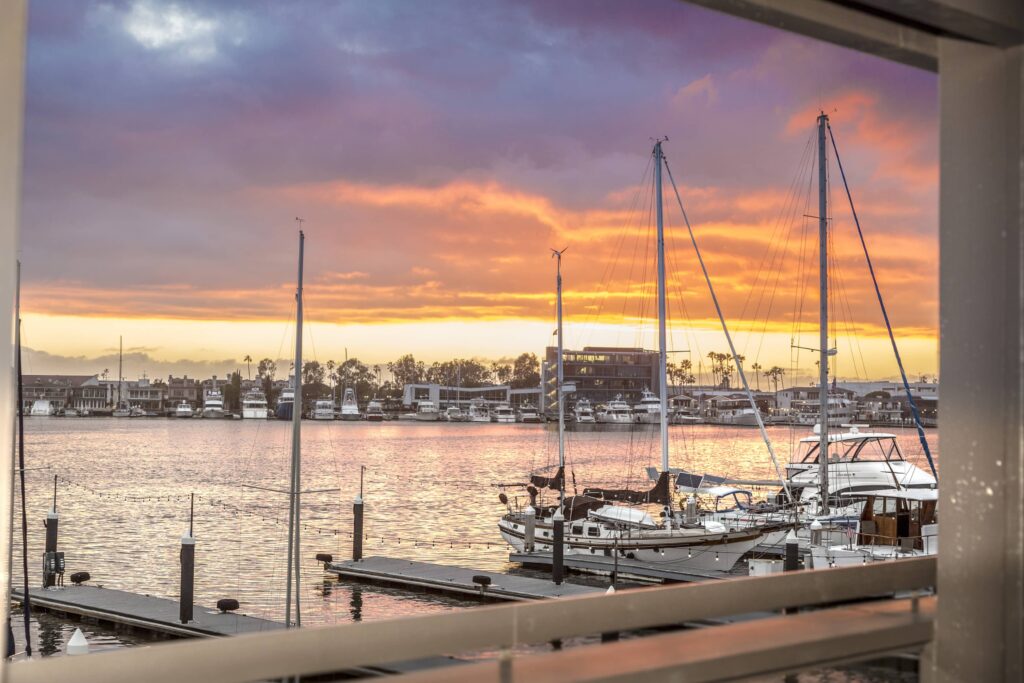 Newport Beach Corporate Holiday Party on a Yacht
If you're in Los Angeles, wouldn't you want to live like a celebrity? Get ready to impress your employees by giving them that experience and hosting your Newport Beach Holiday Event on a luxurious yacht. No need to dread sending the party invitation and worrying about how many team members will attend, they'll be thrilled to set sail on a yacht, something most would consider a once-in-a-lifetime experience. When it comes to an experience with City Cruises, the yachts feature elegant interiors, open-air decks, chef-prepared menus, and full bar service. Plus, there are all-inclusive packages that can be tailored to suit your budget and party size, ensuring that every detail is taken care of. Not sure where to start? Don't worry, we have a full team ready to help and go over options for your Los Angeles corporate holiday party.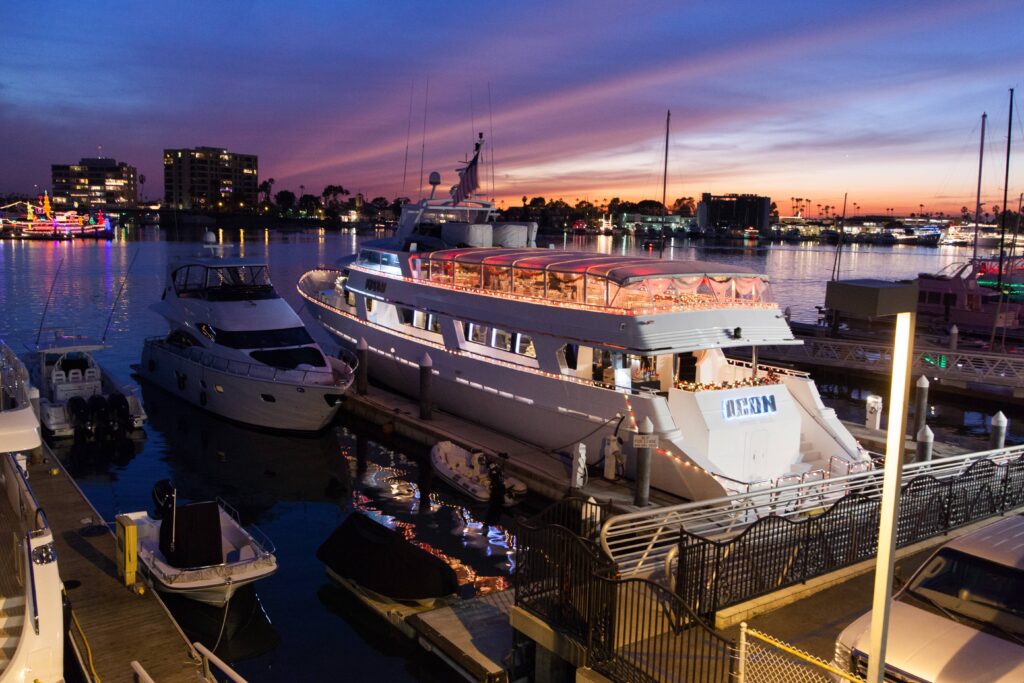 Other Corporate Events on the Water
A yacht offers the perfect setting for team building, client entertainment, milestone celebrations, and product launches. Cruising past iconic Newport Beach landmarks while enjoying drinks and a chef-prepared meal or sealing a significant deal in this setting will create lasting memories for all involved. With City Cruises handling the details and the logistics for your Newport Beach Corporate Events on the Water, you can focus on making connections and enjoying yourself to the fullest. Ready to book an event, fill out our form and one of our event planners will contact you!
Explore the Newport Beach Fleet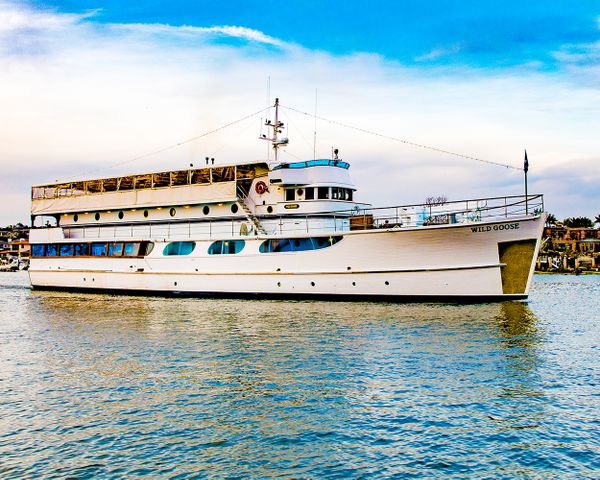 City Cruises boasts an impressive Newport Beach Fleet and Venues, featuring various vessels suitable for any corporate event. From spacious multi-tiered yachts such as Những giấc mơ bất tận which has a capacity of over 400 people, to the world-famous Ngỗng hoang dã which is the former yacht of movie star John Wayne.  No matter what you choose, each option comes equipped with a highly skilled crew that will only help elevate your event. Whether you're planning a large-scale celebration or an intimate gathering, a yacht from the City Cruises' fleet is a perfect venue for your event.
Celebrate Any Occasion with City Cruises
Don't limit your festivities to just the holiday season—any special occasion can become extraordinary on the water. Whether it's a birthday celebration, a wedding, a bachelor or bachelorette bash, or a corporate milestone, hosting it on a boat will create a truly memorable experience for everyone.
FAQs – Hosting Your Company Holiday Party in Orange County
Why should we choose City Cruises for our corporate holiday party?
City Cruises provides a unique venue for corporate holiday parties, taking your celebration to the water. Our fleet offers stunning panoramic views of Newport Beach, creating an unforgettable backdrop for your event. Our dedicated team will work with you to craft a custom event package that meets all your needs, ensuring a seamless and enjoyable experience for your employees.
What amenities does City Cruises offer for corporate holiday parties?
City Cruises offers an array of amenities to ensure your corporate holiday party in Orange County is a success. Our vessels are equipped with modern conveniences, including top-quality sound systems, comfortable seating arrangements, and a variety of customizable lighting options. We also offer gourmet catering services and a fully stocked bar to create a luxurious and festive atmosphere for your party.
Can City Cruises accommodate large corporate holiday parties?
Yes, City Cruises is perfectly suited to accommodate corporate parties of various sizes. With a range of boat sizes available, we can host intimate gatherings as well as large corporate events. Our team will work closely with you to understand your requirements and suggest the most suitable vessel for your holiday party.
How customizable are corporate holiday parties with City Cruises?
City Cruises offers a high level of customization for your corporate holiday parties. From the choice of boat, menu selection, décor, entertainment, to the route itself, our dedicated team works hand-in-hand with you to create a unique event that fits your company's vision and budget.
What are the best venues for a corporate holiday party in Newport Beach?
Newport Beach offers a variety of unique venues suitable for corporate holiday parties, including luxury resorts, elegant yachts, beachfront banquet halls, and chic restaurants. When it comes to hosting your company party on a yacht in Newport Beach, City Cruises has you covered!
What services are typically included in a Newport Beach corporate holiday party package?
Depending on the venue, your package may include catering, entertainment, venue décor, audio/visual services, and event planning assistance. The City Cruises team will help take care of everything on your holiday party boat venue!
What is the average cost of a corporate holiday party in Newport Beach?
Costs can vary widely based on the size of your party, the chosen venue, catering options, and additional services like entertainment or professional photography. It's best to get quotes from several venues to get a good understanding of the potential costs.
What types of food are typically served at corporate holiday parties in Newport Beach?
Newport Beach's culinary scene is diverse and renowned. You can find everything from seafood and classic American fare to international cuisines. Many venues offer customizable menus to suit your event's theme and dietary preferences.
What are some unique entertainment options for a corporate holiday party in Newport Beach?
Beyond traditional music and dancing, consider hiring a local band, a comedy act, or even a yacht charter for a unique and memorable party experience.
How far in advance should I book a venue for a corporate holiday party in Newport Beach?
Popular venues can book up quickly, especially during the holiday season. It's recommended to start your planning and book your venue well in advance.
Are there outdoor venue options for a corporate holiday party in Newport Beach?
Yes, thanks to Newport Beach's mild climate, many venues offer outdoor spaces that can be utilized year-round, adding a unique and scenic touch to your corporate holiday party.
What should I look for in a corporate holiday party venue in Newport Beach?
Look for a venue that fits your guest list size, aligns with your company's image, offers the necessary amenities, and provides reliable and professional service.
Is there public transportation available for guests attending a corporate holiday party in Newport Beach?
Yes, Newport Beach has several public transportation options. However, you might also want to consider arranging group transportation or encouraging rideshare services for the convenience of your guests.
What are some exceptional venues for a company holiday party in Orange County?
Orange County is a treasure trove of unique venues for hosting your company's holiday party. If you're seeking something distinct and memorable, why not consider a delightful maritime adventure with City Cruises in Newport Beach? Our team will work closely with you to craft a bespoke package tailored to your unique needs, transforming your corporate holiday bash into a festive nautical journey!
What is the cost of hosting a Christmas party aboard a boat in Newport Beach?
The cost of hosting a Christmas celebration on a Newport Beach boat can vary, mainly influenced by the size of your group and the specific package you opt for. Our team at City Cruises is ready to provide a customized quote for your unique event, ensuring it meets your budget and expectations!
Which is the top-rated venue for a company holiday party in Orange County?
In Newport Beach, the most exhilarating venue for a company holiday party is undoubtedly the sparkling water itself! Nothing compares to the awe-inspiring views of the stunning Newport Beach Harbor. A sea cruise promises an extraordinary experience and a refreshing perspective that your employees will appreciate and cherish.
What are some innovative ideas for a holiday party in 2023?
Innovative holiday party ideas can really transform your celebration into a memorable occasion. Consider opting for a unique party theme, rent a photo booth for memorable snapshots, hire a caricaturist for light-hearted entertainment, or even set up a candy buffet for a sweet treat. Don't forget to curate a playlist of holiday music to get everyone in the festive spirit. No matter what you choose, City Cruises is ready to assist you in designing a spectacular holiday party everyone will enjoy.