The Javits Center is a massive convention space in New York City located on Eleventh Avenue between 34th and 38th Streets. Designed by architect James Ingo Freed of Pei Cobb Freed & Partners, the Jacob K. Javits Convention Center (what it's formally known as) hosts a number of events annually including beauty, beverage, food, design, and travel tradeshows as well as technology and toy expos—among other happenings. Situated right on the Hudson River in the heart of Hell's Kitchen, it comes as no surprise that visitors to the center may be in search of where to eat before, during, and after any functions they attend, and fortunately, this neighborhood does not disappoint when it comes to restaurants that appeal to a range of palates pursuing crave-worthy cuisine. Here's our list of a few favorites to keep in mind during your search for sustenance.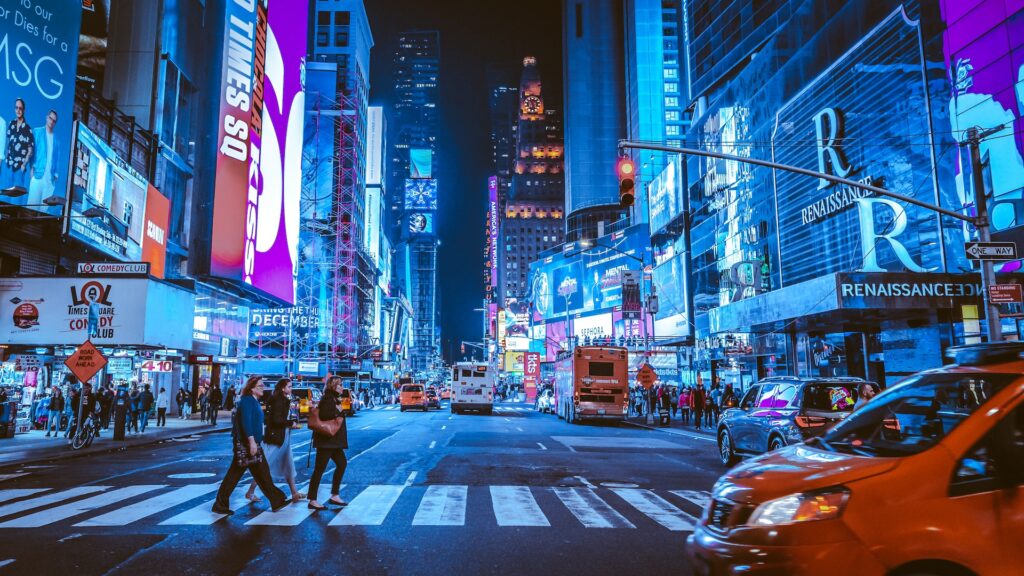 Hudson Yards
If you're spending time at the Javits Center, it's just a quick jaunt to Hudson Yards (basically…you walk across 11th). There you will find a wealth of restaurants offering rich cuisines from around the world, including fab Mediterranean seafood at Estiatorio Milos from celebrated Chef Costas Spiliadis and sensational sushi at Kamasu from the Kissaki Hospitality Group. There's also plenty of Iberian flavors to indulge in at Little Mercado Spain, where foodie dreams come true—courtesy of acclaimed Chef José Andres and the Adría Brothers—with an assortment of kiosks and restaurants such as Leña and the Spanish Diner. Those longing for an American menu will be satisfied as well, if they snag a table at D&D London's Queensyard overlooking the Vessel, or take in the dramatic design, dishes, and sights from Peak Restaurant & Bar, courtesy of renowned architect David Rockwell and Executive Chef Chris Cryer. It takes dining to new heights with a location on the 101st Floor of the development's tallest building. Whether it's coffee, fine dining, cocktails, wine, fast casual, or sweet treats you want, Hudson Yards covers the bases for any meal of the day—brunch included—at a number of eateries and shops you'll find onsite.
All Aboard
One of the biggest benefits of heading to the Javits is that it puts you directly next to the Hudson River, which as it turns out, is a super convenient location for taking advantage of a unique culinary adventure on the high seas. For those who seek skylines views and gourmet food, the Bateaux New York Premier Plus Dinner Cruise is your best bet. Not only will you enjoy panoramic and iconic views of NYC via the East and Hudson Rivers on a glass-enclosed deck, but this three-hour luxury experience also offers a decadent plated dinner with freshly prepared entrees, salads, and desserts plus a live band to keep the mood festive and fun.
No matter the occasion, a New York Signature Dinner Cruise will create an unforgettable dinner and an experience all in one! Dine the night away with friends and family and soak in all the beauty that the NYC skyline has to offer with a delicious and freshly prepared buffet, live DJ music, and an open-air rooftop lounge to take in local landmarks such as the Empire State Building, Brooklyn Bridge, and the Statue of Liberty.
If heading out on the water during the day is more your speed, then take advantage of dining the afternoon away aboard Bateaux New York Premier Lunch Cruise where you can get the best views of the city while the sun casts its reflection upon the water. Get away from it all for 2 hours on the East and Hudson Rivers while dining on a fully glass-enclosed deck and enjoying a delicious plated lunch. Reserve a window table for the most spectacular views. Curated music and a live pianist will set the tone along with light narration of iconic landmarks.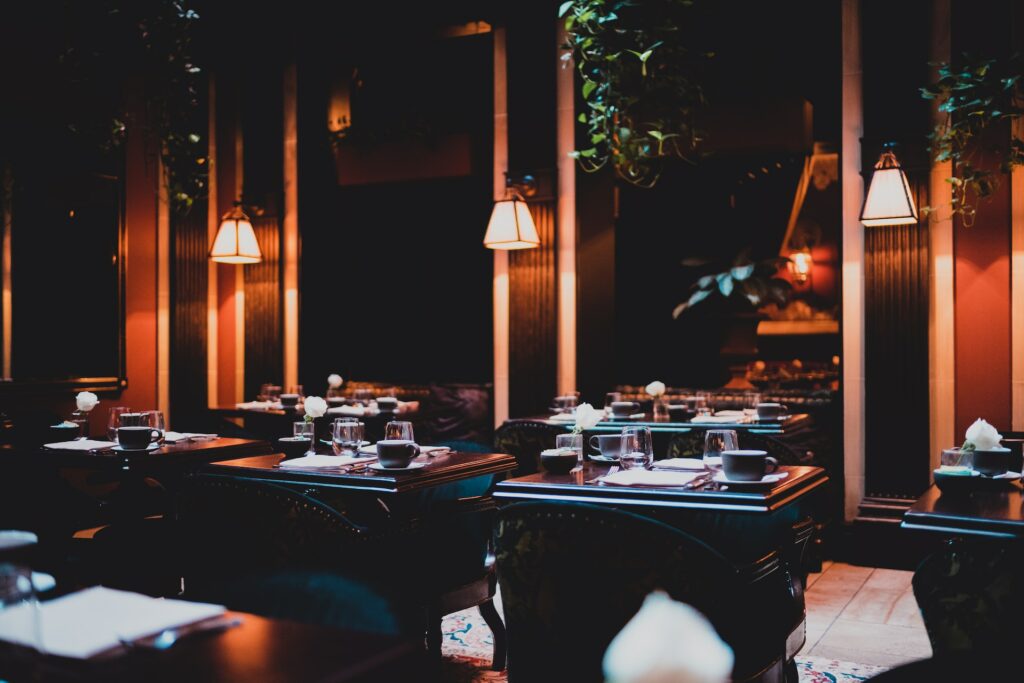 Neighborhood Gems
Designed with food and wine lovers in mind, there are a handful of neighborhood gems not far from the Javits that are tantalizing spots designed for dining and relaxation post-convention center trekking. Spinning delicious and innovative food and beverages (plus a killer wine list), Legacy Records from Delicious Hospitality Group—known for downtown restaurants Charlie Bird and Pasquale Jones—is three upscale spots rolled into one: an 85-seat dining room, Ada's Place Bar & Lounge, and Easy Victor Café. Simultaneously, those searching for a more casual setting will find plenty of warm hospitality at family-owned Friedman's Hell's Kitchen. This contemporary space focuses on seasonal, locally sourced, and predominantly gluten-free comfort fare. From pancakes and waffles to fried chicken and burgers, Friedman's is a great place to grab a bite and some drinks that will make you feel right at home. Speaking of hearths, Serafina in the Sky—situated in the elevated lobby of the Midtown Pod Times Square Hotel—features a menu of authentic Italian classics including homemade pastas, a variety of thin-crust pizzas, and other enticing dishes. You can sit in the Gold Lounge or on the large outdoor terrace, which offers beautiful views of the city, to enjoy a craft cocktail. Meanwhile, Francophiles can get their passion for a Parisian bistro fulfilled at Chez Josephine. Founded by Jean-Claude Baker in the mid-eighties as a tribute to Josephine Baker (the legendary American-born French dancer, singer, and actress), Chez Josephine doubles as a dining venue and piano bar with live music as part of the deal. Intimate and inviting, you can sit down to indulge in a meal or slide up to the Zinc Bar for a drink, but either way, the vibe is vivacious. Another name synonymous with iconic female artists is the incomparable Frida Kahlo, and Kahlo (the restaurant that bears her name as a tribute) makes the artistry of Modern Mexican cuisine and carefully curated cocktails its masterpiece. If tequila and mezcal make your mouth water, you're bound to find one you favor here. In walking distance from the Javits, Kahlo is worth the trip for its cozy surroundings and vibrant design.
No matter what you plan to attend at the Javits, fueling up before, during, and/or after is a vital part of your to-do list. With so many awesome dining options to choose from (whether it's street level, nearly sky high, or on the water), the only question you need to ask yourself is: What time should we reserve the table?
SSS
Where is the Javitz Center located?
The Javitz Center is located in Manhattan on 11th Avenue between 34th and 39th Streets. Use the entrance at 11th Avenue and 35th Street.
Does the Javitz Center have parking?
The Javitz Center does not have official facility parking, but there are many lots and garages off-site within walking distance of the convention center.
Are there restaurants near the Javitz Center?
There are many dining options within walking distance of the Javitz Center. Hudson Yards offer many choices, and there are some neighborhood gems close by as well. City Cruises offers unique dining options for lunch and dinner that provide an unforgettable view along with your meal.
Original post date: April 19, 2023