Father's Day is celebrated on the third Sunday in June annually. We honor the significance of the father's role in both the family and society.
Sonora Smart Dodd of Spokane, Washington is credited for the idea of Father's Day when she listened to a sermon on Mother's Day in 1909. Dodd and her five siblings were raised by their father, a Civil War veteran after her mother died in childbirth. Local religious leaders supported the idea, and the first Father's Day was celebrated on June 19, 1910, the month of her father's birth, and became a national holiday in 1972, when President Richard Nixon signed legislation designating it as such.
Though it began as a religious holiday, Father's Day is now commercialized with gift-giving and greeting cards. But Father's Day doesn't have to be a day to give dad another shirt, tie, or pair of socks. It doesn't have to be at an overcrowded restaurant. Instead, why not make it extra special and really knock those socks off by taking him for a special day on the water?
There is nothing more relaxing and peaceful than being on the water. Your dad can forget about all his troubles and anything that causes stress and sit back, relax, and feel the open-air with an amazing trip on the water. Treat your dad to a Father's Day Premier Brunch Cruise and create lasting memories that you will all treasure. While onboard, your family will enjoy distinctive service with a chef-inspired buffet and a selection of wine, beer, and classic cocktails. Enjoy the day while listening to music in a climate-controlled interior, or soak in the picturesque backdrop from outdoor decks. This two-hour cruise will guarantee a great time will be had by all. Make sure you bring your camera to capture some Instagram-worthy shots of the family!
Dad is a son's first hero, and a daughter's first love, and yet fathers are often not given credit for their role in the family. Don't miss an opportunity to show your father how much he means to you and your family by taking him on an adventure of a lifetime with a one-of-a-kind experience.
A San Diego Whale & Dolphin Watching Adventure would be a great and unique experience for the family. Enjoy the best sightseeing on San Diego Bay with a professionally narrated tour of San Diego's whale-watching hot spots. Search for Blue Whales, Minke Whales, Fin Whales, dolphins, sea lions, marine birds, and many more sea creatures! As you cruise, you will see up-close views of the bay's wildlife as well as iconic landmarks from a new perspective. Onboard staff will provide live narration and details about the aquatic life and landmarks you'll pass for a truly memorable experience. Expert captains and volunteer naturalists from the San Diego Natural History Museum will make this educational voyage like no other. This four-hour cruise offers spectacular views of the city skyline and local landmarks.
Take advantage of an annual pass and make this a special experience to be shared annually. The whale-watching vessel cruises in the open ocean. Due to stabilizers, these yachts are the most comfortable in San Diego and greatly reduce the yacht's motion. There are some helpful hints to make your cruise more comfortable and enjoyable before you go. Your dad will be fascinated by the beautiful views, sea creatures, and sights along San Diego Bay. Food and beverages are available for purchase onboard. You will want to have your camera ready to capture remarkable sights that will be shared for years to come.
They say the best way to a man's heart is his stomach! Since dads are generally harder to buy a gift to show appreciation, a Dinner Cruise is a unique and special idea to celebrate. The gift of spending time together is better than any material object; especially when there's good food involved! Take your dad on a two-and-a-half-hour cruise along the San Diego Bay, where he can be treated like a king, and everyone can enjoy a delicious plated dinner with freshly prepared entrees, salads, and desserts to please the palate. The distinct service will be sure to impress him. There are creative cocktails, wine, and beer to help him unwind. Sway to the music with live DJ entertainment as you cruise along the San Diego Bay soaking in the picturesque backdrop from climate-controlled interiors, or open-air outdoor decks, all while creating lasting memories. You may want to splurge on a window table to ensure the best views.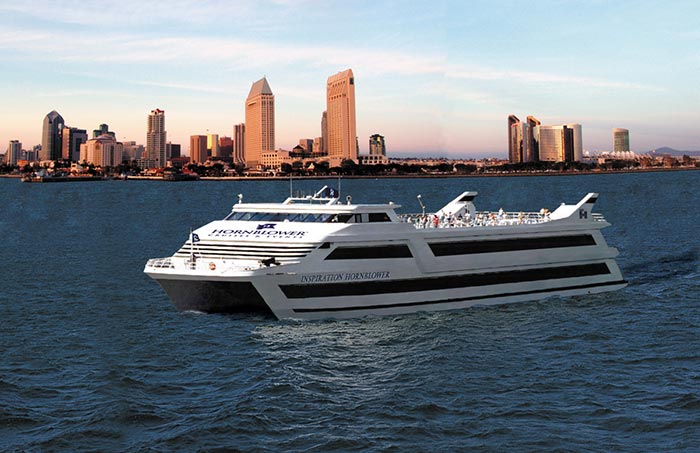 For most dads, spending time together is the best gift they can receive. Likely, he just wants to spend time with his kids and to know that the love and wisdom he has shown have not gone unnoticed. Taking him on an adventure will show him how much he means to you as he realizes the thoughtfulness behind your plans.
A Segway tour is a fun way to explore the city's popular sights. The Segway tour is like a walking tour, without the walking, and enables you to cover more ground in less time. Make sure your dad has comfortable shoes and clothing. On this tour, led by a local expert guide, you will see why Balboa Park is rated as one of San Diego's top places to visit – you'll agree, it's a must-see! You will learn of the history of the park's top landmarks including Cabrillo Bridge, Spreckels Organ Pavilion, the Spanish Village Art Center, and more as you explore the downtown streets of San Diego and its iconic skyscrapers. Your dad will admire the intricate Spanish-Colonial architecture from the 1915 Panama-California Exposition and observe the stunning canyon views from the distance. This will be an unexpected treat that your family will reminisce about for years to come.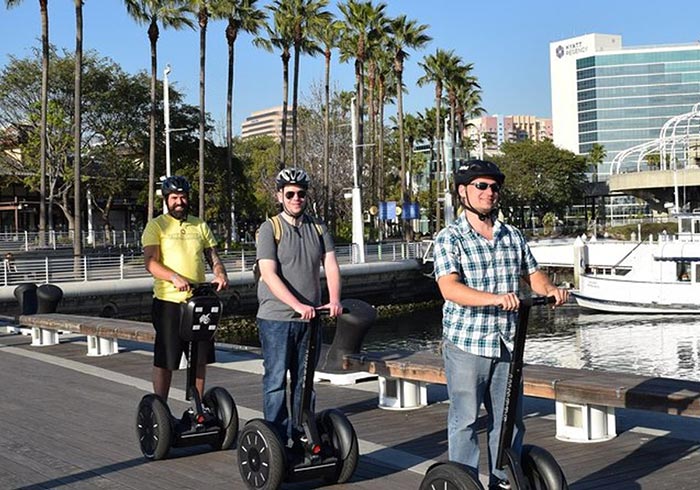 Burgers and Beers
You probably have worked up an appetite after zipping around the city, so consider taking your dad to a burger joint with vintage décor and pinball machines to bring back some memories. The Balboa is a small, casual tavern known for cocktails, burgers, and fries that will make your dad happy. Located in the Balboa Park area, this downtown delight has an expansive burger menu and great options for craft beer. The vibe is chill, and the décor is offers lots to look at while you wait for your made-to-order burgers. Play a game of pool, or pinball, and let him select the music on the jukebox while sipping a drink (or two).
This Father's Day, think outside the box to plan a special and unforgettable experience for your dad to show him how much you love him. Spend a relaxing day on the water having brunch, or an evening admiring the skyline along the Bay with a plated dinner, look for whales and dolphins while sightseeing, or take him on an adventure while touring the city on a Segway. No matter what you decide, being together is the best part.