Halloween is an exciting time of year, and it's never too early to start planning for this magical season, so if you're looking for some spooktacular ideas on how to spend the night, then look no further!
Niagara Falls has some of the best attractions for the Halloween season to ensure everyone experiences creepiness.
1 Nightmares Fear Factory
If it's scary what you're looking for, Nightmares is the place to visit when in Niagara Falls, Ontario this Halloween season. Open until midnight or 2 am, 7 days a week, you'll have lots of time to fit this into your itinerary! This attraction is so dark that you cannot even see your hands in front of your face. Be prepared when you enter this attraction, they are known for capturing photos of their guests' fearful faces. Much to the amusement of viral website visitors from all over the world.
2 Howell's Family Pumpkin Farm
Howell's is the place Niagara families go for Halloween Fun! Let the little ones play in the Tractor Tire Play Area, or get the whole family together for a Forest Walk. There are so many fun activities for families such as; shows, train rides,  a haystack jumping pillow, a corn maze, tractor rides, and an animal farm. You'll have an incredible time with so much to choose from. And of course, there are thousands of pumpkins—Giant pumpkins, mini pumpkins, and gourds of all kinds! Spending the day exploring the family farm while enjoying a Famous Pumpkin Donut is sure to make great memories you'll all remember for years to come.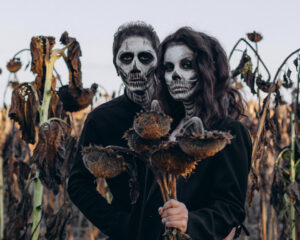 3 Haunt Manor Hayrides and Haunted Houses
Fangoria Magazine named Haunt Manor Hayrides and Haunted Houses Canada's scariest Haunted Attraction. Every year over 100 actors provide a most spooktacular experience! Featuring a theatrical hayride, corn maze, and seven separately-themed haunted houses this haunted farm has something to scare the pants off everyone in your group.
4 All Hallow's Eve Tours at Old Fort Erie
These guided tours run annually around the end of October and showcase ghost stories on Canada's bloodiest battlefield at Old Fort Erie. Costumed interpreters teach the traditions of Halloween from yesteryear and the evening concludes with a guest favourite burning of Guy Fawkes.
5 Drummond Hill Cemetery Tours
A night-time visit to one of Canada's most historic cemeteries is sure to give you goosebumps. A costumed guide leads these tours while you wander the grounds and happen upon theatrical performances. Catch glimpses into the lives of some of Niagara Falls, Canada's most ancient inhabitants on this creepy evening.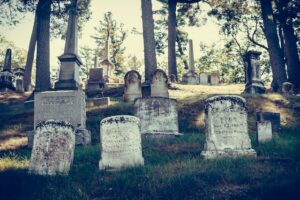 6 Halloween on the Hill
Niagara's best Halloween Party in the place for Fun at the Falls, Clifton Hill! Halloween on the Hill will surely be the Niagara Falls Halloween event of the year.
A live DJ will be spinning killer beats all night and there are new categories for the costume party such as; Best Duo Costume and Best Indy Costume. You do not want to miss this event. The best part-there is no cover!
. DJ Pete will be spinning killer beats all night and there is an excellent prize for the best-dressed costume, so don't forget to dress up!
7 Niagara City Cruises
If you're already on Clifton Hill for Halloween on the Hill, you're only steps from the must-do Niagara Falls attraction of Niagara City Cruises. With several cruise options: Voyage to the Falls Boat Tour,  Falls Illumination Cruise, and the Falls Fireworks Cruise. The Voyage to the Falls Boat Tour is a journey of a lifetime with stunning views of the Niagara Gorge, American Falls, and Bridal Veil Falls. Feel the thundering roar, awesome power, and amazing mist that come along with these natural wonders. The Falls Illumination Cruise is a 2-hour wine-tasting cruise while overlooking Niagara Falls, with your favourite colours lighting up the falls on this unique evening experience. and Falls Fireworks Cruise is nothing like you have ever seen before with exploding fireworks over the brink of Niagara Falls with panoramic skyline views, stunning illuminations, and of course-fireworks that light up the sky. You cannot go wrong with any of these options.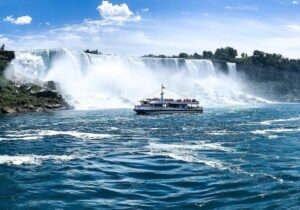 The fascinating history of haunted Fort George and Niagara-on-the-Lake is told by actors recounting real stories of experiences and spirits haunting the area. Fort George, known as one of the prettiest towns in Canada, is commonly referred to as the most haunted. Imagine after dark which is already frightening enough but adding a candlelit tour while listening to ghastly ghost stories takes it to the next level. ours typically run for 1.5 to 2 hours and you should dress according to the weather. History buffs will love this haunted Halloween event!
These tickets are quite popular and sought after so it is highly recommended that you purchase tickets online since space is limited.
9 See a Horror Movie at the Drive-In
Experience a horror movie the way it was meant to be seen at the drive-in! There is nothing like being surrounded by other horror movie fans while watching your favourite scary flick on the big screen. The perfect compromise for those who want to stay in their cars and those who want to lay out under the stars. And don't forget the popcorn!
10 Haunted Houses
If you're looking for a good scare, Niagara has plenty of haunted houses to choose from. With locations in both Niagara Falls and Niagara-on-the-Lake, there is sure to be one that will send shivers down your spine. These houses are not for the faint of heart, from abandoned asylums to haunted mansions.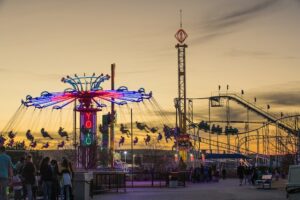 11 Spend Time at an Amusement Park
An amusement park is always a fun place to visit; during Halloween, they become even more exciting! With spooky decorations and Halloween-themed rides, these parks are the perfect place to take the family for a fun-filled day. Many parks in Niagara have special events taking place throughout October, so be sure to check them out!
12 Trick-or-Treating
A Halloween classic! What would Halloween be without going door-to-door, collecting candy, and dressing up in costumes? Many neighbourhoods in Niagara Falls and Niagara-on-the-Lake hold special events for trick-or-treaters, so be sure to check them out!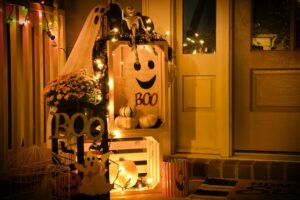 13 Take a Haunted Hayride through the woods!
What could be more fun than a hayride through the woods on a crisp autumn night? Add some spooky stories, and you've got a perfect Halloween activity! Several farms in Niagara offer hayrides through the autumn countryside, and many have a spooky twist during October.
What Costume Will You Wear for Halloween in Niagara?
Will you go as a traditional ghost or goblin, or will you try something new? There are so many options to choose from that it can be hard to decide. If you're looking for inspiration, here are a few ideas to get you started.
One popular choice for Halloween costumes in Niagara is to dress up as a character from a scary movie. For example, you could go as the killer from "Psycho" or the heroine from "The Exorcist." If you're feeling really creative, you could even dress up as one of the monsters from "Alien" or "The Blair Witch Project." Whatever movie you choose, just make sure your costume is scary enough to give trick-or-treaters a good scare!
Another option is to dress up as a famous historical figure. For instance, you could go as Cleopatra, Julius Caesar, or Marie Antoinette. Or, if you're looking for something a little more light-hearted, you could try dressing up as Lewis and Clark or Abraham Lincoln. Whichever figure you choose, just be sure to do your research, so your costume is accurate and convincing.
Of course, you could always keep it simple and go like a classic witch or vampire. These costumes are always popular choices and relatively easy to put together. If you want to put your own spin on these classics, try adding some unique accessories or makeup. For example, you could add fake blood to your vampire costume or wear a pointy hat with your witch costume. Get creative and have fun with it!
No matter what costume you choose, just make sure you have a blast this Halloween in Niagara!
Sonuç
So, if you're looking for some fun and spooky things to do this Halloween season, Niagara has got you covered. From haunted houses and corn mazes to pumpkin patches and devilish desserts, there's something for everyone in our top 15 list. And don't forget to dress up in your best costume – you never know who or what you might run into while trick-or-treating around town. Do you have any other favorite activities or events that we missed? Let us know in the comments below, and be sure to share with your friends – Happy Halloween!
Original post date: October 20, 2017