Get ready to spend Father's Day 2023 with Dad in a city whose downtown is literally booming. Norfolk is coming of age with a downtown filled with retail, restaurants, and the largest naval base in the world. It's 66 square miles, features seven miles of Chesapeake Bay beachfront, is home to the Virginia Opera, and The Virginia Symphony, and features neighborhoods bursting with trees and flowers. It's the perfect place that you'll want to take Dad on Father's Day to celebrate how special he is. 
While we've all heard that Virginia is for lovers, it's also for families. When celebrating Father's Day, this city is full of love for everyone and is filled with a host of fun and exciting things to do with and for Dad.  
Not Your Typical Father's Day Events
For something a little bit out of the ordinary, take dad to a special Father's Day event, The Thinking Man's Bottles wine tasting featuring Bill Averett of the Roanoke Valley Wine Company (RVWC), on Friday, June 16, from 6:00 pm to 7:30 pm. This event is catered and will have a selection of contemplative bottles of wine to open and taste.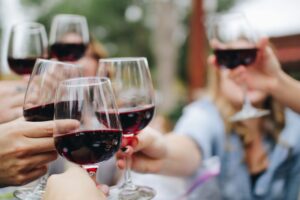 If your father likes to dance (or maybe he'll give it a try), bring your dancing shoes on Saturday, June 17 to a Father's Day party featuring DJ Cleve at Roger Brown's Restaurant and Sports Bar, where the food has a Southern flair. While the event is meant to celebrate fathers, it's enjoyable for the entire family, so get out and get ready to move on the dance floor! 
Voted the third best in the U.S. by Fodor's, take Dad to the Norfolk Botanical Garden, which also happens to be Virginia's largest botanical garden. It's also a perfect time to take Dad as they are celebrating the garden's 85th anniversary. There are more than 60 gardens to check out. "Some of our gardens showcase styles from different parts of the world, while others are focused on one particular type of plant," according to the website. "We have gardens of intense fragrance and color, and we have some for reflective contemplation." 
Take Dad to See Some of Norfolk's Maritime Centers and Ships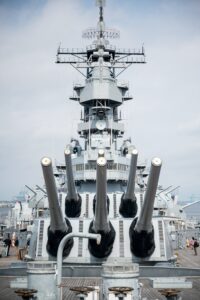 Take Dad to Nauticus, "a maritime discovery center" you'll find on downtown Norfolk's waterfront. It's a great place for all ages to learn and experience everything maritime. "Through interactive exhibits and STEM to STERN programming, Nauticus uses the museum, Battleship Wisconsin, sailing center, and Schooner Virginia to tell the story of the maritime environment, industry, and the military," the website said. You can even take a guided tour of Battleship Wisconsin, which celebrated its 79th birthday on April 15, 2023. 
Head over to Hampton Roads Naval Museum next, which is on the second deck of the Nauticus building. It's a great museum to take Dad for an exciting learning experience about "the U.S. Navy in and around Hampton Roads, Virginia from the Revolutionary War to the present day for servicemembers and the general public," according to the Facebook page. It's free to visit the museum. 
More Father's Day Fun in Norfolk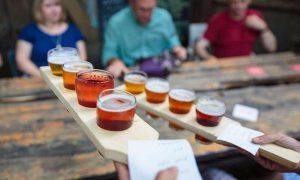 Play ball! Why not take Dad to Harbor Park for a fun minor-league baseball game? Home to the Norfolk Tides baseball team, Harbor Park is sure to bring the fun on or around Father's Day. Harbor Park also has a 225-seat restaurant called, "Hits at the Park," with a view of the field so you can enjoy a meal and the game at the same time. Check the schedule for dates and times of a game near Father's Day and make it a family day. 
After the game, the O'Connor Brewing Co. is the place to be for fun and fine beer. "20 years ago Kevin O'Connor wrote his final college paper on starting his own brewery, and on St. Patrick's Day 2010 O'Connor Brewing Co. brewed its first batch, becoming one of Coastal Virginia's very first craft breweries," according to the website. It is family owned to this day and supports the community making it the perfect spot on Father's Day.
The Perfect Father's Day Brunch or Dinner with Dad
Father's Day isn't complete without the perfect meal. The Father's Day Signature Brunch Cruise is the way to make family memories that last. You'll cruise along the Elizabeth River and spend the day with your family enjoying a brunch buffet, classic cocktails, and spectacular views of Norfolk. The 2-hour cruise features unlimited mimosas (for those 21 and older with ID), live DJ entertainment, and a guaranteed table for your party. Enjoy the cruise from the climate-controlled interior or the open-air outdoor deck. 
If Dad prefers dinner over brunch, take the Siku ya Baba Saini ya Chakula cha jioni Cruise. The 2-hour dinner cruise on the Elizabeth River features a delectable buffet dinner with spectacular views of Norfolk's architecture and local landmarks. You'll make family memories to treasure for a lifetime. Indulge in a delectable dinner and music from a live DJ. The cruise is for all ages and is such a perfect way to celebrate the father in your life.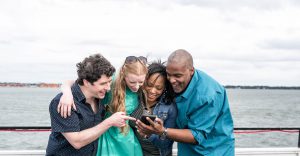 No matter how you celebrate Dad on Father's Day, you'll make memories to remember in Norfolk. Your father will love that you thought of him and took the time to celebrate with him and the family on his special day.