You may think of Chicago as the home of deep-dish pizza and Al Capone. But did you also know that America's first skyscraper was built in Chicago (in 1885), and that the city was the birthplace of the car radio and remote control?
The Windy City offers plenty of opportunities to immerse yourself in that past. Take a historical tour if you want to find out what makes Chicago the city it is today.
Bus Tours
The Chicago Trolley Tours are a convenient way to see the city. This tour includes stops at Buckingham Fountain, Millennium Park, the Sears Tower, and more. A variety of other bus tours are available in Chicago, such as the Chicago Crime and Mob Tour. It takes you to all the famous places that Al Capone and Chicago's notorious gangsters frequented, like the Biography Theater, Holy Name Cathedral, and the site of the bloody St. Valentine's Day Massacre.
You can also take the Big Bus Hop-On, Hop-Off Tour to explore Chicago's architectural wonders and key landmarks. Then there is Gray Line's Chicago Grand City Tour, which drives through the city's magnificent parks.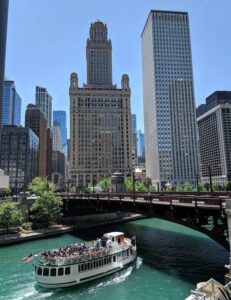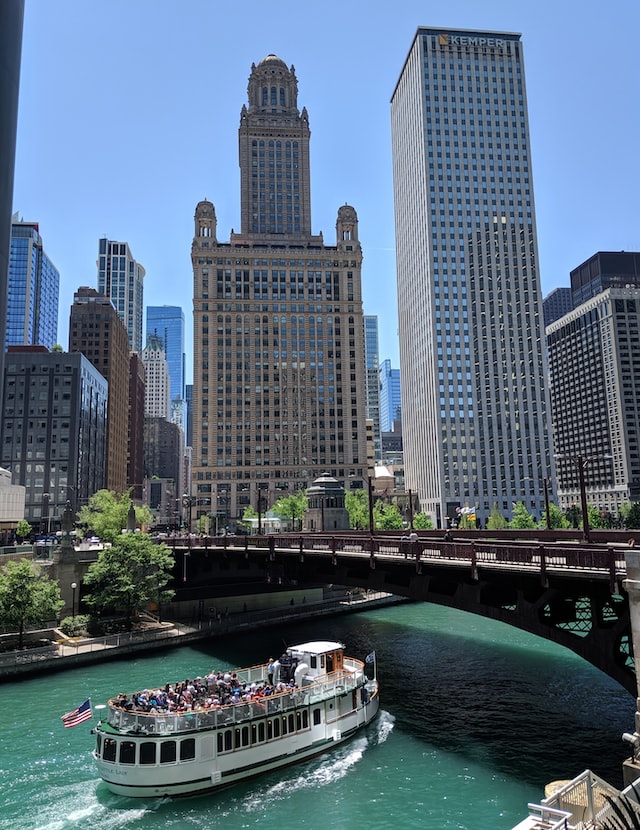 Boat Tours on the Chicago River
Chicago is a city of water. So, whether it's Lake Michigan or the Chicago River, expect to find yourself surrounded by this precious resource.
Chicago's skyline is known for its architectural and engineering landmarks. Boat tours operated by the Chicago Architecture Foundation and the Chicago History Museum provide an opportunity to see these icons up close without dealing with heavy traffic or crowds of tourists.
Speaking of architecture, hop on the Best of Chicago: First Elevator Access at Willis Skydeck, Architecture Cruise & Inside the Loop Tour. It starts at the Willis Skydeck on the 103rd floor, where you can see up to 50 miles past Navy Pier, across Lake Michigan to Michigan City and South Bend, Indiana, westward to Joliet and Plainfield, northward past Waukegan on Lake County, eastward over the city of Naperville and suburbs such as Schaumburg. The tour continues to 15 additional sites to discuss their unique architecture, including work by Frank Lloyd Wright.
Walking Tours
Put on your walking shoes and stroll through history as you learn about Chicago's storied architecture, neighborhoods, and culture.
The Chicago: Night Crimes Tour starts at the Chicago Police Museum and continues to some of Chicago's most famous crimes, including the Great Chicago Fire and neighborhoods like Chatham and Old Town.
The Gangsters and Ghosts Tour takes you to historic gangster hangouts and haunted sites like the Congress Hotel, Palmer House, and Death Alley.
The Chicago Architecture: A Walk Through Time Tour will guide you through the city's rebirth after the Great Chicago Fire of 1871.
The Historic Chicago Walking Bar Tour takes you to the best local watering holes in the heart of downtown Chicago to get a drink and learn about the city's history.
The Chicago Crime and Gangster tour is a free stroll (available only Saturdays) through Chicago's infamous mob history. (Are you noticing a theme here?)

Ziara za Chakula
Food tours are trendy among travelers interested in tasting new dishes from around the world. Although Chicago is famous for its pizza and hot dogs, it has much more to offer. A Chicago food tour takes you to several hot spots where you can try local, unique cuisine from the city's most influential kitchens.
Start with the Ultimate Chicago Food Tour,  an experience that combines Chicago classics and international cuisine that represents the area's vibrant immigrant heritage.
Or if you want to immerse yourself in Chicago's rich pizza culture, then be sure to take the  West Loop Pizza Walk, in which you'll learn about the ten different styles of Chicago pizza.
Typically, food tours are walking tours. If you're traveling with someone with limited mobility, talk to the trip organizer ahead of time to find out what accommodations they can make. Some food tours can accommodate food allergies, but others can't, so ask about that if it's a concern.
Here are other tasty tours:
Self-Guided Tours
You have plenty of options if you like to plan your own schedule without a structured tour group. And Chicago has many fascinating places to explore all on your own, from historic homes to underground freight tunnels.
Or maybe you'll want to travel far back into prehistory at Chicago's Field Museum of Natural History, where you'll get a first-hand look at dinosaur bones, ancient Egyptians, and some of the museum's 40 million artifacts.