As Julia Child said, "People who love to eat are the best people" and London's buzzing food scene most certainly brings together the best food and people around.
Feel the tradition of London and its famous landmarks on an Afternoon Tea Cruise on the River Thames. The most British of all meals is the perfect way to get to know its world-famous sights and all with a good cuppa in hand.
Then head to Covent Garden to fill your passport with the flavors of the world without ever having to leave the heart of London. Filled with aromatic tea salons and cafes, world-class dining, and pubs Covent Garden will cater to anyone's tastes.
With a festive atmosphere of fun street performers, and serenades of live music, theatre and opera, Covent Garden is much more than a quick bite to eat. Culturally diverse and booming with alleys of yummy restaurants we are serving up where to eat in Covent Garden, London's foodie's paradise of global cuisine.
1 Cafe Provence 14 Drury Ln, London WC2B 5RB
Café Provence is a hidden gem in Covent Garden receiving Tripadvisors Travelers Choice Award for 2022. A little café off the beaten path that is well worth the visit to Covent Garden.
Featuring British, French and Mediterranean food served most exquisitely, it often looks even too divine to eat. Rumoured to be one of the best places to get breakfast in London, even Justin Bieber had to check it out for himself.
Poached eggs with avocado, salmon avocado toast, eggs benedict, and a full English breakfast, it is an endless menu of insatiable cuisine. You will fall in love with every bite in this charming café. Be sure to try out their loved Moroccan tea!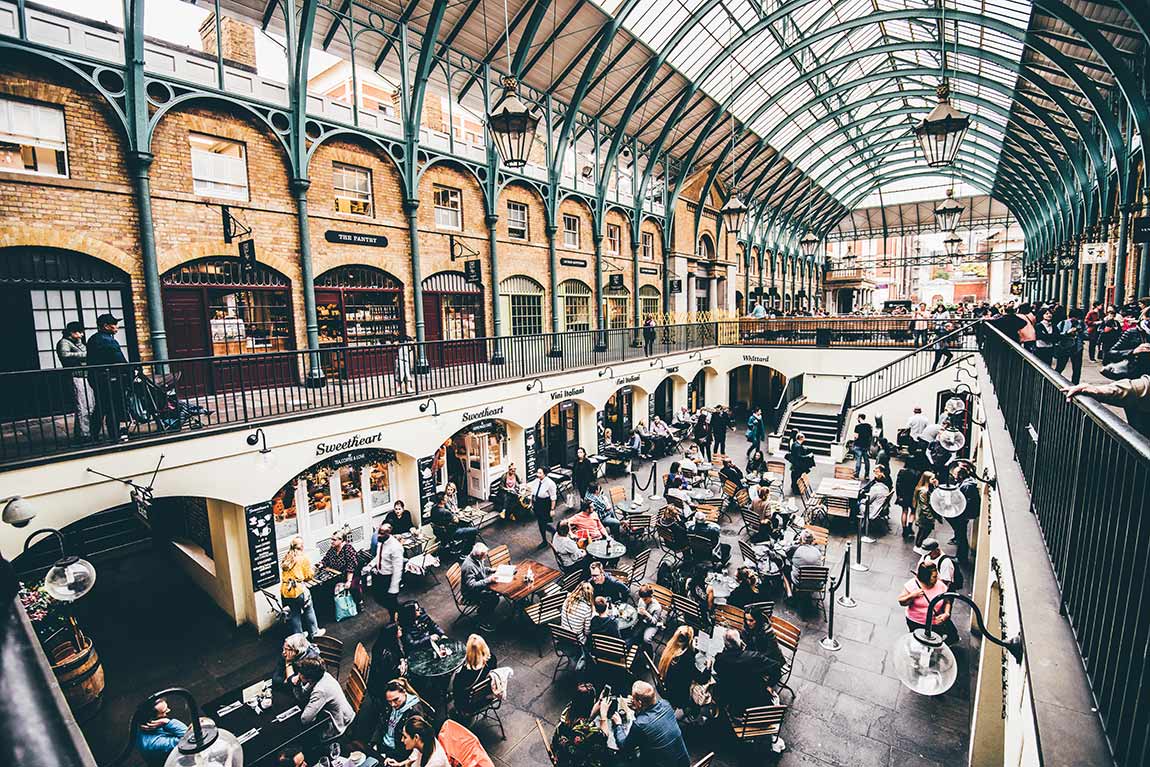 2 Bella Italia 70 St. Martin's Lane, London WC2N 4JS
Bella Italia will steal a pizza of your heart on the first slice. Serving the magic of Italy right here in London's West End.
Start with a mouth-watering mushroom crostini dish or lightly dusted deep-fried squid before eating your way to their treasured pizzas.
Thin and crispy sourdough pizza, hand-stretched traditional pizzas of Tropicale, Queen Margherita, or if you want to turn up the heat, how about a Piccante.
Bella Italia brings you much more than their beloved pizzas but an enchanted escape into the flavours of Italy. Strozzapreti pasta and pulled duck, spaghetti with king prawns and the ultimate carbonara of pappardelle pasta with smoked scamorza cheese, and ham hock.
Honour your inner pastatarian and treat yourself to the decadent tastes of Bella Italia.
3 Din Tai Fung Henrietta Street, Covent Garden London WC2E 8PS
Internationally recognized in the New York Times, Din Tai Fung has put its name on the map, being named "one of the world's Top Ten Restaurants."
Considered to be one of the best places to eat in Covent Garden they are famous for their steamed pork soup dumplings, Xiao Long Boa. Admired by Forbes as "the world's greatest dumplings" this East Meets West dining experience has created a legacy.
Authentic Taiwanese food is artistically prepared with precision and craftsmanship. Impressive flavour combinations of succulent crab and pork, truffle and pork, and savoury truffle and mushroom xiao long bao.  Legendary steamed chicken soup or indulge in a simmering pot of steamed truffle chicken soup, there is no wrong choice.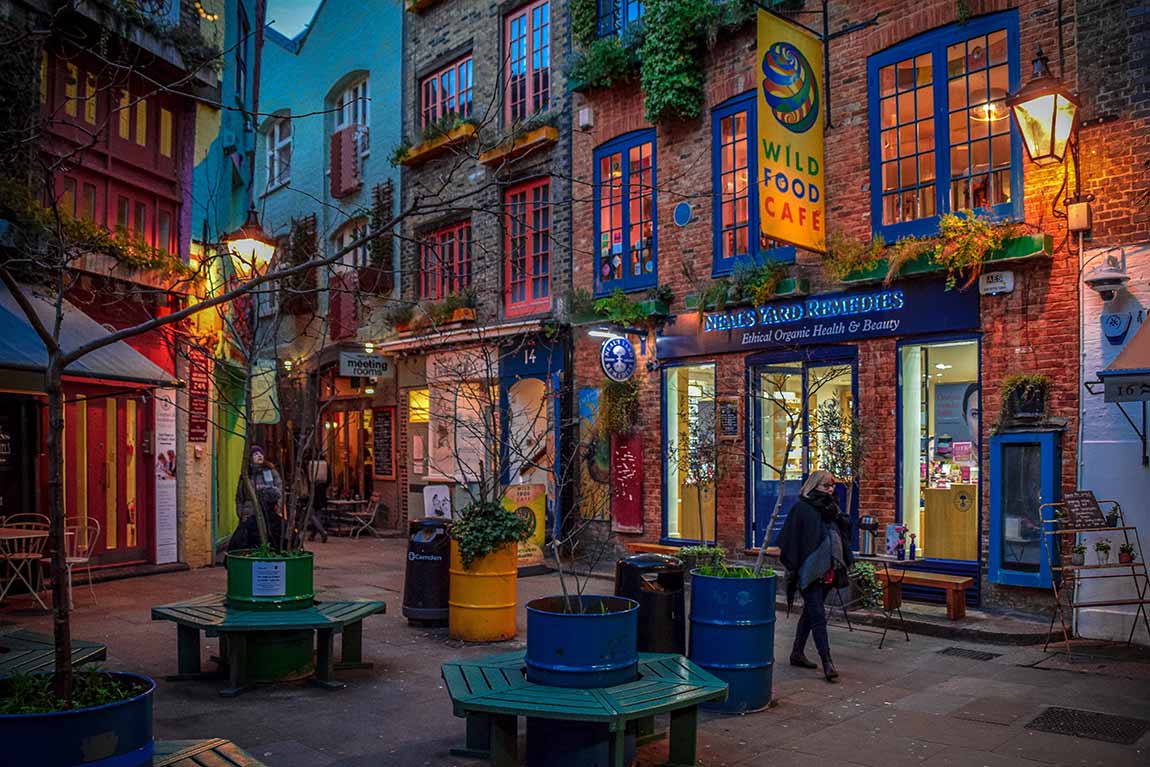 4 Clos Maggiore 33 King Street, Covent Garden, WC2E 8JD
Clos Maggiore has been described as one of the most romantic restaurants in London. It is an enchanting and elegant dining experience that whisks you away to the South of France and Tuscany.
The warmth continues throughout the serenity of the room accented by the breathtaking foliage that drapes throughout and their delightful skylight. As contemporary French cuisine dishes grace the tables you feel yourself escape off into the countryside's oasis.
Locally sourced ingredients create a menu that honours the seasons paired with a remarkable cellar of over 2,500 selections. It is a wonderful accompaniment to a beautiful evening out with their pre theatre menu.
An a la carte menú of steak tartare, Brixham hand-picked crab starters and truffle mashed potatoes. To mains of Hereford beef fillet, Rhug Estate fallow deer and Scottish Isle of Gigha halibut and Iron Bark pumpkin risotto. Bringing you English countryside black winter truffles from the woods of Wiltshire, Hampshire & Somerset, Clos Maggiore demonstrates why they are honoured with AA-rosette awards consistently.
Perfect to celebrate any occasion or to find serenity in its calm haven, Clos Maggiore delivers an unforgettable experience.
5 Avobar 24 Henrietta St, London WC2E 8ND
Some may say Avobar is "avocado" this world, but once you step into this Superfood restaurant you will find out what all the hype is about.
Bright and fresh energy with California cool vibes, the avocado-themed menu takes centre stage highlighting eating healthy with creative and vegetarian options.
Avobar is fantastic place to stop in when looking for where to eat in Covent Garden for a health-conscious menu. Sweet or savoury matcha pancakes, sweet potato "toast" and the ultimate avo toast, breakfast will become your favourite meal of the day again.
With their signature vegan burger, the Avo Bun Burger is a top hit filled with a sweet potato and lentil patty, or grilled miso salmon and salmon poke, lunch can have a bit of a healthy twist.
But save room for something new, how about a choc avo brownie or Avocado Margarita, to finish things off right, you can never have a "pit" too much avocado!