Even folks who are fortunate enough to live in San Diego get burnt out once in a while. That's why, at work, it's crucial that you take care of your employees both in and out of the office. Even the best, most hardworking employees can suffer from burnout, which is why rewarding good work and productivity is so crucial to maintain a healthy and happy workplace and workforce. One easy and effective way to make sure everyone stays motivated and on the ball is by having fun holiday parties. It's important to reward loyal workers for a great year of hard work, and having a few holiday bashes throughout the year is a fun and exciting way to team-build and help your workers relax.
Now, we've all been to a holiday party or two that just wasn't up to snuff, where employees and managers alike stood around checking their watches all night. We all know that's no way to show your employees that you care and are invested in them — luckily, it's easier than ever to make sure your holiday celebrations are fun, safe, and enjoyable for everyone involved… even your bottom line. And there's no better way to set your holiday parties apart from other companies than by having your San Diego corporate holiday party on a boat!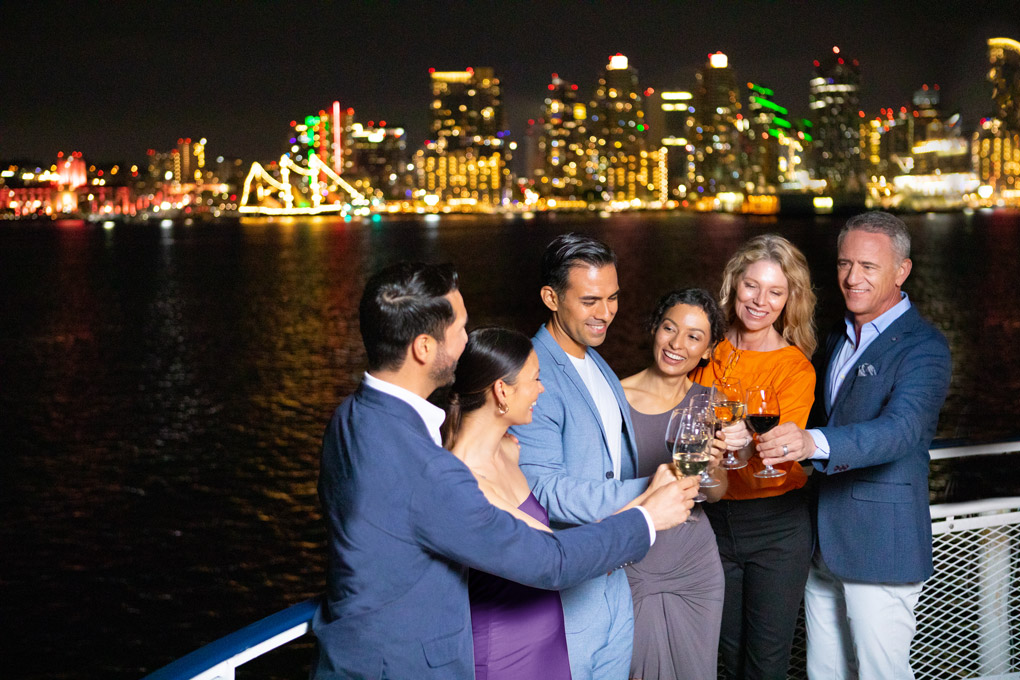 Why You Should Have Your San Diego Party on a Boat
Having your holiday party on a yacht or boat makes team building easy, fun, and memorable. Instead of hedging to a regular ol' bar or event space, your staff will be psyched to hit the waves aboard a gorgeous and luxurious vessel. Your employees — or friends and family, if it's a private event — will be so excited to be invited aboard and will love taking in those gorgeous San Diego views. Plus, you're not limited to just holidays: Whether it's a going-away party, birthday party, a wedding, a bachelor bash, or any special occasion, having your party on a boat will be a blast. Especially in San Diego, the fleet of City Cruises vessels are great for taking regular celebrations to the next level. If you're not sure where to start, we've got you covered. We've outlined a couple of the best offerings out there below, so you can start planning your next adventure on the water!
물 위의 샌디에고 기업 이벤트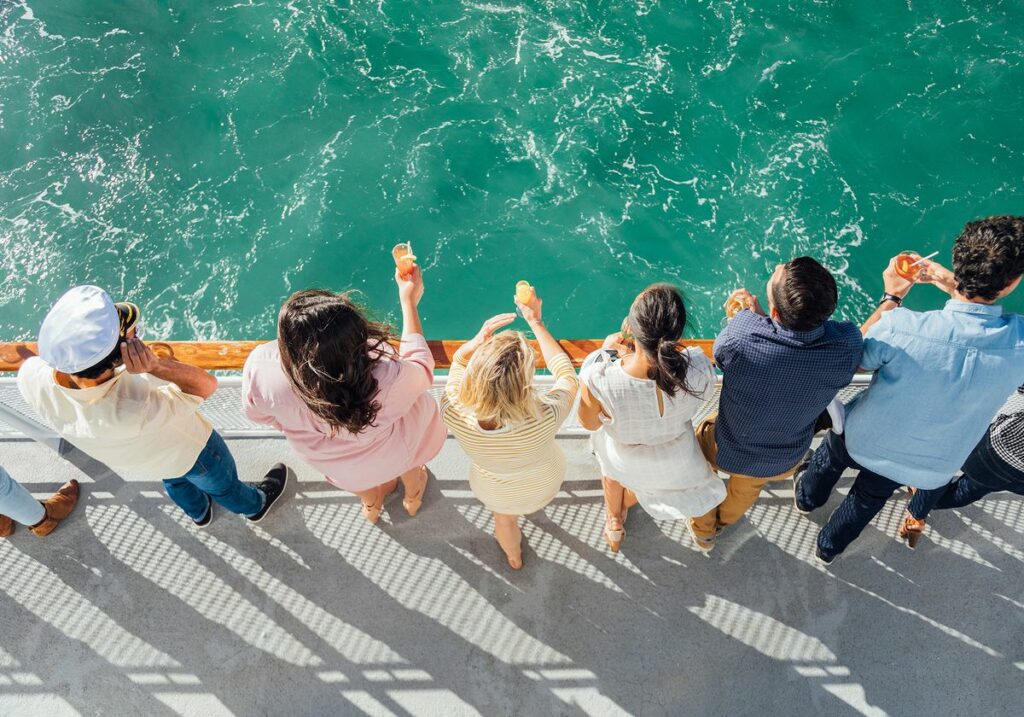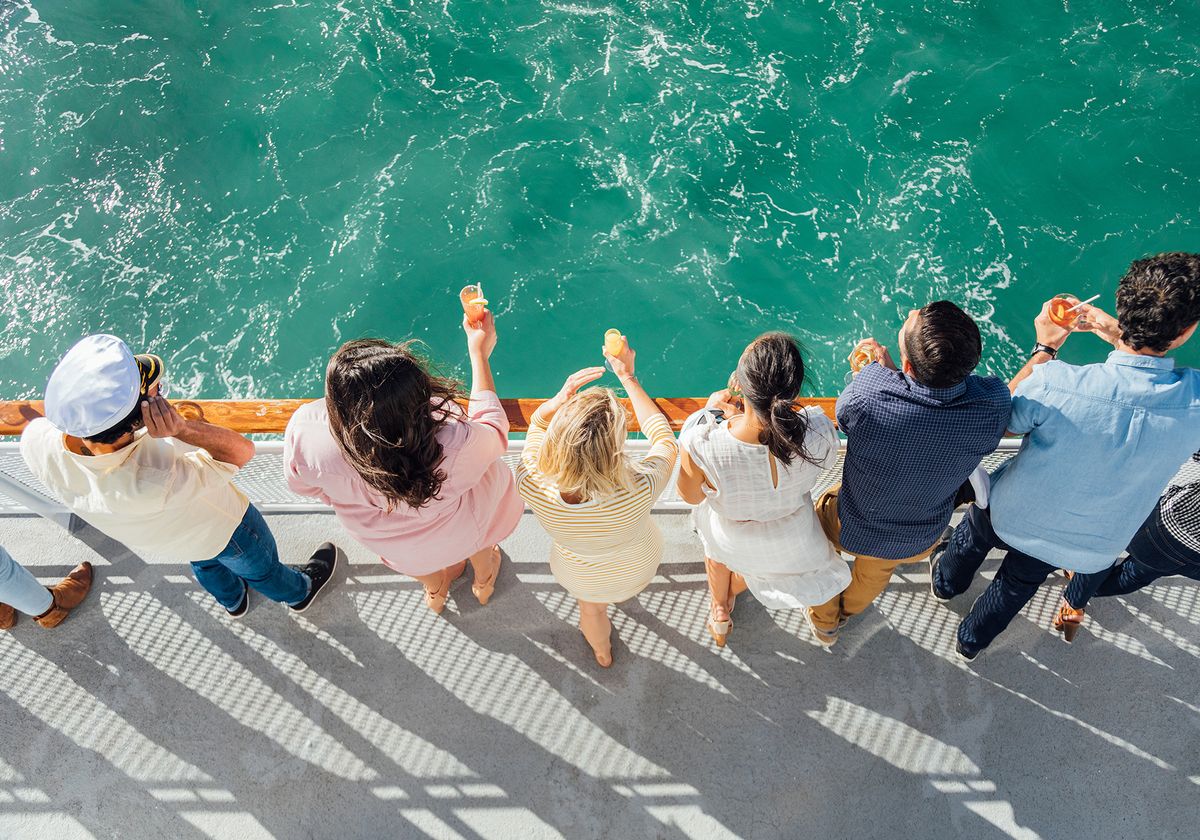 San Diego Corporate Events on the Water — Get ready to be the talk of the town (or at least the office!) when you host your next holiday party or private event on the water aboard a unique, floating venue with unbeatable views of San Diego's iconic skyline. City Cruises offers delicious, chef-prepared menu options, high-quality full bar service with craft cocktails and tasty beer and wine options, and all-inclusive packages that can be tailored to fit your exact budget and party size. Whether you're looking to host an employee outing, entertain high-profile clients, hold your next big meeting or special event, book a fun holiday party, or pretty much anything else you can think of, your guests will love the distinctive hospitality that City Cruises is famous for. They'll also surely appreciate the luxurious, climate-controlled interiors and open-air outdoor decks — just make sure they remember to bring their cameras to snag some pictures while aboard! Experiencing San Diego from the Bay gives your guests an entirely new perspective of the city, complete with incredibly picturesque views of the Coronado Bay Bridge, the USS Midway Aircraft Carrier Museum, the Star of India, the Naval Air Station North Island, and many more awesome sites!
San Diego Holiday Parties on the Water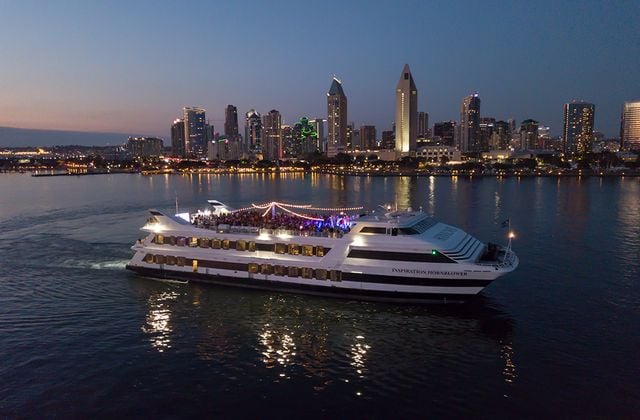 샌디에이고 휴가 이벤트 — Holiday outings make the perfect opportunity for reconnecting with your employees, building team morale, and enjoying spectacular views of Southern California's world-famous beaches and harbor. When you book through City Cruises, you can rest assured that the chef-prepared menu options, full bar service, and customizable all-inclusive packages will make your outing one for the books. Your guests can hang out in the climate-controlled interior or pop out to the open-air outdoor decks to soak in the incredible views of the marina and plenty of celebrity homes, and if you're lucky some marine wildlife! Plus, the event manager, stewards, captain, and bartenders are all at the top of their game and have years of experience curating an immersive hospitality experience — all you have to do is bring yourself and your guests to the party! To help you get things started, City Cruises also offers a slew of great options for onboard entertainment, and booking your ticket couldn't be more of a breeze. Ready to book your holiday party? Fill out this form and an event planner will contact you.
FAQs – San Diego Holiday Party Venue
What makes City Cruises a unique venue for a corporate holiday party in San Diego?
City Cruises offers a unique and unforgettable experience for corporate holiday parties in San Diego. Their luxurious boats provide breathtaking views of the San Diego skyline, Coronado Bay Bridge, the USS Midway Aircraft Carrier Museum, the Star of India, and the Naval Air Station North Island among other sights. Coupled with gourmet meals prepared by expert chefs, a fully stocked bar with craft cocktails and fine wines, as well as customizable, all-inclusive packages, City Cruises ensures an exceptional holiday party experience for your team.
How many guests can City Cruises in San Diego accommodate for a corporate holiday party?
City Cruises in San Diego can comfortably host corporate holiday parties of varying sizes. Whether you have a small team or a large corporation, City Cruises has a variety of vessels in their fleet to cater to your needs. Contact City Cruises directly to discuss your specific needs and they will guide you to the perfect vessel for your holiday party.
What types of entertainment options does City Cruises offer for a corporate holiday party in San Diego?
City Cruises provides a wide array of onboard entertainment options for your corporate holiday party. Depending on your preference, you can choose from live music, DJs, and even themed parties. Additionally, the team at City Cruises can work with you to arrange any specific entertainment needs you may have for your party.
Is it possible to customize the menu for a corporate holiday party with City Cruises in San Diego?
Absolutely, City Cruises in San Diego prides itself on offering a customizable, chef-prepared menu to cater to your event's specific needs. Whether you have specific dietary requirements or prefer a particular cuisine, the culinary team at City Cruises will work closely with you to create a menu that leaves a lasting impression on your guests.
How can I book a corporate holiday party with City Cruises in San Diego?
Booking a corporate holiday party with City Cruises in San Diego is a breeze. Simply visit their website or call them directly to discuss your event needs. Their dedicated and professional team will guide you through the booking process, ensuring your holiday party is perfectly tailored to your needs and budget.
What makes a corporate holiday party with City Cruises in San Diego different from a traditional venue?
City Cruises in San Diego offers a unique twist to traditional corporate holiday parties. With the ability to cruise along the beautiful San Diego waters, guests can enjoy a dynamic view that changes throughout the event, unlike stationary venues. The luxurious interiors, top-notch service, delicious cuisine, and the ability to see landmark sights from the water set it apart from traditional party venues.