It's almost that time of year again…the infamous company holiday party. As a chance for co-workers to connect outside the office and for supervisors to build team morale, organizers don't want to disappoint. Of course, depending on the venue, some celebrations turn out to be better and more enjoyable than others. For those businesses based in Baltimore, making the most of the city's surroundings is an obvious advantage. That means if you want to level up your gathering, you need to get near the water. In fact, it's preferable to be on it! Here's where City Cruises comes in. Traveling with us means guests will get up-close access to spectacular Patapsco River views, the Baltimore skyline, and local landmarks from climate-controlled interiors and open-air outdoor decks. In addition, with a range of customized amenities—from chef-prepared menus and full-bar service to all-inclusive packages—corporations can cater the occasion to whatever they need to make the festivities as fun as possible.
Corporate Holiday Party Amenities You'll Remember
First things first, any company outing—especially a holiday one—has to provide employees with amenities that impress and demonstrate how much they are valued. Because City Cruises can design an experience that's in line with your budget and party size, we make organization a breeze. Not only does every Baltimore holiday event come with an event manager, stewards, captain, and bartenders, but they also include tables, linens, flatware, and chairs. Freshly prepared cuisine is featured, along with a cash or hosted cocktail and wine bar. Plus, photography and customizable entertainment are available as well. With three types of events to choose from—the signature lunch, signature dinner, and private charters—there's bound to be one offering that fits the bill. Let's break it down, shall we?
For the signature lunch package, the two-hour cruise includes a decadent buffet, live DJ entertainment on the dance floor, and breathtaking views, starting at $46.90 per person. When you select the signature dinner package, the three-hour cruise also features a delicious buffet and live DJ entertainment on the dance floor, starting at $71.90 per person. There's also the option to book a private charter where you can choose a lunch, cocktail, or dinner outing complete with customizable dockside and cruising times and a range of food menu and beverage choices starting from $3,500 per hour—plus food and bar. If you need some help deciding what option is best for you, fill out this form and an Event Planner will contact you, guiding you through every step of the way.
The Company You Keep Matters in Baltimore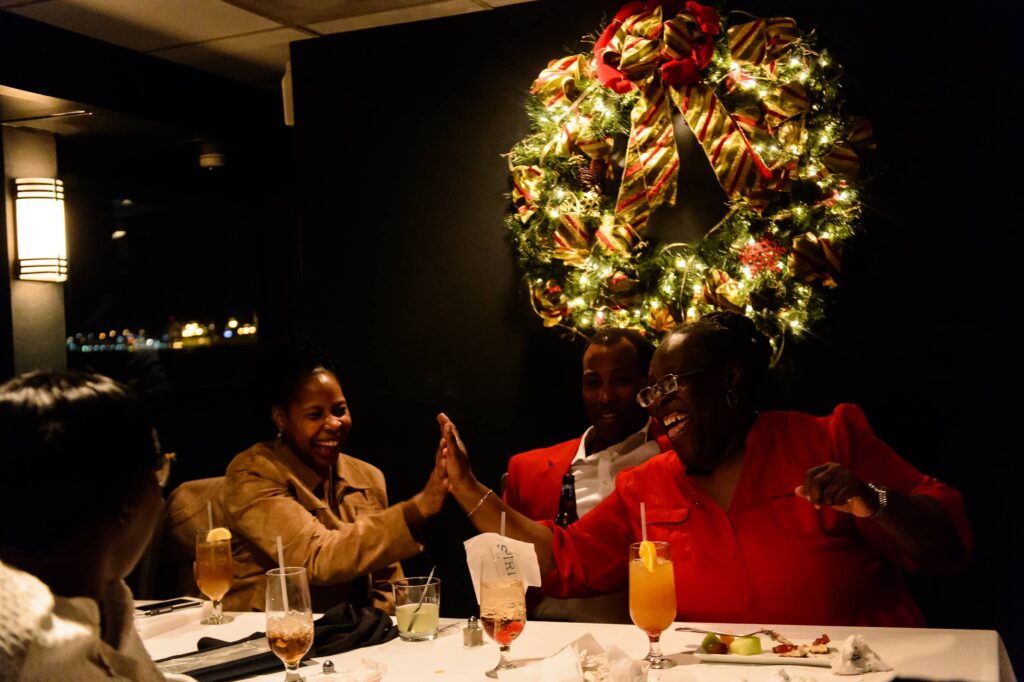 When you're in good company—and working at a good company—corporate parties are celebrations people look forward to, so you want to make sure they are an unforgettable gathering for everyone attending. If your venue is impressive that goal is easy to achieve, and when in Baltimore, taking advantage of the skyline views and the calming waves of the waterfront make the surroundings a large part of your event. A vessel as a venue is really unique, especially when it provides a host of offerings that elevate the experience, and City Cruises delivers them in spades. From chef-prepared menu options, full bar service, and all-inclusive packages that you can customize to fit your budget and party size, memorable holiday parties are easily within reach. Then of course the added bonus of exceptional hospitality, climate-controlled interiors, and open-air outdoor decks are icing on the cake that pair deliciously with picturesque views of Federal Hill, the National Aquarium, Fell's Point, Fort McHenry, the Francis Scott Key Bridge, and more.
Vessels That Impress for Any Baltimore Corporate Holiday Party
When you're tasked with coordinating a corporate holiday party, there are numerous things to consider. From venue and food to entertainment, it's a lot to take on. That's why City Cruises' packages—or customizing your own—are such attractive options. What makes everything even better? Your choice of vessel. There are two gorgeous ones to choose from in the Baltimore City Fleet. There's the Spirit of Baltimore (capacity 450), which features two spacious indoor decks plus a majestic rooftop deck offering picture-perfect views of the city's inner harbor. The newly renovated craft includes an A/V system designed by Harmon; an enhanced bar area and dance floor; and a third interior deck ideal for large outings. Then there's the Majesty (capacity 200), an elegant private yacht with three levels; an atrium vaulted ceiling that connects the first and second dining decks; two outside decks; and a third-level sky deck. Complete with a double bar on the stern and a big built-in dance floor, this craft also offers an elevated view on the Esplanade Deck with a satellite beer/wine bar located in the bow; an outdoor bow with ample seated lounge space; and plush lounge seating and bistro tables topside.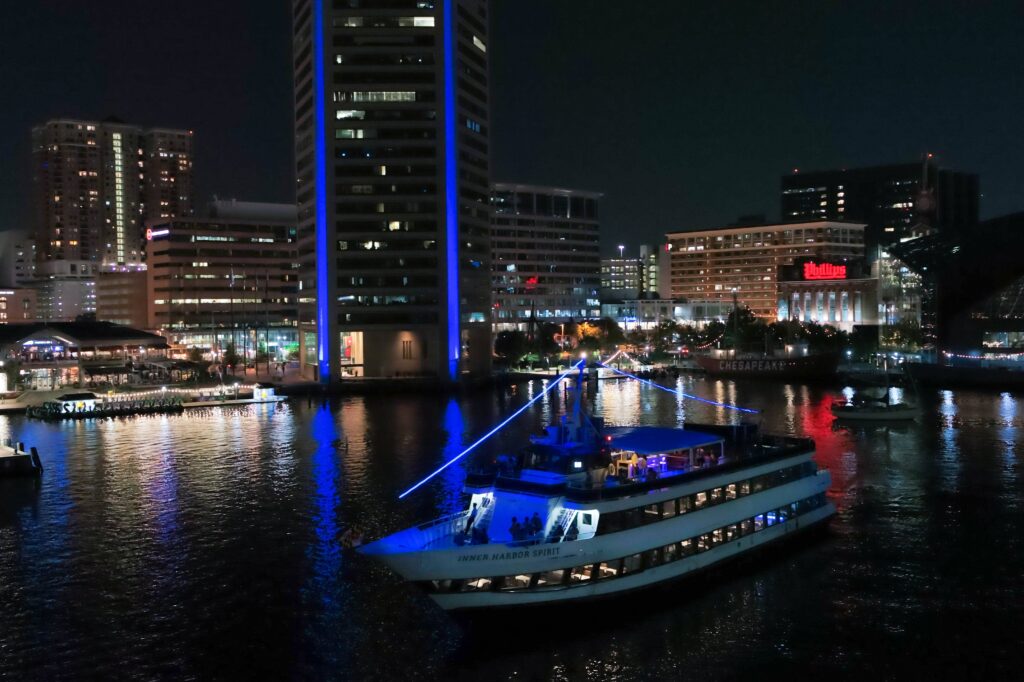 Corporate holiday parties can be a great experience. There's no doubt about it. Bonding with co-workers on a boat makes for a festive and fun event where making memories—and making the most of your time together—doesn't feel forced. The beautiful views of Baltimore, coupled with the appealing amenities City Cruises provides, means you can have it all; so why wouldn't you want to take advantage of such a great opportunity? Honestly, it's just good business. So, what are you waiting for? Fill out this form and start planning your Baltimore corporate holiday party today!