Baltimore, the largest and most populous city located in Maryland sits just northeast of Washington, D.C. With nicknames like Charm City, B'More , and Mob Town, residents, or Baltimoreans, proudly call it, "the greatest city in America." With the Inner Harbor and Patapsco Rivers providing scenic waterfront views, taking advantage of the surrounding beauty just makes sense. Hosting your corporate event in Baltimore on the water is a no-brainer! Your team will be thrilled when they learn your company is taking them out on a unique floating venue to team build, conduct training, entertain clients, or hold your next meeting- all with the picturesque backdrop of Federal Hill, the National Aquarium, Fell's Point, Fort McHenry, and the Francis Scott Key Bridge.
The Benefits of a Corporate Event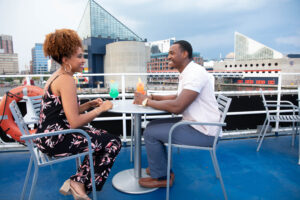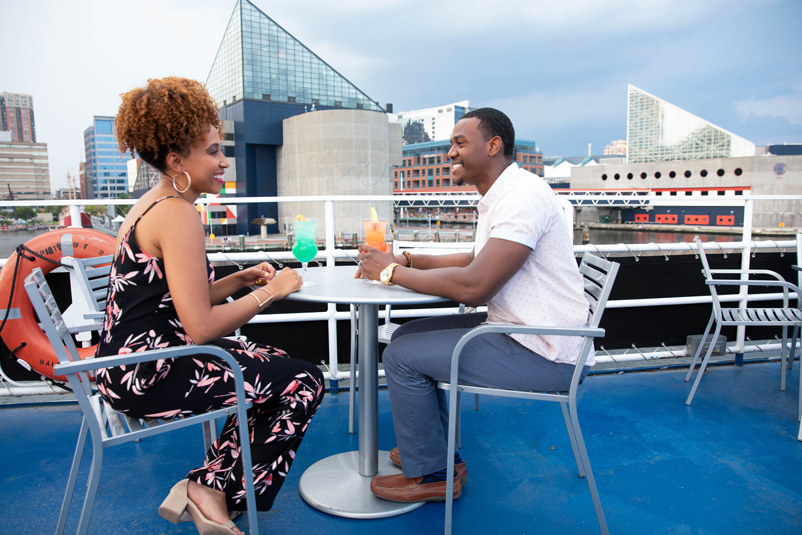 Take them out of the same old boring conference rooms and give your team something to get excited about and look forward to. Now more than ever, companies are realizing just how important hosting a corporate event can be to your business. Not only will hosting an event boost employee morale, but it will also improve your business as a whole. Let's face it, employees expect more from work (including social activities), and hosting an event is an important step to attracting and retaining employees who value work relationships and socialization beyond the workday. In 2022, four million people left their jobs, and research suggests that a staggering 40 percent of workers are considering leaving their positions soon. It is time to evaluate your employee satisfaction rates to retain your team.
Get More in Baltimore with City Cruises
Corporate events vary in purpose and size and finding the perfect venue is key for benefitting the organization and employees alike. Providing workers with a location that will allow everyone to relax and bond with their team brings significant benefits beyond fun and entertainment. Giving your employees an experience aboard a luxury yacht will bring your team together and increase connectedness as well as improve everyone's health and well-being. The fresh air and calming breezes will leave everyone feeling refreshed and recharged and providing the space to allow your employees to unwind, can lend themselves to increased productivity and decreased absenteeism, especially when workers feel included and vital to achieving the goals of the company. Letting your team know that they are truly appreciated is invaluable, and celebrating wins and building relationships will strengthen your team. Successful corporate events are short in length, but the payoff is long-lasting. City Cruises offers chef-prepared menus, full bar service, and all-inclusive packages that can be customized to fit your budget and party size all while soaking in the exceptional views of Baltimore's historic waterfront and skyline.
A Fantastic Fleet in Baltimore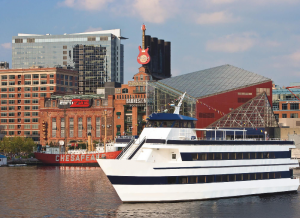 You and your guests will get first-class treatment with exceptional hospitality aboard any vessel in our fabulous fleet. Hosting can take place on a rented deck or the whole boat. Whatever needs you may have, we can help, and our dedicated event planners can work with you on all the details from start to finish to make your event a standout success.
Majesty is a three-level elegant private yacht with an atrium vaulted ceiling connecting the first and second dining decks, as well as two refreshing outside decks which include a third-level Skydeck. Enjoy delicious dining while onboard on the Harborview deck, featuring a double bar and a large built-in dance floor. Ample seating is provided on the Esplanade Deck, offering a stunning retreat with an elevated view to make any meeting unforgettable. Want the best views of Baltimore? Get topside with plush lounge seating and bistro tables to promote conversations and good times.
Hosting a larger gathering? The Spirit of Baltimore has two spacious indoor decks, as well as a stunning rooftop deck for top-notch Baltimore Inner Harbor views. Completely renovated with an enhanced dance floor and bar space as well as a third interior deck will give you all the space you need for you and your guests. Our decks will provide you with spacious seating and unbeatable views to elevate any meeting.
Buoy Oh Buoy Baltimore Events on the Water are Unbeatable
Greet your guests at your next corporate event in an unexpected way and let the views be the main attraction from the water. City Cruises has all that you need to fit your party size as well as your budget. Your guests will admire the beautiful skyline views and Baltimore's iconic sights while enjoying unmatched hospitality, climate-controlled interiors, outdoor open-air decks, and delicious chef-prepared menus. We can make it even more special by taking care of all the details for you including the food, drinks, décor, entertainment, and onboard games and activities. Team-building Experiences with scavenger hunts or cook-off cruises will help bring laughter and fun.
Want to entertain clients? We can do that too, and in style aboard a yacht cruise on the Patapsco River. Your clients will remember your company as you celebrate and toast a new product launch, take your customers to dinner, or close a business deal while taking in the spectacular views. Want to create an unforgettable holiday party? We have it all in one place. Our vessels are perfect for you and your guests and waiting for you and your team to celebrate. We will help you create a holiday soiree that will be talked about for years to come, all while soaking in the views. Ready to book your private event? Fill out this form and one of our event planners will contact you! . Your unforgettable experience begins with us.
자주 묻는 질문(FAQ)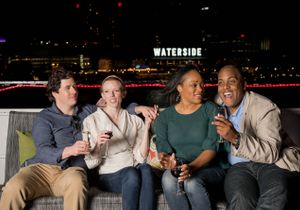 How should you plan for a corporate event in Baltimore?
Don't go at it alone! The City Cruises Baltimore team has years of experience planning unique corporate events. We can help with everything from booking the venue to selecting the perfect menu. We will work with you to create an event that is sure to impress your guests and exceed your expectations.
볼티모어의 기업 크루즈에는 무엇이 포함되어 있습니까?
Your corporate cruise in Baltimore can be customized to include whatever you would like. City Cruises Baltimore can provide food and drink, music, and even entertainment. We will help you create a package that is perfect for your event.
How long are private boat cruises in Baltimore for a corporate event?
Private boat cruises in Baltimore can be customized to last as long as you would like! We offer two-hour, three-hour, and four-hour cruises, longer cruises are available upon request.
볼티모어에서 기업 크루즈의 용량은 얼마입니까?
City Cruises Baltimore can accommodate hundreds of guests for the event, or we can help you plan for a more intimate gathering by renting a deck or table onboard. The options are limitless!