Almost everyone attending a networking event intends to build their relationships and make new connections. In a world where online social networks have become the standard, hosting a networking event has become increasingly important to advance your career or build new business relationships, especially when it's done in a location that will get people excited to attend. Hosting a networking event in Baltimore with a unique venue aboard a luxury yacht can leave a lasting impression on attendees, promote conversations, and allow participants to get acquainted in a fun and lively setting. Guests will be eager to hop aboard a floating venue with exceptional views of Baltimore's historic waterfront and skyline!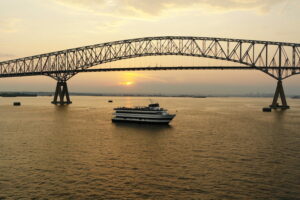 Discover the Difference with City Cruises Baltimore
Networking has several advantages in the corporate world: Increased communication, simpler, more natural conversations, and sharing of personal experiences and shared interests which can lead to meaningful relationships. What can make your event become a standout success? The perfect mix of a professional yet casual atmosphere aboard a City Cruises yacht. A combination that provides a novel and exciting way for guests to interact and engage in conversations all while cruising through the heart of Baltimore.
Guests can enjoy outdoor breezes and skyline views while sharing ideas and resources, collaborating on projects, building new connections, or maintaining relationships. Taking a break from the virtual world and experiencing a journey on a luxurious yacht will break the ice and will allow attendees to feel excited and look forward to an adventure. Sometimes the best ideas come when you shake it up a bit and leave the office or conference rooms for a more stimulating environment, on the Patapsco River with picturesque views of Federal Hill, the National Aquarium, Fell's Point, Fort McHenry, and the Francis Scott Key Bridge as your backdrop. Pair the views with a glass of wine and you have a recipe for success.
Be a Guest at Your Own Event with City Cruises Baltimore
On a City Cruises yacht, you will have all the amenities you need plus delicious food prepared by our talented local chefs.  We offer food and drink packages, flexible spacing and seating, entertainment, photography upgrades, and a fully stocked bar to keep the drinks flowing. Our experienced event planners and crew are dedicated to making your networking event in Baltimore fun, lucrative, and memorable for all. You can focus on your agenda while we meet your every need with a front-row seat to the city's best views. We will take care of all the details from conception to celebration so that you can be a guest at your own event.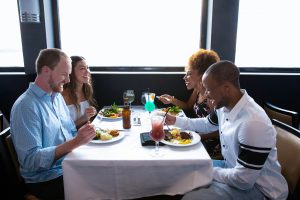 City Cruises Makes Events Eventful
City Cruises knows that each event is unique, so we offer customizable packages to work within any budget. Our crew will work closely with you to turn your vision into a reality. Want it to be fun? We can include entertainment options with live music, engaging games, and activities to keep things lively. Our flexible spaces can accommodate different sizes of networking events, from small gatherings to major corporate events. We have a space that can be tailor-made to your needs. Need a table for your event? We can do that. Need a deck? We will make that happen. Need an entire yacht? Consider it done.
City Cruises has experienced chefs preparing delicious cuisine, catering to your specific tastes and needs, as well as full bar service and a professional crew to make sure everyone is well-fed and refreshed, allowing you and your guests to build connections and enjoy your event. Our vessels are top-notch with cozy interior spaces as well as outdoor decks and rooftop lounges perfect for enjoying the best views of Baltimore. No matter what the temperature is outside, we have the space to provide the ultimate in luxury and comfort.
Now is the Time to Book Your Networking Event in Baltimore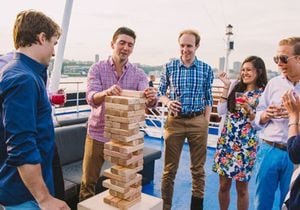 Networking events can be a valuable tool for building relationships, advancing your career, and expanding your circle of contacts. At City Cruises we know that your event is important, and we want to make sure that you have everything you need from start to finish to make your event a successful and enjoyable experience for all. Now it's time for you to sit back, relax, and allow our attentive and hospitable crew to help you create a networking event that is productive and fun for all. Baltimore has a beautiful waterfront, rich history, and "charm" to gather your colleagues, clients, and friends together for an unforgettable networking event that will be an experience like no other. Ready to book your networking event? Fill out this form and an event planner will contact you to set sail for success!