When it comes to dining out in York, it's hard to resist the allure of scenic restaurants with picturesque views. Whether you're looking for a romantic dinner for two or a special occasion with friends and family, the historic city of York offers a range of dining options with stunning views of the River Ouse, historic landmarks, and city centre architecture.
Top York Restaurants with a View
The Star Inn The City
The Star Inn The City, situated alongside the River Ouse, is a favoured option among tourists visiting York. Its exceptional location affords diners with breathtaking views of the river, and its menu is centred around using locally-sourced and seasonal ingredients. Whether you're in the mood for delectable seafood or savoury meat dishes, The Star Inn The City is a destination that food enthusiasts and anyone seeking an unforgettable dining experience should not miss.
Plonkers Wine Bar & Bistro
Nestled along the picturesque Riverside in York, Plonkers is a charming and cosy restaurant that has been serving high-quality home cooked food and drinks for over four decades. But what sets Plonkers apart from other dining establishments in York is its unparalleled view of the waterfront.
The team at Plonkers is dedicated to providing exceptional service, ensuring that every guest's experience is positively memorable. The cosy and unique interior of the building further adds to the warm and welcoming atmosphere, making Plonkers the perfect spot for a romantic dinner or a fun night out with friends.
As an independent establishment, Plonkers prides itself on sourcing only the finest local ingredients for their dishes, as well as supporting local breweries and drinks makers. This commitment to quality and community, coupled with the stunning riverside views, make Plonkers a must-visit spot for anyone looking for a memorable dining experience in York.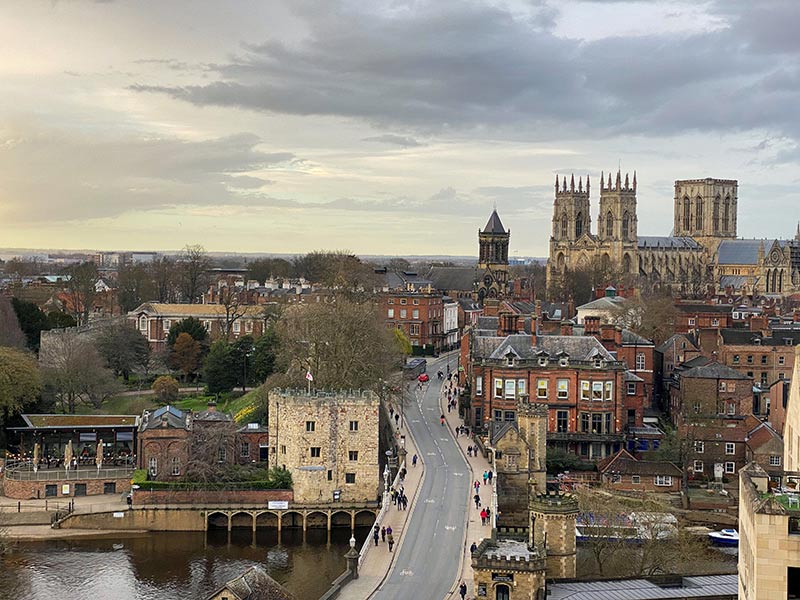 Sora  
Sora is a restaurant located on the seventh floor of the Malmaison Hotel, which offers stunning panoramic views of the city skyline. The restaurant specialises in a mix of small plates featuring delicious sushi, Robatayaki, and pan-Asian tapas dishes. Additionally, Sora boasts an extensive list of signature cocktails to complement your meal and elevate your dining experience.
Sora's location on the seventh floor provides guests with a unique and unparalleled view of the city, making it an ideal spot for a romantic evening, a special occasion, or a night out with friends. The restaurant's small plates menu is perfect for sharing and trying a variety of dishes, while the sushi and Robatayaki options are sure to impress even the most discerning foodies.
York Minster Refectory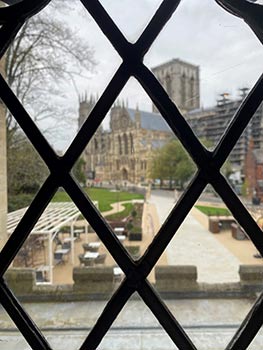 Nestled within the historic York Minster precincts, The Refectory is a dining destination that combines stunning views with delicious seasonal cuisine. The restaurant's location within the precincts means that it offers guests a unique and historical atmosphere, making it an ideal spot for a memorable dining experience.
The Refectory's seasonal menus feature locally sourced ingredients, ensuring that the dishes are not only delicious but also sustainable. Whether you're in the mood for a hearty lunch or a decadent dinner, the restaurant's menus offer something for every palate.
But what really sets The Refectory apart is its outdoor seating area. With views of the York Minster and the bustling city centre, the alfresco dining area is the perfect spot to enjoy a meal in the open air. Whether you're looking to soak up some sun or simply enjoy the stunning views, the outdoor seating area is sure to impress.
Dyls Cafe Bar
Dyls Cafe Bar in York offers more than just delicious food and drinks, it also boasts stunning views of the River Ouse and Clifford's Tower. Located in the heart of the city, this cafe bar is a must-visit spot for anyone looking for a unique dining experience with a breathtaking view.
The menu at Dyls Cafe Bar is diverse and features a range of classic British and international dishes, including vegan and gluten-free options. From hearty breakfasts to light lunches, there's something for every taste bud to enjoy. Their extensive drink menu is also worth checking out, with expertly crafted coffee and cocktails to quench your thirst.
What truly sets Dyls Cafe Bar apart, however, is its incredible view. The outdoor seating area overlooks the tranquil waters of the River Ouse, with the imposing Clifford's Tower standing proudly in the background. It's the perfect spot to soak up the beauty of York while enjoying some delicious food and drink.
Scenic Views in York
In addition to the stunning views offered by the top York restaurants, the city itself is full of scenic views that are worth exploring. From the River Ouse and the historic landmarks of York Minster and Clifford's Tower to the city centre architecture and charming streets, there's no shortage of beauty to admire in York.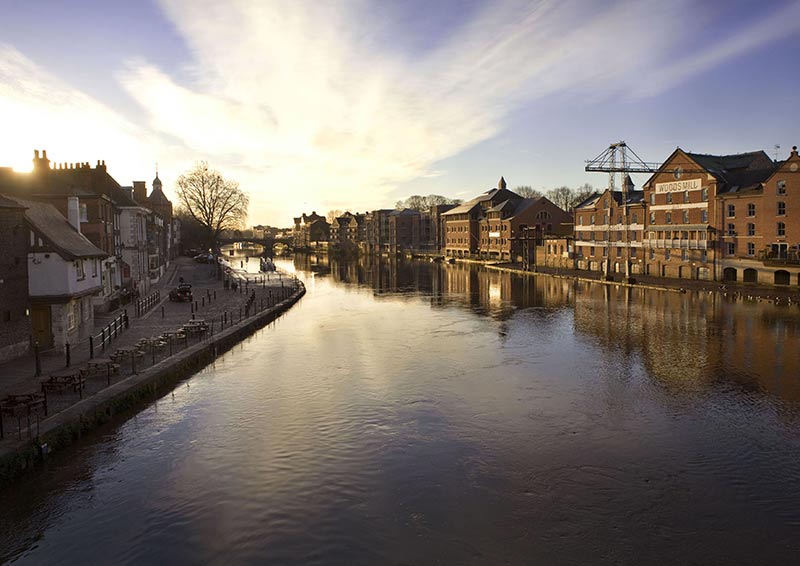 Tips for Dining with a View in York
If you're planning on dining with a view in York, it's important to plan ahead. Many of the top restaurants with scenic views require reservations, so it's best to book in advance to avoid disappointment. It's also important to dress appropriately for the weather, especially if you're planning on dining on a rooftop terrace. Finally, consider transportation options, as some of the restaurants with the best views may be located in less accessible areas of the city.
Dining with a view in York is a truly memorable experience, offering a combination of stunning scenery and delicious food. From riverside restaurants to rooftop terraces, the city has no shortage of scenic dining options. Book your dining experience with City Experiences for the ultimate York restaurant with a view.
FAQs :
Are reservations required for York restaurants with a view?
A: It is recommended to make reservations in advance for York restaurants, especially during peak times and for larger groups.
Are children allowed in York restaurants with a view?
A: Yes, children are usually allowed in, but check the specific restaurant rules and regulations for details.
What is the dress code for York restaurants with a view?
A: The dress code depends on the restaurant, but it is usually smart casual. Check the specific restaurant dress code for details.
What is the best time to enjoy the scenic views in York?
A: The best time to enjoy the scenic views in York varies depending on the view and the time of day, but consider visiting during daylight hours or at sunset for the best views.
Is parking available near York restaurants with a view?
A: Yes, parking is available near most York restaurants, but it can be limited and busy during peak times. Consider using public transportation or walking.