With famous concert halls, unbeatable restaurants, a bustling downtown, and easy escapes to the outdoors, you'll only wish you'd stayed longer.
Listen: If you love music of all kinds — that's right, not just country music — you'll love Nashville, Tennessee. Though most well-known for its part in popularizing American country music worldwide, as the capital and most populous city in the state, Nashville has a rich history and heritage, as well as a booming music, restaurant, and nightlife scene. With museums, famous concert venues, easy rideshare access, scooter rentals, bikeshares, and a nearby international airport, it's a tourist-friendly town that brings in loads of people each year for all of its amazing attractions.
But don't let its raucous, honky-tonk reputation fool you: Whether you're looking for beer-filled days of partying, a laid-back visit full of learning and good eats, or a mixture of both, the city has something for everyone. So, pull on your boots and let's see some of the best things to do in Nashville, Tennessee.
1 The Grand Ole Opry
There's no more famous stage in Nashville — and the world of country music as a whole — than The Grand Ole Opry. For over 96 years, famous artists and acts have played this venue, including Hank Williams, Patsy Cline, Loretta Lynn, Willie Nelson, Jeannie Seely, Dolly Parton, Elvis Presley, and Johnny Cash. Plus, you can take a grand tour complete with insider stories, immersive theater experiences, backstage access, and more.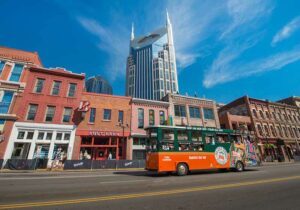 2 Old Town Trolley Two Day Tour
Are you looking for an easy way to see some of the best parts of Nashville in just two days? Look no further than the Old Town Trolley Two Day Tour. You'll enjoy two consecutive days of unlimited boarding at 14 conveniently located stops around the city, with live narration throughout the ride from expert guides who will tell you all about the city's landmarks, history, and famous residents. Plus, you'll cover over 100 of the city's most fun and exciting points of interest. Be warned: You might enjoy it so much, you'll board the trolley again during your next visit to Music City.
3 Meat and Three
It might seem like an unfamiliar concept for a restaurant, but if you're hoping to eat like a Nashville local, there's no better way to do it than by hitting one of the many "meat and three" spots in the city. It's an easy, affordable way to enjoy traditional southern food: You simply pick your choice of meat (which could be anything from fried chicken to pork chops) and three side dishes. Oh, and don't forget your cornbread and sweet tea!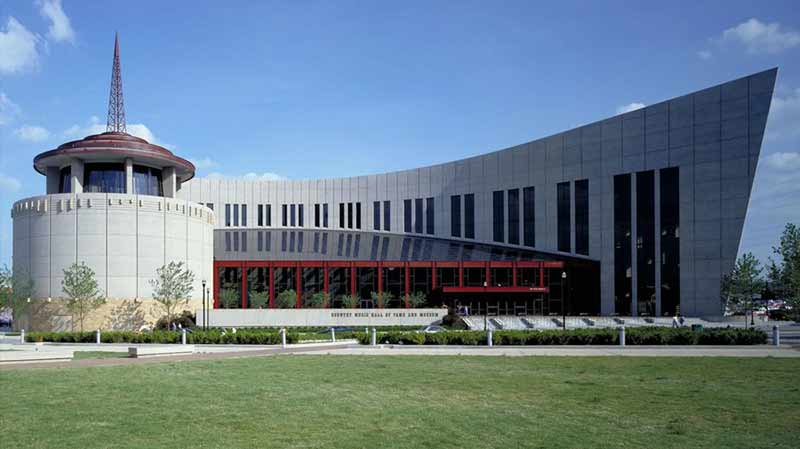 4 Country Music Hall of Fame
Alright, if you're going to Nashville, you'll definitely want to stop by the Country Music Hall of Fame. Situated in the storied and bustling downtown, the state-of-the-art galleries, archives, and exhibits, are complete with everything from donated musical instruments to classic rhinestone outfits used by some of the genre's biggest names.
5 Centennial Park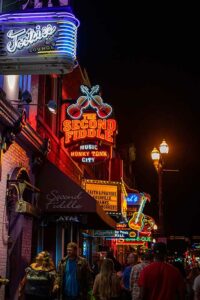 Remember, it's not all about the nightlife: If you're in the mood to have a picnic, a stroll in the park, or a jog to work off all of the delicious Southern food you'll be eating, you'll want to head over to Centennial Park. The recreational area is home to jogging paths, fields, a small lake for paddle boating, the only replica of the Parthenon in the Western Hemisphere (yes, really), swinging benches, and — most importantly — some good ol' fresh air.
6 Audrey
If you're not familiar with James Beard Award winner chef Sean Brock, pop over to Netflix and check out his must-watch episode on Chef's Table. The culinary mastermind has several restaurants in the American South, but none so beloved as Audrey, his haute yet affordable ode to Southern cuisine that eager food-lovers from around the world flock to. It focuses on organic, biodynamic, and sustainable produce to provide you with an unbeatable experience while you're in town. Just don't forget to make a reservation ahead of time!
7 Cheekwood Estate and Gardens
For any architecture buffs out there, you can't skip the Cheekwood Estate and Gardens tour. You'll explore the gorgeous 1930s estate — and wander through the 12 beautiful themed and distinct gardens full of Dale Chihuly's Glass Sculptures — while admiring the Georgian-style mansion, woodland sculpture trail, art museum, and more. Did we mention that the estate also includes an impressive, 7,000-piece permanent art collection?