Let's be honest, not many people look forward to a corporate event. Most corporate events lack a level of excitement or entertainment, but that doesn't have to be the case. City Cruises Newport Beach can help you create an event that will have your team excited for the next outing. One of the main reasons to hold a corporate event is to get people mingling and one surefire way to get your guests involved is to find a location that will get everyone out of the same old hotel ballrooms or conference centers and instead look to a unique option that can provide an exciting experience for your guests and create unforgettable memories for all. Don't feel trapped by the same old traditions. Make your next corporate event stand out by hosting an event that will impress your guests. Get out on the water and give your employees a change of scenery with breathtaking views of Newport Beach's coast and waterfront skyline. Your team will appreciate being under the open sky to celebrate successes, bond with their teams, and build camaraderie. Discover why City Cruises is your perfect choice for hosting your next corporate event in Newport Beach.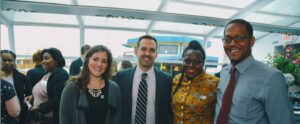 Chart a Course for a Successful Event
Newport Beach, located in the coastal center of Orange County, with Los Angeles just to the north creates the perfect setting for a corporate event on the water. Offering exceptional views of southern California's pristine harbor, towering yachts, and celebrity homes makes a trip aboard City Cruises an ideal choice for your next corporate venue. The mild climate and beautiful beaches draw tourists in droves each year to this scenic coastal town, and with an abundance of water surrounding you, Newport Beach is home to one of the largest pleasure boat harbors in the world. With the breathtaking landscape, hosting your corporate event aboard a luxury yacht, and taking advantage of the beauty around you is an excellent choice for an event that will be a standout success. Guests will enjoy the experience while networking or enjoying the party. City Cruises offers flexible packages, outstanding amenities, and customizable packages to suit any budget and party size.
Comfort, Luxury, and Hospitality with City Cruises

City Cruises offers a variety of choices when it comes to hosting a corporate event in the greater Los Angeles area, each providing a scenic backdrop of Newport Beach's coastal views and breathtaking skyline.
Meetings & Events-Make your next corporate gathering more impactful by booking with City Cruises in Newport Beach. Our convenient, affordable packages make planning a snap, and we design all our outings and services with you and your guests in mind. For board meetings, brainstorming sessions, and general business gatherings. City Cruises offers your best options
Employee Outings and Team Building -Break free of the same yearly outing for a sea breeze and iconic sights in the Newport Beach Harbor. Whether it's dinner, lunch, or cocktails, make it extra special on a yacht. Planning a team outing has never been easier or more fun. The food, drinks, décor, we will take care of it all! A boarding glass of champagne. Consider it done. Onboard games. You got it. A front-row seat to the best views in your city. Guaranteed. After all, everything is better on the water.
Holiday Parties-Holiday outings are the perfect opportunity to reconnect with your employees, build team morale, and enjoy spectacular views of Southern California's world-famous beaches and harbor. City Cruises serves as a unique company holiday party venue with chef-pared menu options, full bar service, and all-inclusive packages that can be customized to fit your budget and party size. Your guests will love our welcoming hospitality, climate-controlled interiors, and open-air outdoor decks, and incredible views of the marina and celebrity homes-all from the water.
Client Entertainment-If you're looking to entertain, take to the water in Newport Beach Harbor. There are few settings more impressive than a yacht, which is why it's the perfect venue for your next event. Celebrate a product launch while cruising past iconic sights. Treat your customers to dinner among the ocean breezes. Close a business deal and then take to the upper deck to cheers. We will take care of all the details; you enjoy the event as well as the view.
 Events are Better on a Boat
Hosting an event in a traditional setting such as a hotel or conference room, lacks imagination and effort. Corporate events are meant to evoke collaboration and team bonding, and an event aboard a yacht is a unique and creative way to leave a lasting impression on your guests.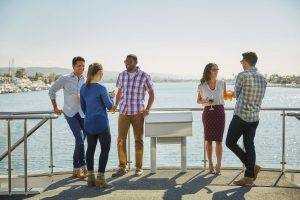 There is something calming about the water and its natural beauty, and your coworkers and clients will feel a sense of adventure while taking in the stunning views.  City Cruises' dedicated event planners will take care of all the details from beginning to end to guarantee your event is successful with our unmatched hospitality. We offer flexibility to customize the areas to fit your needs no matter if it's a full-scale bash or a more intimate affair. This allows you to focus on your event and your guests. We will ensure that everyone is comfortable for an unforgettable experience. Another advantage of hosting your corporate event on a yacht is having all-inclusive packages with chef-prepared menu options, full bar service, and entertainment to get the event started. The fresh sea breezes and a break from the stress of routine will be a welcome treat for your guests. This can, in turn, have a positive impact on productivity and will have everyone feeling fresh and rejuvenated with a new sense of well-being. Ready to begin planning your event? Get started today by filling out this form for your next great meeting. An event planner will contact you.
FAQs – Newport Beach Corporate Events Venue
Why is Newport Beach a great location to host corporate events?
Newport Beach, nestled in the coastal center of Orange County and conveniently close to Los Angeles, is a unique setting for corporate events. Its beautiful harbor, high-end yachts, and stunning houses create an awe-inspiring backdrop that impresses all attendees. Add in the area's mild climate and beautiful beaches, and you've got a location that's sure to make your event memorable.
Why should I consider City Cruises for my corporate event?
City Cruises in Newport Beach is an ideal choice for a standout corporate event. Our vessels offer the flexibility and luxury needed to create a memorable experience for all attendees. With a variety of customizable packages to accommodate any budget and party size, our cruises are designed with your specific needs in mind.
What types of corporate events does City Cruises specialize in?
We cater to a variety of corporate events including meetings, employee outings, team-building exercises, holiday parties, and client entertainment. Each event we host is enhanced by the stunning backdrop of Newport Beach's coastal views and beautiful skyline.
What amenities does City Cruises provide for corporate events?
City Cruises takes care of all the details from start to finish. Our packages include chef-prepared menu options, full bar service, and entertainment to set the mood for your event. Our vessels have climate-controlled interiors, open-air outdoor decks, and offer breathtaking views of the marina and stunning homes along the coast.
What are the benefits of hosting a corporate event with City Cruises?
Hosting a corporate event aboard a City Cruises yacht offers a unique and creative way to engage attendees and promote team bonding. The beautiful scenery and relaxing environment foster a sense of adventure and rejuvenation. Our all-inclusive packages make planning easy and ensure that everyone is comfortable and catered for during the event.
How does hosting an event on a boat enhance the experience?
Unlike traditional settings like hotels or conference rooms, hosting an event on a boat is a fresh and exciting experience. The natural beauty of the water and stunning views of Newport Beach creates a sense of calm and adventure. This not only leaves a lasting impression on guests but can also lead to increased productivity and a renewed sense of well-being among attendees.
How can I book a corporate event with City Cruises?
Booking a corporate event with City Cruises is straightforward. Visit our website, explore the different packages, and get in touch with our dedicated event planners. We are committed to making your corporate event a resounding success, so let us take care of the details while you focus on creating unforgettable memories with your team.