City Cruises offers a holiday experience like no other. Do something fun and exciting this holiday season to show your team how much you appreciate and value them. What better way to do that than aboard a luxury yacht with the city skyline as your backdrop? Celebrate in style and impress your team with a fun and exciting event that they will talk about for years to come.
'Tis the "Seas" on for Your Holiday Party with City Cruises
It's the holiday season, and your team is ready to celebrate the year's successes. Planning something outside the traditional boardrooms or banquet halls will show your colleagues how invaluable they are. Host your next holiday party in Marina del Rey aboard a luxurious yacht with City Cruises and let the good times roll (or should it be let the good times sail?). Your guests will be treated to panoramic views like no other to celebrate the season, and everyone will get a chance to spend some time with each other in a relaxed and beautiful setting that is sure to spark camaraderie.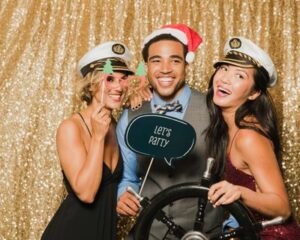 Our Unbeatable Marina del Rey Fleet
City Cruises offers a diverse and spectacular fleet to host your next corporate holiday party in style. We can accommodate groups of any size with the perfect venue, with a fun and energetic atmosphere to keep it merry and bright. You can gather up to 24 guests aboard your pontoon party boat featuring your own personal captain and the ocean as your stunning backdrop. Your team will have an amazing time celebrating in style. For a larger party size of up to 200 guests, Dream On with its roomy upper deck and large bow area offers easy outdoor access. You can seat guests for dining and there is a full bar to toast company wins. Your colleagues will have a hard time leaving the dance floor with onboard entertainment for nonstop fun. The Entertainer is the largest charter yacht in the Marina with 6,600 square feet of event space on three spacious decks. Expansive windows and open lounge deck space offer breathtaking views of Marina del Rey and the Greater Los Angeles area. Guests will mingle in stylish areas featuring contemporary glam, spacious dance floors, and cozy deck furniture for conversation and lounging. This impressive vessel has been featured in both television and movies and your team will

It's That Time of Year, Your Los Angeles Holiday Party is Here
Hosting a successful holiday party means making your guests comfortable and creating an amazing experience that will be memorable and fun. Set the tone for good cheer with delicious chef-prepared menus, a fully stocked bar, and live music to get everyone up on the dance floor. No matter what the weather is outside, each yacht in the fleet boasts climate-controlled interiors, or open-air decks for a little fresh air and scenic Marina del Rey views to cool off after cutting loose on the dance floor. Treat your guests to something new and unexpected with views of Southern California's world-famous beaches and harbor. You may even spy a few celebrity homes from the water!
It's The Most Wonderful Time of the Year (If You Plan Well)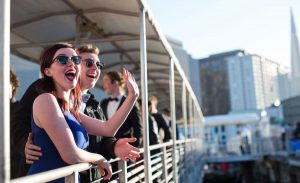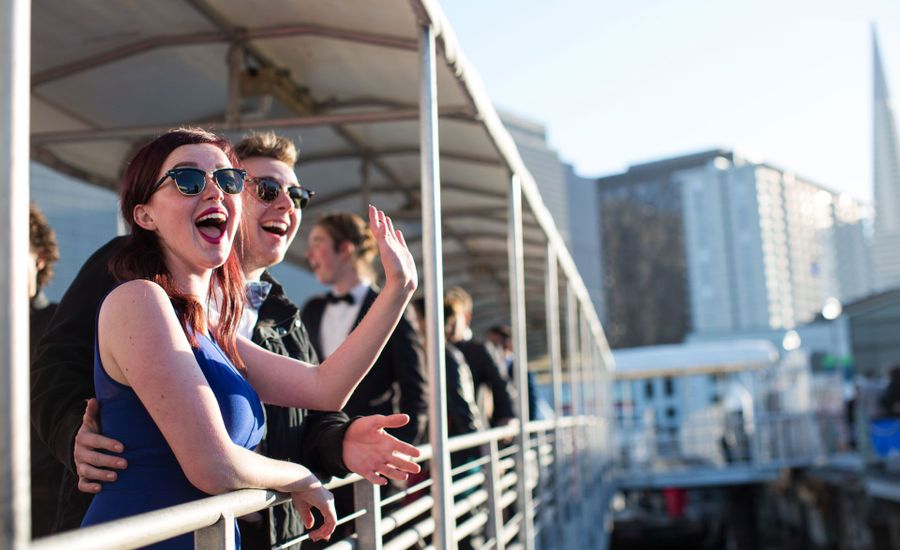 Planning for a holiday party can be really stressful. You want to make sure that everyone has a good time, and with so many differing personalities that can be challenging. The good news is there are dedicated and knowledgeable professionals at City Cruises to help with all the details to take away the headaches of planning. They will customize everything to your liking from the guest list, menu, entertainment, and more. Let them take the helm so that all you have to do is join the party. They have experience with holiday parties and can share their ideas for making the most of your event while helping you create a celebration that is more than a holiday party, but an amazing experience for your guests.
Let the Holiday Festivities Begin in Marina del Rey
Now more than ever it may be more important for your business to not only host a holiday party for your company or business but to use it as an opportunity to show employee appreciation. It is a wonderful way to allow coworkers to better get to know each other and the company. With employee engagement at an all-time low, you want to show your colleagues that company culture is a top priority that will retain employees for years to come. Employees spend the majority of their workday with the same people whether in Zoom/Teams meetings or in person, so allowing them to mingle with other departments is a great opportunity for them to feel more connected. Being creative with your venue will get people excited and more engaged with a relaxed and cheerful location. City Cruises is here to take care of all your needs to turn your holiday party in Marina del Rey into a gathering that will become the talk of the town. Connect with City Cruises today to create your adventure that may just become an annual tradition! Fill out this form and an event planner will contact you.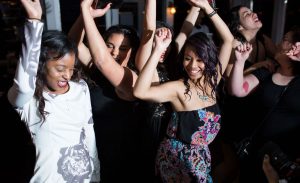 FAQs – Marina del Rey Corporate Holiday Party Venue
What types of boats are available for a corporate holiday party with City Cruises in Marina del Rey?
City Cruises in Marina del Rey offers a variety of boats, from intimate yachts to larger vessels, all equipped with excellent amenities. Each vessel provides a unique and elegant backdrop for your corporate holiday party.
Does City Cruises provide catering options for a corporate holiday party in Marina del Rey?
Yes, City Cruises offers a range of catering options to suit your corporate holiday party needs. Our culinary team will work with you to create a delicious menu that satisfies your preferences and dietary needs.
How does City Cruises handle entertainment for a corporate holiday party in Marina del Rey?
City Cruises can help arrange a variety of entertainment options to make your corporate holiday party in Marina del Rey truly unforgettable. From DJs and live bands to photo booths and more, our team will work with you to create an engaging and exciting atmosphere.
Can we schedule a corporate holiday party with City Cruises in Marina del Rey outside of regular business hours?
City Cruises is flexible and can accommodate various scheduling requests. Whether you're planning a daytime event or an evening soiree, we'll do our best to meet your timing needs for your corporate holiday party in Marina del Rey. Contact us to discuss your preferred schedule.
Does City Cruises in Marina del Rey offer assistance with event planning for a corporate holiday party?
Absolutely! City Cruises has dedicated event planners to help you organize every detail of your corporate holiday party, from selecting the perfect vessel to planning the menu, decor, and entertainment. Our team is here to ensure your event is seamless and memorable.
What is the maximum capacity for a corporate holiday party with City Cruises in Los Angeles?
The maximum capacity varies depending on the specific vessel you choose for your corporate holiday party with City Cruises in Los Angeles. Our fleet includes boats of various sizes to accommodate groups large and small. Contact us for specific capacity details.
What kind of onboard amenities does City Cruises offer for a corporate holiday party in Los Angeles?
City Cruises in Los Angeles offers a wide range of onboard amenities to enhance your corporate holiday party experience. From state-of-the-art audio-visual equipment for presentations to dance floors for entertainment, our boats are equipped to ensure a smooth and enjoyable event.
Does City Cruises provide any special packages for corporate holiday parties in Los Angeles?
Yes, City Cruises offers a variety of special packages for corporate holiday parties in Los Angeles. These packages may include catering, entertainment, and other amenities to make your event unique and hassle-free. Contact our team to discuss available options.