Journey Beyond takes experiential tourism to the next level in Australia and makes each one a shared experience. It expands on everything City Experiences is and has to offer by diving deeper into a wide range of experiences that will take your breath away.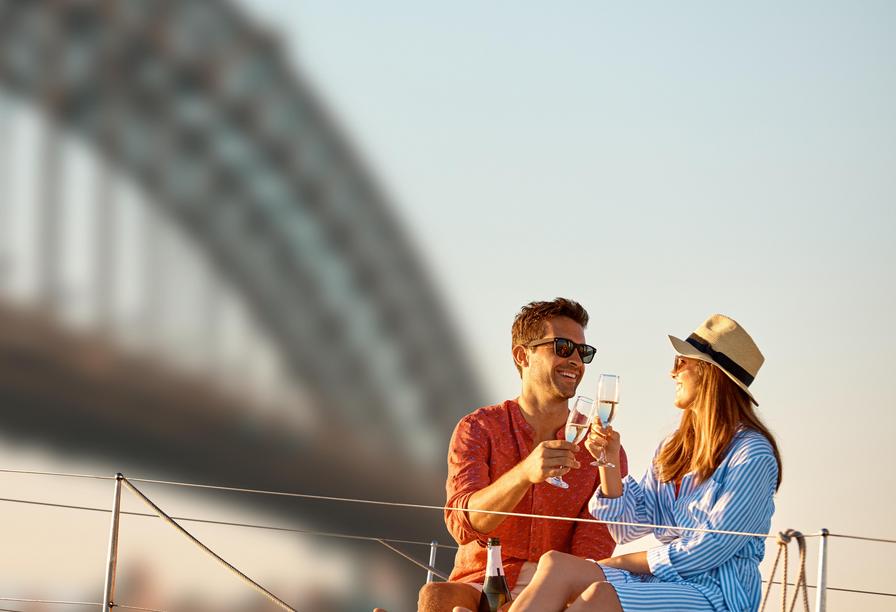 The Australian-operated Journey Beyond features 13 iconic brands to take you on unforgetable adventures. Heart-stopping expeditions become adventures that come true and beyond your wildest expectations. From rail expeditions, cruises, lodges, and camps, Journey Beyond is the largest experiential tour operator in Australia. They know Australia inside and out and bring the best of this special land to life, operating in 60 destinations in the country.  
Australia is iconic and to be able to see it and feel it, you need to experience it with those who know this magical place – those who live it daily. Journey Beyond will take you and every guest beyond the expected to ignite your imagination for a breathtaking trip of a lifetime. 
Journey Beyond's offerings are so much more than a travel experience. They are travel inspirations that touch on the senses and excite the spirit.  
Awe-Inspired Underwater Accommodations
What's cooler than watching fish swim in the ocean? Watching it all live from the privacy of your own suite. The colors, the various shapes of fish, the calm water. Reefsuites is Australia's first accommodation underwater on the Great Barrier Reef. 
You'll be moored offshore at Hardy Reef, which is 40 nautical miles from Airlie Beach. This overnight Reefsuites experience will have you and awe, and allow you to create memories to share with your friends and families for years to come. 
Start the journey cruising on Journey Beyond's high-speed vessel through the Whitsunday Islands to Hardy Reef. You'll enjoy lunch, snorkeling, diving, and swimming. A helicopter flight to see Heart Reef is available at an additional charge. If you're going for the day you'll leave mid-afternoon. 
Those who stay overnight will enjoy a spectacular sunset and dinner on the pontoon's upper deck along with drinks. You'll enjoy your remarkable view of the reef from your undersea room through floor-to-ceiling windows. The memories you'll take home will last forever. 
Take a Great Rail Journey from Darwin to Adelaide
The Ghan Experience is part of the Journey Beyond Rail brand. It takes you through the heart of Australia, from Darwin to Adelaide. It's much more than just an extended train ride; it's often noted as one of the world's greatest rail journeys. It will take you through areas of Australia that no other experience comes close to. 
The train is legendary and celebrates more than 90 years of outback adventures. The first Afghan cameleers came to Australia in the 1930s, which is when the train was called "The Afghan Express". Now "The Ghan," the train brings together its frontier spirits coupled with a romantic connection to the land it travels across. The experience is moving and unforgettable.  
Your onboard experience is all-inclusive and includes fine dining, exquisite private cabins, impeccable service, and fellow travelers who are there for the same enjoyment. You'll be able to choose from a variety of Off Train Experiences to make the journey personally yours. Travel on The Ghan or The Ghan Expedition, which is an extended journey. Tailored holiday packages are also available. 

Immerse Yourself in a Safari Camp
Murwangi Safari Camp is part of the Outback Spirit brand. The location of Murwangi has deep cultural significance and overlooks the Arafura Swamp and is known as a spectacular spot in Arnhem Land.  
There is a luxurious safari camp there thanks to the permission from Traditional Owners and the Northern Land Council. It's a perfect place to explore all the mystery, wildlife, and wonders of the Arafura Swamp. Here's you'll also have the opportunity to learn all about the indigenous culture directly from the traditional owners. 
As the only tourism accommodations in the area, it is exclusively available to Outback Spirit guests. The tented safari camp is on the banks of the swamp. It features a full restaurant, luxury suites with bathroom and A/C, and cultural activities. 
Dine in Style in the Sydney Harbour
Journey Beyond dining cruises are all-inclusive lunch and dinner harbour cruises with a superb menu and fine wines.  
Enjoy a lunch cruise starting in Sydney Harbour on a 78-foot cruiser that is both luxurious and comfortable. With plenty of room you'll easily get to enjoy 360-degree iconic views and you cruise for 2.5 hours. A long lunch awaits featuring local and regionally inspired delights along with wine, beer, soft drink, and coffee or tea. 
As the sun sets, take the 3-hour dinner cruise on Sydney Harbour. When the sun sets, you'll see the sparking lights of the city.  A regionally focused menu of a three-course meal features the multicultural influences of Sydney cuisine itself. Hand-selected wines complement the Sydney cuisine with fresh ingredients. 
 Relax and enjoy the views of Sydney Harbour in the Sydney Sundeck Cruise. Have chilled drink in hand and enjoy fresh, regional tasting platters while you relax in the sun and feel the sea breeze on your back on one of the comfortable outdoor decks of the Spirit of Migloo. 
 The most relaxed way to enjoy Sydney Harbour's iconic views is the Sydney Sundeck Cruise. With chilled drinks and fresh platters, guests can enjoy the sunshine and sea breeze from one of the number of comfortable outdoor deck areas aboard 'Spirit of Migloo'.  
Take a Trip to Enjoy the Horizonal Falls
Australia is different and if you go Northwest you'll see the waterfalls flowing horizontally. This natural phenomenon is a sight to behold and you can do it with Horizontal Falls Seaplane Adventures.   
Horizontal Falls tours are the area's longest running Horizontal Falls Tour operators so you can explore the Kimberley region. The pioneering seaplane tours over the spectacular wilderness is second to none. They offer their own fleet of Cessna turboprop seaplanes piloted by experienced crew members. 
As the region's longest-running Horizontal Falls Tour operators, there's no better way to experience the Kimberley than at close quarters. The seaplane tours take you over this magnificent wilderness so you can enjoy spectacular views. You'll stay overnight and enjoy dinner in a comfortable setting. 
With so much of Australia at your fingertips, the biggest issue will be which tours to choose to dive deep into this magical land down under.