A visit to San Francisco will have you falling in love with the city by the Bay, so much so that you could easily leave your heart there, as the song says. While your heart is in this great city, you'll be ready to take in all the sights and attractions that shout San Francisco!
The city is famous for its steep, hilly streets, Victorian homes, antique cable cars, the Golden Gate Bridge, fine dining, a spectacular waterfront, and so much more.
There are a bunch of different ways to get to San Francisco. If you're in the Los Angeles area you can drive up the iconic Pacific Coast Highway for the road trip of a lifetime. You can also fly into the city from points all over the U.S. Or fly into either San Francisco International Airport, Oakland, or San Jose.
Visit Fisherman's Wharf for the Great Attractions and Seafood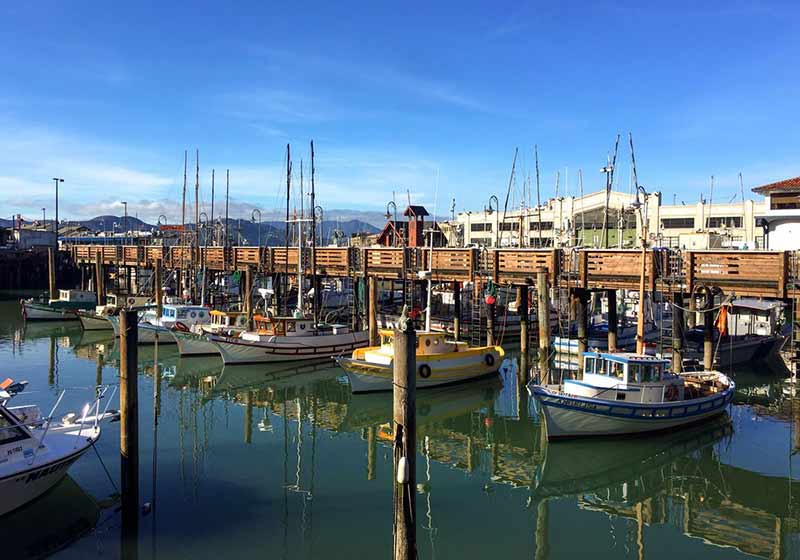 Balıkçı İskelesi is a haven for tourists from all over the world. From museums, bay cruises, shopping, and indoor and outdoor dining, there's so much to do that it will be difficult to choose.
Start by taking the children to the Aquarium of the Bay, which is at Pier 39. You'll learn about the marine life of San Francisco Bay. There are more than 20,000 marine animals for you and the family to see, including sharks, rays, jellyfish, anchovies, and river otters.
While at the wharf, try something a little different and visit the Musee Mecanique at Pier 45. "The Musee Mecanique collection includes over 300 vintage and novel coin operated machines, assembled by the late Edward Galland Zelinsky." It's fascinating, has a great history, and admission is free!
When you're ready to take a break and sit down for a meal, head over to the Crab House at Pier 39. It's famous for the "Killer Crab," a two-pound whole crab that is roasted in the restaurant's secret garlic sauce. And while you're enjoying the meal, you'll be able to soak up the views of the Golden Gate Bridge and Fisherman's Wharf.
A Park, a Funky Street, and Painted Ladies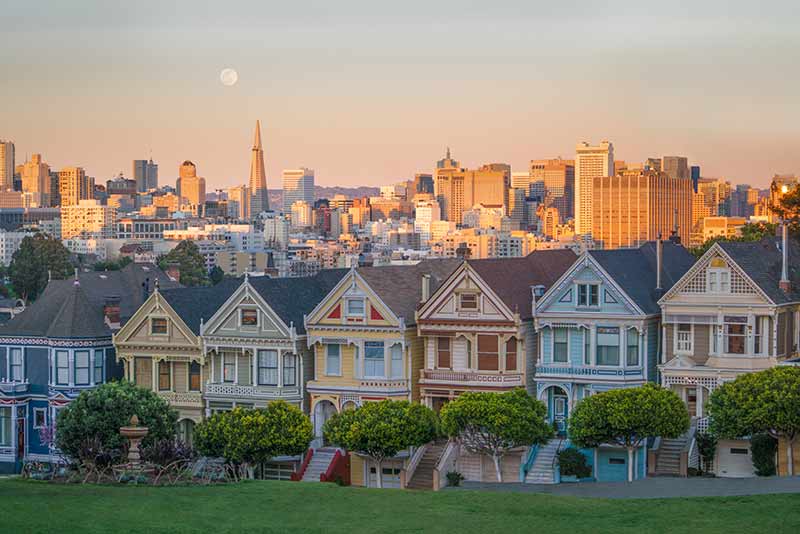 Take a stroll through Golden Gate Park. It spans 1,017 acres and includes lakes, meadows, and so many other things to see. Visit AIDS Memorial Grove, a beautiful tribute to all those touched by AIDS, the Japanese Tea Garden, which is the oldest in the US, and the San Francisco Botanical Garden, which has lots of great activities and programs.
Then head over to Lombard Street. Known as the "The Crookedest Street in the World," take a walk or drive down this zigzag street while gazing at the mansions around you. It's pure fun.
Also, be sure to check out The Painted Ladies. Otherwise known as "Postcard Row" or the "Seven Sisters," these colorful Victorian and Edwardian homes in Alamo Square have become a popular San Francisco destination.
Take the Official San Francisco Downtown Experience
Take the Official San Francisco Downtown Experience, which combines a cruise to Alcatraz Island with the Big Bus Hop-on-Hop-off sightseeing tour. You'll marvel at the city's fascinating history, culture and diverse neighborhoods.
The tour includes round-trip ferry service to Alcatraz Island where you'll learn about the infamous prison and its historic buildings. You'll also enjoy the Big Bus Hop-On Hop-Off tour to take in the city in all its grandeur. It's a great way to see San Francisco.

Learn About San Francisco Through Its Cuisine
What better way to learn about San Francisco than by tasting your way through it. Start with the Ultimate San Francisco Food Tour: North Beach, Chinatown & Beyond and discover the city's diverse cuisine by way of unique family-run food establishments.
You'll explore the North Beach, Chinatown, and Downtown, dipping in and out of delis, bakeries, taquerías, dim sum hot spots, and more, with the whole experience leading up to a special unique San Franciscan dish at the end.
Cruise San Francisco Bay for a Dinner Cruise
There's no greater way to end your trip to San Francisco than by way of a cruise along the Bay with a Signature Dinner Cruise. Put on your best dressed outfit for this sophisticated and fun three-hour dinner cruise. It will be an evening on the San Francisco Bay where you'll take in the sights and dance the night away.
As you end your stay in San Francisco you'll be thinking about the best time to come back for your next visit. It's a city that stays with you and beckons you back for more.