San Francisco. Celebrated around the globe as an amazing destination for travelers, is also an ideal location for corporate gatherings. Meeting spaces in the city by the Bay are plenty but finding the perfect event venue in San Francisco may not be as simple. For meeting planners, figuring out where to host corporate events in San Francisco can run the gamut from hotel conference rooms to restaurants, and although those options are enticing to some, they aren't really bound to impress. If the goal is a San Francisco corporate event venue that's going to surprise and delight your employees and/or guests, then City Cruises is one option you'll want to consider for several reasons, including a range of amenities and stunning surroundings. With eight amazing vessels in our fleet, the stage is set for a unique experience that all attendees will appreciate—especially since every outing can be customized to individual company needs.
The Ultimate Meeting Venue in San Francisco
When people think of meetings, the focus is always transfixed on the agenda—but it's important to think about where they are going to be held as well. Even if what's planned was designed to get people excited, if the surroundings you select are drab and uninviting it will be a challenge to get attendees inspired. The uniqueness of City Cruises for corporate outings is the chance to experience a new way to exchange ideas in a setting that not only has access to fresh air and stunning skyline views, but also the novelty of meeting somewhere out of the office and on the water is really appealing. The fact that packages are customizable and there are numerous amenities to choose from definitely helps seal the deal.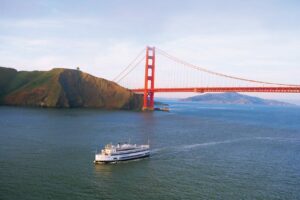 A Fleet That Cannot Be Beat with City Cruises
One of the most enticing parts of gatherings with City Cruises is the visual feast attendees are treated to with a meeting space onboard—and San Francisco with all of its iconic landmarks and area sights does not disappoint. During your excursion, you'll be able to see the Gold Gate Bridge, Alcatraz Island, McCovey Cove, and the gorgeous city skyline, plus everything can be seen without obstruction from climate-controlled interiors and open-air outdoor decks. When you explore our San Francisco fleet, it's easy to see the possibilities that await depending on the number of attendees, and if food and beverages are part of the corporate package selected, guests will enjoy chef-prepared menu options and full bar service.
Meetings Done Right
Meetings come in all shapes and sizes, but they all have one thing in common: They're designed to achieve a goal, so making accommodations for them is a good rule of thumb. Whether it's team outings and workshops or client meetings and presentations, City Cruises is the ideal partner for ensuring you get a space that has everything you need and can impress even the most discriminating attendees. Corporate conferences and seminars can become a memorable experience that people praise when they take place off the land and on the water. Plus, product launches and press events really have an impact with an onboard experience that caters to exceptional opportunities for social media posting and networking in an environment that's picturesque and inviting.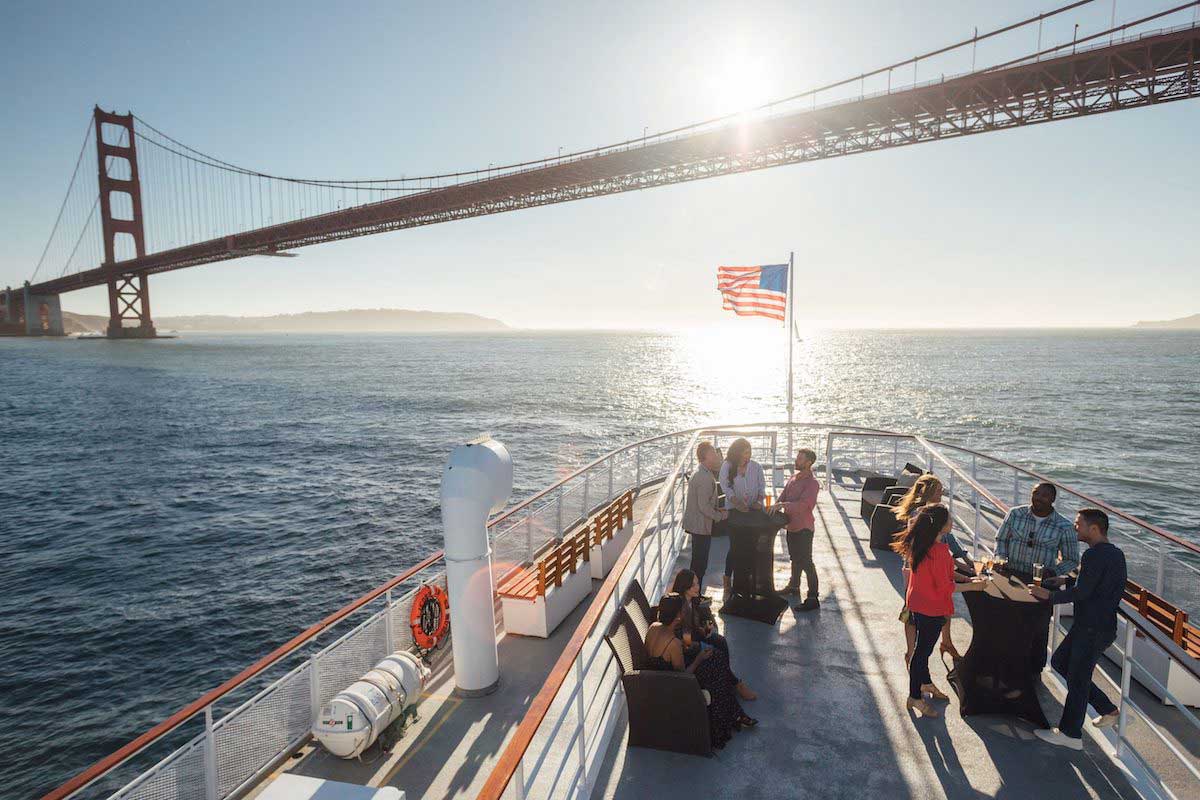 Choose to Cruise with City Cruises San Francisco
Choosing City Cruises for your meeting seems like a great idea at this point, right? And there are even more reasons to try it aside from what we've already mentioned because we haven't even talked about the impact unique environments have on idea generation. If your meeting focus is all about innovation, you need to provide attendees with the space and surroundings that spark creativity—something that travels to somewhere new (no matter how far…) always seems to do. If clients and partners are tough to impress, an unconventional venue that takes them away from every day will make for a memorable experience. Alternatively, when employees need a morale boost or you want to foster team building in a more relaxed atmosphere, what's more soothing than the calming waves on a comfortable cruise?
Customized For Any Size
Now that you realize City Cruises is ideal for a meeting space, it's time to talk logistics—and this is where we shine. Because we offer the ability to customize your outing depending on what you require, you don't have to worry about getting everything you need. We will adapt spaces for different group sizes and provide the technology and equipment to support all of your presentation needs. There are additional services we can offer as well, including activities, entertainment, and music on board if you want to make the gathering a bit more festive and fun.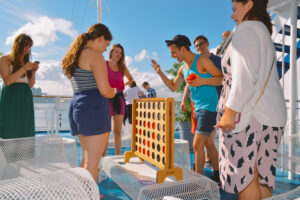 City Cruises provides so many ways to elevate meeting spaces and the venue experience that it would be difficult not to choose to cruise with us as part of your corporate strategy. From breathtaking views to exceptional vessels and amenities, whether you opt to select packages or customize your own, we have you covered. All you have to do is begin booking, and for that, just fill out this form and an event planner will contact you. After that, just be ready to save that date before it's too late.