Planning a corporate event can seem like an overwhelming task for anyone but it doesn't have to be. The good news is if you're planning a corporate event in San Diego, you have the perfect setting considering this Pacific coast city is known for its beaches, parks, and gorgeous weather. A highlight of any visit to San Diego is spending time out on the sparkling waters of San Diego Bay. Here you can find a unique and memorable venue that will transform any corporate event into an unforgettable experience. City Cruises offers the city's most unique floating event venue to elevate any event to the next level to gather your team with a backdrop like no other in comfort and style and picturesque views of San Diego's iconic skyline. City Cruises has an impressive fleet of vessels and offers more than just a venue; it offers a place to get away from the ordinary and experience the extraordinary with an event that will be talked about for years to come. So, get out of ballrooms and banquet halls and find out why City Cruises should be your choice for your next corporate event in San Diego.
Planning the details of any event can be a daunting task with endless to-do lists but luckily, City Cruises can help customize an amazing event to fit any budget. Leave the organizing to the City Cruises San Diego team to alleviate any stress involved with your planning. We will help with everything from finding the right venue to booking entertainment. We also work with and recommend local vendors to make your event a success.
There are several different types of events that we can accommodate and a wide array of amenities that are provided to customize your experience.
Let's look and learn why you will choose your next corporate event in San Diego with City Cruises and leave the details to us so you can focus on your agenda.
What Sets Us Apart
Our extraordinary floating venues in various cities have become a refreshing corporate meeting location where you can get away from the mundane. You can cruise night or day while planning your next strategy or work on team building. We can accommodate everything you need-big or small, lunch or dinner, we can turn your ideas into reality offering flexible packages, customizable upgrades, and options to suit your needs and budget.
Your guests will enjoy the scenic beauty and fresh breezes along San Diego Bay in a new and relaxing environment away from the office with all the amenities for a perfect event.
Types of Corporate Events at City Cruises San Diego
City Cruises can host a variety of corporate events to accommodate your needs, each with a scenic backdrop of the city's skyline and iconic landmarks.

Holiday Parties-Host your next holiday event on the water with City Cruises. We offer customized packages to fit any budget and make your holidays memorable, merry, and bright.
Employee Outings- Escape the office and host your next company celebration or team outing on the water. You will enjoy a unique dining experience, all-inclusive packages, and spectacular views.
Client Entertainment-Impress your clients with a unique experience on the water. With chef-designed menus, breathtaking views, and unparalleled hospitality, City Cruises makes planning your event a breeze.
Meetings & Events- Host your next meeting, tradeshow, or conference on a floating event venue and let our team help customize a package specific to your needs.
Amenities & Upgrades
Along with an extraordinary venue, we offer chef-prepared menus, full bar service, and climate-controlled interiors for ultimate comfort. Our open-air decks allow guests to enjoy the stunning views along with the fresh breezes while cruising San Diego Bay. We also have a variety of onboard activities, live music, and entertainment options to keep your guests engaged.
We have upgrades available to customize your experience and make it your own. Our team will help you create a specific package tailored just for you.
Benefits of Hosting a Corporate Event with City Cruises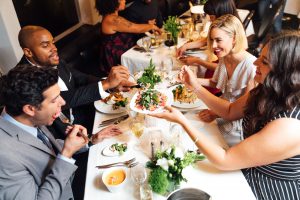 Getting your team out on the water will help recharge and refresh to get the next project done. There is something about the water that brings calmness and relaxation to make the event feel special. Your guests will enjoy seeing a new side of the city and will feel appreciated by this thoughtful venue. Our reputation for outstanding hospitality ensures your event will run smoothly.
Cruising along San Diego Bay for Your Corporate Event
With City Cruises you get a unique perspective of one of the world's finest harbors encompassing 22 square miles, mild year-round climate, and extensive beaches in a city known for being one of the most beautiful in the United States. Your guests will delight in awe-inspiring sights like the Coronado Bay Bridge, Star of India, Hotel del Coronado, and more creating an experience that will be long treasured. Let City Cruises handle all your needs for your next event with flexible packages, exceptional amenities, and remarkable views to ensure your next corporate event is more than a gathering but an experience to remember. Fill out this form today and an Event Planner will contact you!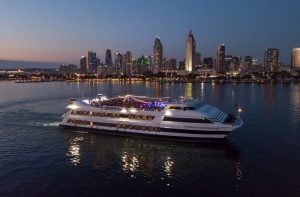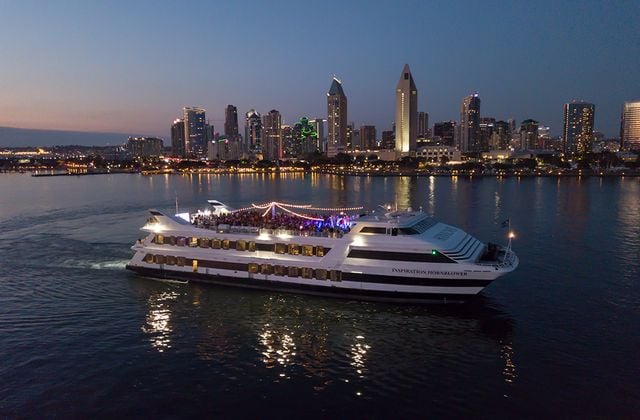 FAQs – San Diego Corporate Events
What types of corporate events can City Cruises in San Diego accommodate?
City Cruises in San Diego offers flexible and customizable event solutions to cater to a variety of corporate gatherings. This can range from holiday parties, team-building outings, and client entertainment events, to more formal business meetings, trade shows, or conferences. Each event comes with a stunning backdrop of the city's skyline and iconic landmarks.
What amenities and services does City Cruises provide for corporate events in San Diego?
City Cruises provides a wealth of amenities and services to ensure a memorable and seamless event experience. These include chef-prepared menus, a full bar service, climate-controlled interiors, and open-air decks for taking in the stunning views of San Diego Bay. In addition, City Cruises also offers onboard activities, live music, and entertainment options to keep guests engaged.
What makes City Cruises a unique venue for corporate events in San Diego?
The uniqueness of City Cruises as a corporate event venue lies in the distinctive experience it offers. Cruising along the San Diego Bay provides a refreshing alternative to the usual office environment, fostering relaxation and camaraderie. Moreover, the stunning views of the city's landmarks, coupled with the exceptional service and hospitality, make City Cruises a memorable and inspiring choice for any corporate event.
Can I customize the corporate event package at City Cruises in San Diego?
Yes, City Cruises offers a range of flexible and customizable packages to suit various needs and budgets. You can tailor the event specifics, from the menu and bar options to the onboard entertainment and activities, to create an event that fits your vision and requirements perfectly.
How do I book a corporate event with City Cruises in San Diego?
Booking a corporate event with City Cruises in San Diego is simple and straightforward. You can reach out to them through their website or contact them directly over the phone. Their dedicated team of professionals will guide you through the booking process, assisting you with every detail to ensure your corporate event is a resounding success.