You're thinking about hosting a corporate event and searching for the perfect venue in the Los Angeles or Newport Beach area, but you're just not sure where to begin. Not to worry, City Cruises has you covered with an unconventional and unique meeting space – on the water, aboard a luxurious vessel that will inspire and engage your guests! With expansive views of California's pristine harbor, towering yachts, and celebrity homes, your guests will look forward to and become excited about their upcoming adventure on the water in this coastal city known for its sandy beaches and picturesque scenery. Whether you are looking to host an employee outing, entertain clients, hold your next meeting or special event, or more, you and your guests will love our attentive hospitality, climate-controlled interiors, and open-air outdoor decks. Experience Orange County from the water and soak in the exceptional waterfront skyline vistas. Hop aboard and find out why you should hold your next event with City Cruises Newport Beach.
Meetings in Newport Beach with a Change of "Sea"nery
Event planning comes with many responsibilities, and one of the most challenging decisions you need to make is where to host it. The venue you choose substantially impacts the experience that your attendees have. Choosing your location early in your planning process will ensure everything is smooth sailing from that point. Making the decision to host your next corporate event aboard a City Cruises yacht will get everyone talking. Attendees will get excited when they learn where their adventure will take place. Imagine cruising along Newport Beach Harbor, while sipping a cocktail and nibbling on delicious menu options while soaking in the views from the water. Enjoy top-notch service from our professional and dedicated crew as we help you set the mood with entertainment, activities, and games to keep your event engaging and lively. From small, intensive work sessions to major corporate events for hundreds or more, our portfolio of vessels – each with its own charm, and flexible floor plans and seating, gives you the opportunity to host the event you've imagined.
Meet with our team of event professionals at City Cruises Newport Beach and you will instantly sense unparalleled hospitality as we handle every aspect of your event, from which vessel to choose, to dining and entertainment. Our cruises will give you that centerstage seat to the full sky with open-air outdoor decks that will compel you to relax and get into the perfect headspace for a few magical hours to get your work done while having a fantastic time.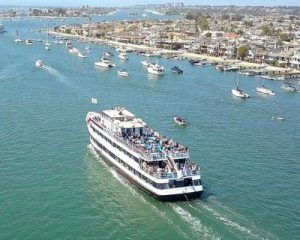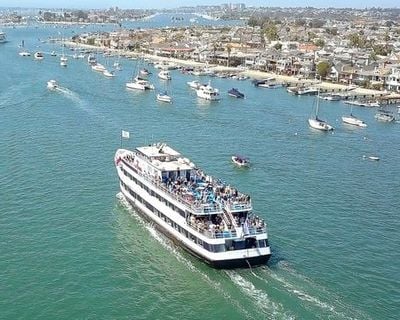 Meeting Spaces, Venues, and More with City Cruises in Los Angeles
With our City Cruises Newport Beach crew at the helm, you can rest assured that your event will go off without a hitch. We offer the perfect unique meeting spaces for organizations looking to make a lasting impression in the Los Angeles area. Our stunning fleet gives you a variety of options from which to choose the perfect vessel for your meeting.
Looking for a yacht for a smaller event? Our 90-foot Dream Maker is one of our most popular yachts accommodating up to 90 guests. Recent renovations include a classic contemporary look with marble and natural wood accents. The modern main salon is tastefully decorated and features a lounge area with teak detailing and comfortable couches lining both sides of the room, creating cozy conversational areas to close the deal, celebrate, or build your team. But the real star of the show is the 360-degree views that you can admire through wraparound windows throughout. Dream Maker has been featured in both TV and film and is a favored choice for corporate parties and events.
Need a little more space for a larger gathering? Endless Dreams is the largest charter yacht in the harbor with 6,000 square feet of event space on three spacious decks, which can host up to 450 guests. Launched in 2002, this diamond has represented the very pinnacle of coastal contemporary yacht design and features huge bay windows to gaze upon the panoramic skyline views. The sophisticated interior design is appointed with granite bars, modern woodwork brushed chrome accents, and custom lighting, making it ideal for large upscale events. Endless Dreams has also been featured in movies, television, and music videos. Your guests will cut loose on the open-air sky deck with ambient lighting, custom lounge furniture, and excellent harbor views.
City Cruises Newport Beach is Ready to Host Your Meeting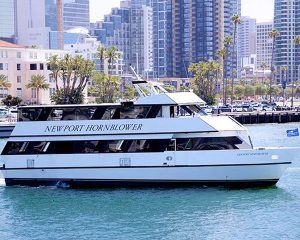 City Cruises event planners can help you turn your vision into a reality. We can customize any package to suit your needs. Need just a table for your event? We can do that. Looking to rent out a deck for your meeting? Consider it done. Whatever your needs, we can create a customizable and flexible package to guarantee that your meeting is a success. You can focus on your agenda, and we will take care of all your needs. You and your guests will feast upon fabulous meals prepared by our talented chefs, and our crew will make sure the glasses are full and everyone has a good time.
Make a Splash with Your Team
City Cruises Newport Beach can host various types of events, each providing a unique and inspiring backdrop of the city's skyline. Whether you are building your team, presenting for clients, launching a new product, or celebrating successes, we will help you create the perfect scenario. We know that sometimes the best ideas happen when you shake things up a little and leave the confines of four walls for a more stimulating environment on the water. On a City Cruises yacht, you will have all the amenities you need, plus delicious and freshly prepared cuisine by our talented local chefs so you can get down to business. Contact us today for your next unforgettable meeting venue in Newport Beach.