It's that time of year when the air is a little cooler and the gentle breezes are blowing, and everyone is ready to unwind and have a good time. It's a time for celebrations, gatherings, and delicious food. It is a time for companies to show appreciation for their teams' hard work each day. The holiday season allows people to slow down, break from their daily routines, and gather to create life-long memories. Planning an unforgettable corporate holiday party with City Cruises will show your team that you celebrate their contributions while stepping away from the mundane and opting for a refreshing departure on the water away from the banquet halls and boardrooms. Your team will feel excited and exhilarated aboard an elegant yacht while enjoying city views of the picturesque Long Beach skyline with the Pacific Ocean waves as the soundtrack.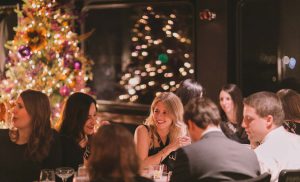 Break Away from the Ordinary and Enjoy the Extraordinary with an Unmatched Venue in Long Beach
 Holiday parties are an opportunity for companies to celebrate milestones, honor top performers, and recognize teamwork efforts. Companies that show frequent and consistent recognition and employee appreciation tend to have a more positive company culture and work environment, and thus retain their best talent. Now more than ever, workers are spread apart by working from home or in a hybrid schedule, resulting in some connectivity being lost. Holiday parties offer companies an opportunity to promote some much-needed camaraderie while having fun and leaving the office work behind. Your guests will love connecting aboard a luxury yacht with City Cruises. Corporate holiday parties are a great opportunity for team bonding and socializing with members that you do not normally interact with at the company. Companies that allow employees to interact and build rapport with management create an environment where people feel appreciated and respected. It is the perfect time to allow your employees to have a little fun in a relaxing and unexpected location- aboard a City Cruises Long Beach yacht. As you plan your holiday party this year, consider a location that will really wow your guests. Break away from the mundane office parties held in a boardroom and hop aboard a luxury yacht with the Pacific Ocean as your location. Take your holiday party to the next level with a unique floating venue that will provide your guests with an event that will be treasured for years to come.
City Cruises' Distinguished Fleet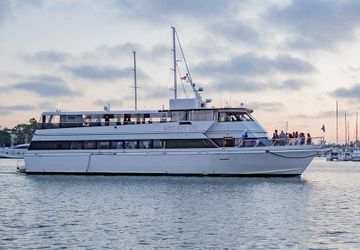 City Cruises Long Beach is ready to host your next holiday party. The vessel to charter in Long Beach is non-other than Hayal Et, which offers breathtaking ocean views, spacious decks, and elegant interiors providing an ideal setting for a memorable celebration. It can entertain up to 200 guests, but if you are looking for something that has even more space, consider looking at our nearby port in Marina del Rey, where the Şovmen can accommodate a large group of up to 550 guests. Entertainer, which is the largest charter yacht in the Marina del Rey location, has 6,600 square feet of space on three spacious decks. This yacht is perfect for your next holiday party with expansive bay windows and open lounge deck space that offers amazing views. Guests can enjoy an elegant dining area, full bar, VIP lounge area, and a built-in dance floor to kick it up and celebrate with colleagues. The Entertainer has been featured on television shows and movies with its sleek design. Guests will love the perfect ambiance to celebrate the holiday season. Click here to see other extraordinary vessels.
More Than a Venue
Create your holiday party to suit your needs. At City Cruises Long Beach, your dedicated team will help you customize your holiday party for any size and budget. Guests will enjoy chef-prepared menus with mouthwatering dishes and a fully stocked bar to keep the toasts coming. Make sure you have your cameras and phones ready to capture all the fun with onboard entertainment. You can rest assured that your guests will be comfortable with spacious outdoor decks and climate-controlled interiors no matter what the weather.
Event Planning with City Cruises
At City Cruises, planning your holiday party is a breeze. Our team of professionals will take away any stress related to planning and take you from your guest list to the event and everything in between so that you can simply enjoy the festivities. Fill out this form today and an Event Planner will contact you!
Book City Cruises Long Beach for Your Holiday Party
Although it may seem easier to host your next Corporate Holiday Party in the office, your employees won't necessarily feel the holiday spirit. Do something fun and unforgettable this holiday season to show your team how valuable and appreciated they are. The holidays are a perfect time to get everyone together to interact in a festive setting. There is nothing like being out on the water to forget about your worries and feel the breezy salt air. Your team will love the time and effort you have put into making their celebration special. Hosting your holiday party aboard an amazing yacht with delicious food and great entertainment will set the tone for the year to come. Workers will likely work harder when they love being a part of a great company that values their employees. Book your holiday party now with City Cruises.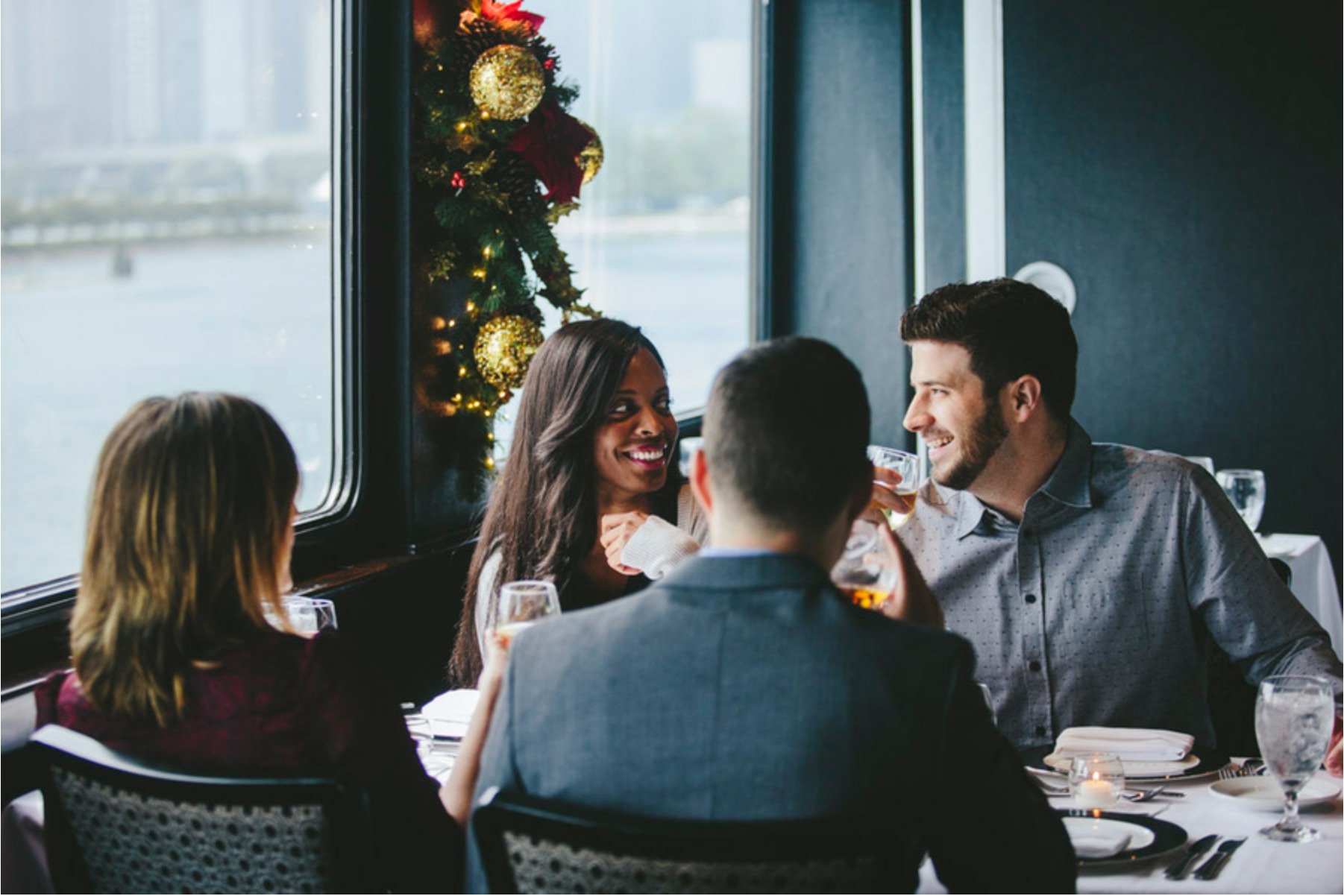 FAQs – Long Beach Holiday Party Venue for Companies
What makes City Cruises in Long Beach a unique venue for a corporate holiday party?
City Cruises in Long Beach offers a break from the ordinary with a yacht-based venue that gives a breathtaking view of the Pacific Ocean and the Long Beach skyline. The experience creates a relaxing atmosphere that encourages camaraderie and appreciation for your team's hard work.
Can City Cruises in Long Beach accommodate both large and small parties?
Yes, City Cruises in Long Beach boasts an impressive fleet to cater to both large and small corporate holiday parties. Their largest yacht, The Entertainer, can host up to 550 guests, while the Mojo is perfectly designed for more intimate gatherings.
How is the dining experience on a City Cruises Long Beach yacht?
City Cruises Long Beach offers a fine dining experience with chef-prepared menus. A fully stocked bar is also available, ensuring that your guests are well catered for throughout the celebration.
What amenities can I expect when hosting my corporate holiday party with City Cruises in Long Beach?
City Cruises in Long Beach provides spacious outdoor decks, climate-controlled interiors, full bar service, a VIP lounge area, built-in dance floors, and an experienced crew dedicated to ensuring your event runs smoothly.
How can City Cruises assist with planning a corporate holiday party in Long Beach?
City Cruises offers a professional event planning team that will guide you through every step of the planning process, from understanding your guest list to ensuring the event runs smoothly, so you can enjoy the festivities.
How early should I book a City Cruises yacht for my corporate holiday party in Long Beach?
Booking your venue as early as possible is recommended, especially during the busy holiday season. Reach out to the City Cruises team to discuss availability and secure your preferred date.
How can hosting a corporate holiday party aboard a City Cruises yacht in Long Beach benefit my company culture?
Hosting a corporate holiday party in such an extraordinary setting shows your team that you value their contributions and efforts. This boosts morale and fosters a positive company culture. Additionally, the unique setting encourages team bonding and promotes a sense of appreciation and respect amongst your employees.