"Nestled between Puget Sound and Lake Washington and with two hundred miles of shoreline, Seattle's location lends itself to maritime life," writes National Geographic Magazine. "And just as the city is known for its year-round rain, its residents are known for spending four seasons on the water."
So the best way to know Seattle is from the water. There are so many options for boat tours around the Puget Sound area that you're sure to find one that's right for you.
Here are some of the harbor cruises you can choose.
Seattle: Locks Cruise
Discover the sights and sounds of Puget Sound as you explore its waterways aboard a Locks Cruise.
You'll come face-to-face with large fishing vessels, seaplanes, floating home communities, and more as you watch the scenery change from saltwater to freshwater. Learn the stories behind Seattle's history and its influence on the world with live narration throughout the cruise.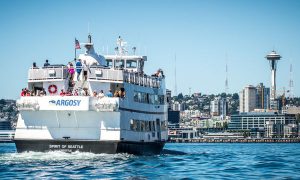 Seattle: Harbor Cruise
During this scenic one-hour harbor cruise, you'll see Seattle's skyline, historic downtown, and shipping port from a new vantage point.
You will learn about the city's evolving skyline and historic buildings with narration throughout the ride. Discover panoramic views of Elliott Bay and the surrounding Olympic and Cascade Mountain ranges.
Seattle Dinner Cruise
Imagine enjoying a delicious Seattle Dinner Cruise aboard a luxurious yacht as you sail the sparkling waters of Lake Union and Lake Washington.
The Seattle skyline will light up before your eyes, and you'll see the signals of boats passing by as they travel to and from their destinations. You'll feel a cool breeze as you make your way to your private table, where you can share the sights and sounds of the breathtaking surroundings.
As you return to land, the captain will invite you to toast with a glass of champagne or sparkling cider. Then, after sunset, you'll make your way back to shore. It's a relaxing and unforgettable experience you'll remember from your Seattle getaway.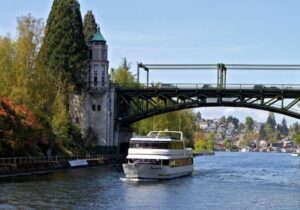 Weekend Brunch Cruises
A Weekend Brunch Cruise is a perfect way to enjoy the city of Seattle. A Waterways tour is a relaxing and luxurious way to see all it offers.
On your two-hour voyage around Lake Union and Lake Washington, you'll enjoy the majestic sights while sipping champagne or sparkling cider and dining on a classic Northwest brunch.
Seattle: Sky View Observatory – General Admission Ticket
If you don't have time for a cruise, check out Seattle by air–sort of. The Sky View Observatory gives you 360 degrees of Seattle's sprawling metropolis and expansive lakes from the 73rd floor.
You'll be able to see distant Mt. Baker, Mt. Rainier, and the Olympic Mountains.
Water Taxi to Vashon Island
You can take a water taxi from Seattle to Vashon Island for a day trip or stay overnight. The water taxi travels between West Seattle and Vashon Island, where you can pick up fresh produce at farms and explore the island's restaurants and shops.

Things to Do in Seattle
As much as we love experiencing Seattle via the water, it's worth mentioning some of the cool places to visit on land. Many are free or inexpensive.
Here are some highlights:
The Space Needle is an iconic landmark, and taking photos of it from the ground is free. However, there is an admission fee to ride the elevator to the top.
The Fremont Troll sculpture is a cultural icon featured in TV shows, movies, and music.
Pike Place Market is another famous attraction because of its proximity to downtown and its variety of vendors selling everything from fish guts to flowers. Of course, you can also stop by the original Starbucks since this is where it all started.
The Olympic Sculpture Park is a large-scale metal art installation.
Gas Works Park was an environmental menace and eyesore but is now a beautiful park designed by landscape architects.
There are many museums to check out for culture lovers, like the Frye Art Museum.