Florence is a "jewel box of a city, packed with treasures, each more beautiful than the last," Tracy Russo writes. "To be able to walk the same streets that some of the world's most incredible artists and thinkers once walked never ceases to amaze me." A true gem of a city, Florence is for art lovers, romantics,  foodies and anyone who wants to take in in this beautiful capital of the Tuscany region of Italy. Florence was important during the Middle Ages and in the Renaissance, most notably for the city's architecture and its art.
"This Tuscan city became a symbol of the Renaissance during the early Medici period (between the 15th and the 16th centuries), reaching extraordinary levels of economic and cultural development."
Today, millions of tourists visit Florence every year while the city was declared a World Heritage Site in 1982 by UNESCO. Notably one of the world's most beautiful cities, Florence has a strong artistic, historic and cultural heritage. This grand city has shaped music, education, architecture, fashion, cuisine, religion and science. "Florence is arguably the last preserved Renaissance city in the world and is regarded by many as the art capital of Italy."
When in Florence, See the Art and Gardens
Florence is known for its art. And there's so much of it to see. But where to begin? "Occupying the first and second floors of the U-shaped Palazzo degli Uffizi along the banks of the Arno River, the Uffizi Gallery was Europe's first modern museum, created by the Medici family at the end of the 16th century." This famed museum is a top attraction featuring works by Botticelli, Caravaggio, and many more. From art in the Middle Ages to modern, it is one of the most famous museums in the world.
For something green, visit Giardino Bardini, "home of the beautiful staircase you can see from the Arno." Here you'll be able to take in the gardens, wander and not have to worry about it being too crowded as you take in one of the most beautiful views.
Get a Taste of Florence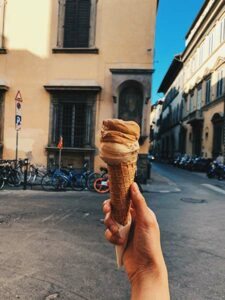 If Italy is known for food, it's also known for its gelato. Head on over to Vivoli Gelato, one of the oldest shops of its kind in Florence. It "might" be true that Florence invented gelato in the 16th century. Vivoli began making their gelato in the 1930s. It was then that ice was shipped in blocks from the Apennine Mountains! Today, Vivoli gelato is served to wide-eyed customers ready to indulge. And Vivoli is now in New York and Orlando.
Make your way over to Mercato Centrale for two floors of delectable delicacies. The 19th century building is where you'll find vendors who sell fruit, wine, fish, meat cheese, oil, and spices all on the ground floor. "The food court upstairs is a great place for groups that can never agree on what to eat." At Mercato Centrale you can find fresh pasta, meat, and even vegetarian burgers along with fried fish, dumplings, and pizza.
Florence is beautiful but you get a taste of the Tuscan country life by heading to Fiesole Hills. "A short journey north of the city by public bus (number 7) will take you to the pinnacle of this hilltop town that overlooks the valley of Florence and offers a stunning view." Fiesole is a small town not known to many and is filled with centuries worth of history. "The city lends itself to a lazy afternoon exploring its historical museums, gardens & villas, picturesque streets, simple yet stunning churches, trails and parks."


Florentine Tours Not to Miss
Take the Tuscany Day Trip From Florence With Chianti, Siena and San Gimignano, which includes lunch and wine-tasting in Chianti as well as a pasta demonstration there, a guided tour of Siena town all in a small group.  You'll be picked up in a comfortable, air-conditioned transport in central Florence and be driven over Tuscany's rolling hills to the town of Sienna. Via professional tour guide, you'll learn all about the landmark sights including the central square and cathedral. Then you're off to a local vineyard to tour the cellars, a wine tasting, and a delicious homemade lunch. Enjoy the views of Chianti and drink the town's namesake wine. Then you'll spend the afternoon in the hill town of San Gimignano on another full tour of the town with your guide. "This is one of the best-preserved Medieval villages, built high atop hills to keep a lookout for hostile armies."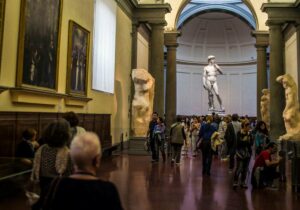 Then make sure to take the VIP David & Duomo Tour: Early Accademia Tour & Skip the Line Dome Climb with Exclusive Terrace Access. You'll experience two of Florence's in-demand attractions in one VIP experience while skipping the lines. Your tour includes early skip-the-line entrance at Accademia Gallery, special access Florence Duomo tour, access to the Duomo Terraces, and skip-the-line Florence Duomo climb. Highlights of this tour are Michelangelo's David, learning the history of Florence at the Baptistery doors and Piazza del Duomo, and touring the streets of Florence with an expert guide.
If you've ever dreamed of visiting Florence, now is the time. It's truly a gem of Italy and a favorite spot for visitors from around the world. If you love art, food, and rolling hills, this is just the place to get a taste of the Renaissance that is Florence.